The International Council on Clean Transportation (ICCT) recently published a new report, The Global Automaker Rating 2022, which highlights the leaders, transitioners, and laggards in the electric vehicle market. Based on the firm's study, Tesla and Chinese competitor BYD are currently at the front of the pack, while Japanese carmakers are lagging far behind.
The report ranks the world's Top 20 light-duty vehicle manufacturers based on their transition to electric cars. The study also takes into account each carmaker's market share, technology, and strategic vision. Considering that Tesla is a pure electric car maker, it is no wonder that the company is at the forefront of the rankings. BYD's strong sales of new energy vehicles in China also allow the carmaker to rank well in the ICCT's list. 
Tesla and BYD dominated the ICCT's rankings, especially with regard to market share and strategic vision. So far, Tesla stands at the top of the rankings on technology, though some veteran carmakers such as BMW are gaining ground. Tesla also received stellar scores in other criteria such as range, efficiency, and charging speeds.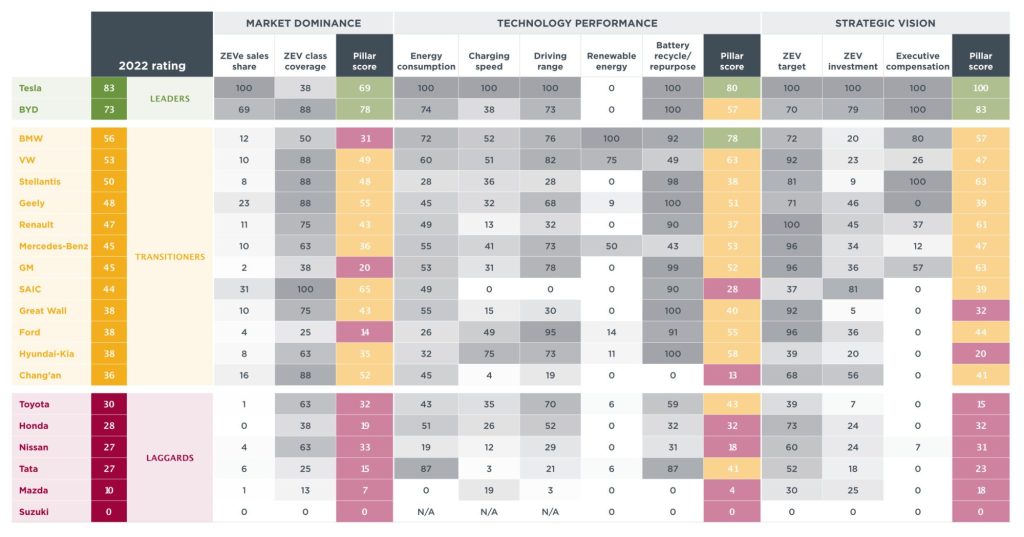 In the middle of the pack in the ICCT's global automaker rankings for the past year are veteran carmakers such as Ford and General Motors. European carmakers such as BMW, Renault, and Mercedes-Benz are listed as "transitioners" in the list. At the bottom are mostly Japanese automakers, which were dubbed as the "laggards" in the EV sector. 
Among the six carmakers that were listed as the laggards in the EV race, five were Japanese automakers. These included Toyota, Honda, Nissan, Mazda, and Suzuki, all of which earned subpar scores in market dominance, technology performance, and strategic vision. The carmakers' disappointing scores in strategic vision are quite unfortunate, as the metric ranks companies based on ZEV targets, ZEV investment, and executive compensation alignment, as noted in a report from The Driven. 
Tesla is already at 100% ZEV today, but veteran carmakers like Renault, GM, Ford, and Mercedes-Benz have all expressed their intent to reach 100% electric vehicle sales by around 2035. Interestingly enough, Toyota, the world's largest automaker today by volume, also had one of the lowest ZEV targets, with the company just aiming to reach 32% by 2030. 
"The ZEV target metric evaluates the ambition of a manufacturer in transitioning to a 100% ZEV fleet to be on pace with the Paris Agreement timeline. An ambitious target can demonstrate a manufacturer's determination to decarbonize its vehicle fleet. In contrast, a manufacturer without a target, or with a weak ICEV phase-out target, is considered less likely to invest in the ZEV transition in the near term," the ICCT noted.
Don't hesitate to contact us with news tips. Just send a message to simon@teslarati.com to give us a heads up.