Tesla CEO Elon Musk successfully reclaimed his title as the world's wealthiest individual by net worth. Musk achieved the feat on Monday as Tesla shares surged 5.46% to $207.63 per share.
With the 5.5% rise in TSLA shares, Musk's net worth was pushed to $187.1 billion, as per data tracked by the Bloomberg Billionaires Index. This allowed Musk to overtake the $185 billion net worth of France's Bernard Arnault, the chief executive of LVMH Moet Hennessy Louis Vuitton, one of the world's most prolific producers of luxury products.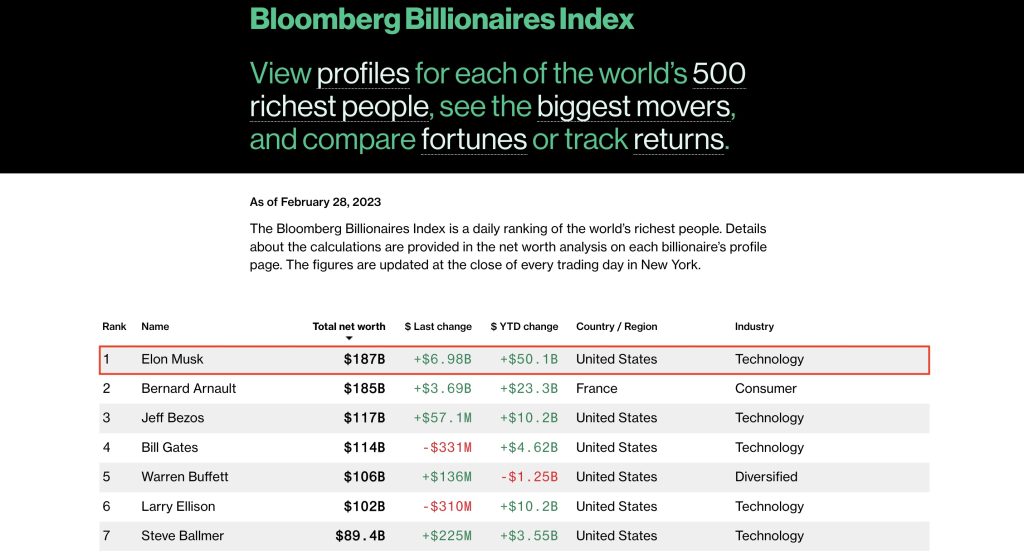 While Musk's fortune has seen a notable rise as TSLA shares surged almost 70% this year, it is still quite lower than its peak. Musk's net worth reached as high as $320 billion in late 2021, but it took a steep dive in 2022 amidst Tesla's challenges in China and his turbulent takeover of Twitter. 
By December, Musk formally lost his title as the world's wealthiest person by net worth to Bernard Arnault. Musk's net worth saw such a significant loss in 2022 that the Guinness World Records named the CEO as the person with the largest fortune loss in history.
Musk started 2023 with a net worth of $137 billion. At the time, skeptics noted that it would likely be difficult for the CEO to reclaim his title. Yet following Tesla's discounts in January and its strong Q4 and FY 2022 results, Musk's net worth has seen a notable recovery. Twitter, despite its controversies, remains operational as well. 
In a February report, Tom Narayan, an analyst with RBC Capital Markets, noted that Tesla's price adjustments in January resulted in a wave of interest in the company's electric cars. Narayan also noted that Tesla remains the poster child of electric vehicles. "We believe there is strong demand for Tesla products even in the face of more EV competition," the analyst said.
Don't hesitate to contact us with news tips. Just send a message to simon@teslarati.com to give us a heads up.