Tesla CEO Elon Musk appears to be well on his way toward recapturing the title of the world's wealthiest person by net worth. Musk's net worth has seen a steep rise amidst TSLA stock's recent rally over the past month. 
A look at the Bloomberg Billionaires Index shows that Elon Musk's net worth is now listed at $186 billion, just $3 billion shy of the world's richest person, Bernard Arnault, whose net worth is currently listed at $189 billion. Arnault is the chief executive of LVMH Moet Hennessy Louis Vuitton, the world's largest maker of luxury goods.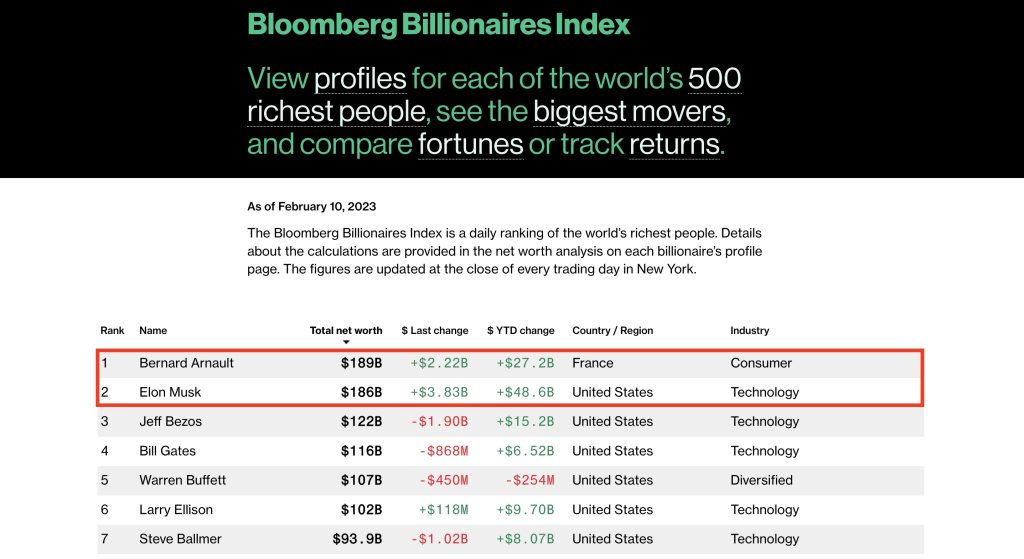 Elon Musk's net worth has surged $45 billion this year. This is mostly because Musk's net worth is tied heavily to TSLA shares, which rose for the eighth consecutive day on Thursday. It was also the steep 65% drop in Tesla stock last year that brought Elon Musk's net worth down. 
As Tesla shares dropped in 2022, Elon Musk, who was then listed as the world's wealthiest person by net worth, was overtaken by Arnault. This happened in December, as Tesla investors called out Musk's behavior on Twitter and shutdowns in Gigafactory Shanghai fueled demand concerns.
Following its 65% drop in 2022, Tesla shares saw a notable boost after the company lowered the prices of its vehicles, including best-selling cars like the Model 3 sedan and the Model Y crossover. Tesla also reported better-than-expected quarterly results last month, and during the Q4 and FY 2022 earnings call, Elon Musk and other executives of the electric vehicle maker highlighted that the demand for the company's products is extremely healthy.
Tesla may soon see other tailwinds, especially with the upcoming Investor Day event on March 1. As per CEO Elon Musk on Twitter, Investor Day would include discussions on Master Plan Part 3, which is focused on Tesla growing to extreme scale. Master Plan Part 3 will also include sections dedicated to Elon Musk's other ventures, such as SpaceX and The Boring Company. 
The Teslarati team would appreciate hearing from you. If you have any tips, contact me at maria@teslarati.com or via Twitter @Writer_01001101.