While Elon Musk's fall from his seat as the world's wealthiest person by net worth was due to a steep decline in Tesla stock (NASDAQ:TSLA), the electric vehicle maker's shares are also the reason why the CEO is now poised to recapture the title. 
Tesla shares have surged 74% this year, especially following the company's price cuts to its entire electric vehicle lineup. Tesla shares ended Wednesday's trading up 2.38%, pushing the company's market cap to $677.87 billion. With this, Elon Musk's net worth reached $191 billion, just $1 billion shy of Bernard Arnault's $192 billion net worth.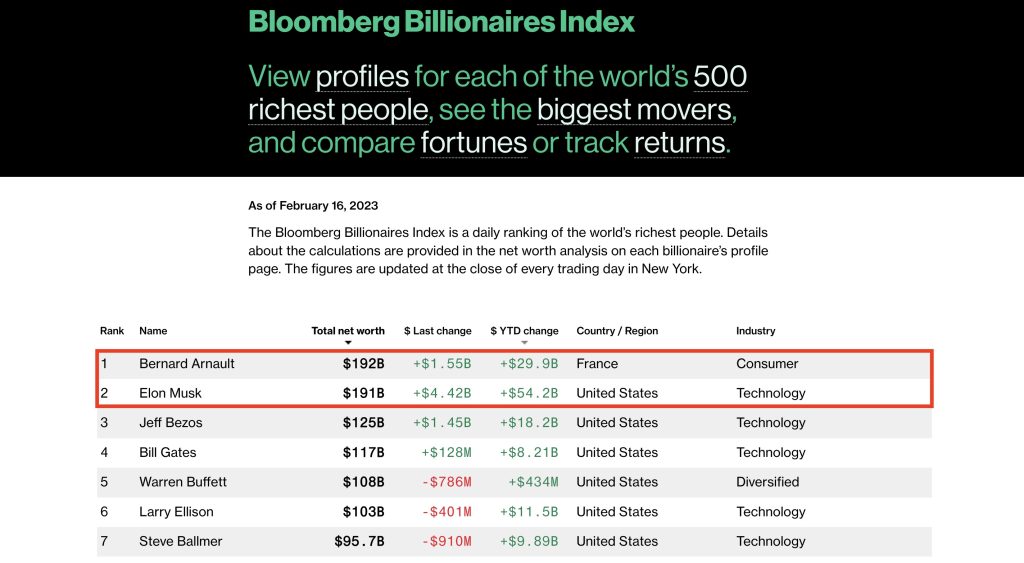 Arnault is the chief executive of LVMH Moet Hennessy Louis Vuitton, which is one of the world's largest producers of luxury products. Musk was overtaken by Arnault in December amidst TSLA stock's decline. So notable were the losses in Musk's net worth in 2022 that the Guinness World Record dubbed him as the person with the largest fortune loss in history. 
Since TSLA stock's rebound this year, however, Musk has steadily gained on Arnault, and is now within striking distance of the luxury goods executive. It should be noted, however, that while Musk's net worth has increased by $54.2 billion this year, it is still far below its all-time highs. At his wealthiest in late 2021, Musk's net worth was listed at over $300 billion. 
The past year has been particularly painful for Musk and Tesla. Apart from headwinds in China that saw Gigafactory Shanghai — the company's largest plant by output — shut down amidst Covid-related lockdowns, TSLA shares were also weighed down by Musk's acquisition of social media platform Twitter. As Musk offloaded TSLA stock to fund his Twitter purchase, the electric vehicle maker's shares saw a notable dive.
This year, however, will likely be quite different for Tesla. The electric vehicle maker is expected to start the initial deliveries of its all-electric pickup truck, the Cybertruck, this year. Tesla is also expected to launch a revamped version of the Model 3 sedan later this year, which features improvements to its exterior and key features like its infotainment system. The updated Model 3 is also expected to be easier to produce, which should help Tesla's costs. 
Don't hesitate to contact us with news tips. Just send a message to simon@teslarati.com to give us a heads up.