As California faces a historic power outage in several Bay Area counties, American electric car maker Tesla appears to have begun making preparations for its customers who are residing in affected areas. Reports from the Tesla community reveal that the company is sending charging reminders to electric car owners, while Powerwall 2 customers are starting to see their home battery units charging up to full power in preparation for the mass outages.
Pacific Gas and Electric (PG&E) has begun a proactive effort to shut down power to around 800,000 customers across several Bay Area counties. The power company opted to perform the shutdown as part of its efforts to prevent potential wildfires, especially considering the dry and windy conditions in the state. Incidentally, some past fires were started by live PG&E power lines that fell into vegetation due to winds.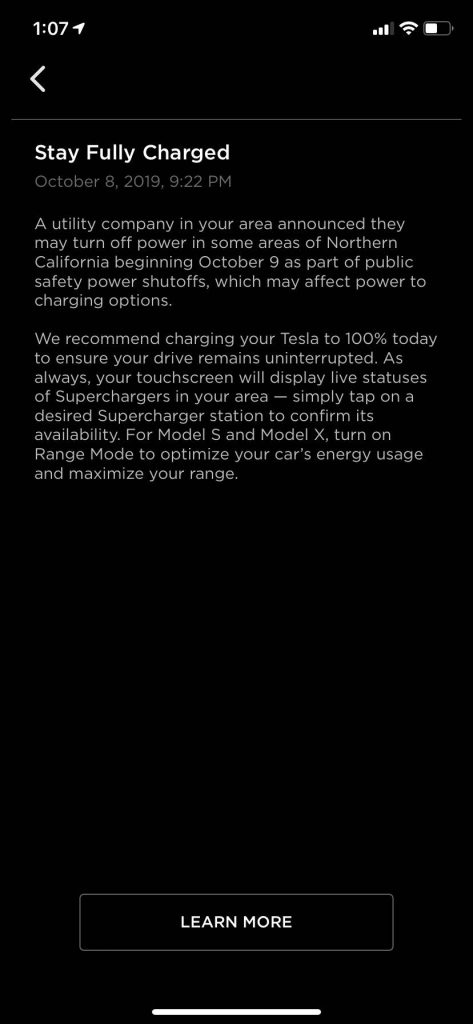 Tesla electric car owners residing in the affected areas have recently started receiving a public service announcement from the automaker. The message advised owners to charge their vehicles to 100%, thereby ensuring that they can get the most range out of their cars even with the power outage in place. Following is Tesla's announcement. 
"A utility company in your area announced they may turn off power in some areas of Northern California beginning October 9 as part of public safety power shutoffs, which may affect power to charging stations. We recommend charging your Tesla to 100% today to ensure your drive remains uninterrupted. As always, your touchscreen will display live statuses of Superchargers in your area — simply tap on a desired Supercharger station to confirm its availability."
Apart from announcements sent to its electric car owners, Tesla Powerwall 2 customers residing in areas affected by the massive PG&E power shutdown have reported that their home battery units have activated their Storm Watch feature. Storm Watch allows Powerwall 2 batteries to charge to their maximum capacity to prepare for potential outages, allowing owners to keep the lights on in their homes even when the grid goes down.
Paired with solar panels, Powerwall 2 batteries have the potential support the power needs of residential homes for an extended period of time. Last year, for example, a Northern California man in PG&E's electrical service territory ended up having his electricity cut off during a 42-hour period due to fire risks in his area. The man's Powerwall 2 battery was able to keep the lights on for the entire duration of the outage. By the time PG&E resumed service almost two days later, the Powerwall 2 battery still had 9% charge remaining.