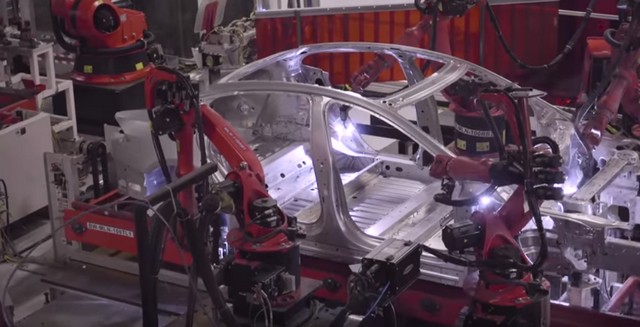 Tesla has reported to the Bay Area Air Quality Management District (BAAQMD) that a thermal oxidizer located at the Fremont factory is emitting more nitric oxide (NOx) than permitted. The NOx limit for the device is 0.1 pound per 1,000,000 BTUs of thermal input, according to a report in The Daily Kanban dated November 25.
The thermal oxidizer is used to incinerate Volatile Organic Compound (VOC) pollutants produced by the plant's paint shop oven and cooling tunnel. The offending unit is known as the Truck ED – Oven Thermal Oxidizer and consumes up to 10 million BTUs per hour of natural gas. That means in normal operation it should produce no more than 1 pound of nitric oxide emissions per hour.
Although the thermal oxidizer is out of compliance, the paint shop at the Fremont factory still produces far fewer VOC pollutants than a typical automobile painting facility. Tesla told the BAAQMD in its initial application that it will use an innovative "powder paint" that has 90% fewer VOC emissions than traditional automotive paint.
The Daily Kanban speculates that the problem with the non-compliant thermal oxidizer may be one of the factors limiting full production of the Model X. Their reasoning goes like this: The Toyota Tacoma was presumably manufactured in the truck plant back when the factory was part of the NUMMI joint venture between Toyota and GM. The expanded Model X assembly line is located in the former truck plant. Tesla cannot ramp up to full production of the Model X until the thermal oxidizer is fully compliant, which won't be until January 20, 2016, according to a letter Tesla sent to BAAQMD on July 24.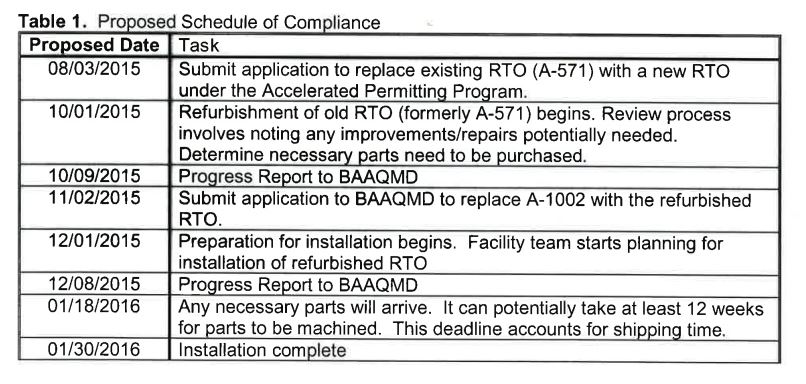 Ed Niedermeyer of The Daily Kanban thinks this timetable corresponds with Elon Musk's public statements that full production of the Model X will begin next January.
Whether or not production of the Model X is waiting for repairs to the thermal incinerator is an open question. What is known is that Tesla self-reported the issue and is taking appropriate steps to remedy the problem, which is consistent with the company's corporate culture. Just last week, it self-reported a potential issue with the front seat belts in its Model S cars and took extraordinary steps to solve that problem in a timely and proactive fashion.
Tesla is highly cognizant of emissions levels at its manufacturing facilities. It has deliberately designed the Gigafactory in Nevada to be net zero and emissions free. In fact, CTO JB Straubel says the company made the decision early on not to connect the Gigafactory to a natural gas supply.