Tesla has decided to release its previously-exclusive China series Model 3 Performance wheels, dubbed by the electric car maker as "Power Sports Aero Wheels," in the West. Rebranded as "Gemini" wheels for the US market, the 19″ wheels with their two-toned aeros covers are now offered for Model 3 Performance units in the United States. 
Quite interestingly, Tesla's Gemini wheels are part of a winter tire package for the Model 3 Performance. This makes them somewhat different compared to China's Power Sports Aero Wheels, which are paired with non-winter tires. Tesla's description of the Gemini wheels mentions this.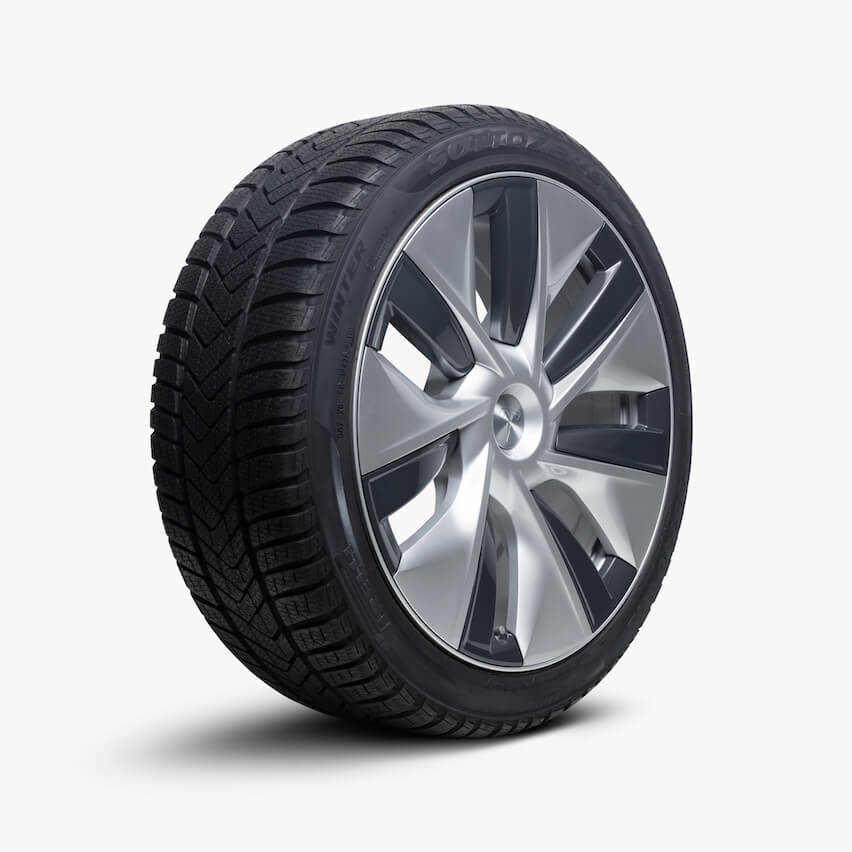 "This winter, drive your Performance Model 3 with confidence by adding the 19″ Gemini Wheel and Winter Tire Package. The uniquely designed Gemini wheels provide a sporty look, while 19″ Pirelli winter tires deliver a smooth winter ride with maximum safety, traction, stability and braking efficiency in temperatures under 45° F," Tesla wrote. 
Similar to Tesla's other wheel and tire packages the Gemini set includes 4 19X8.5J Gemini wheels, 4 235/40/19 – PIRELLI WINTER SOTTOZERO™ tires, 4 tire pressure sensors, and 4 Tesla logo Gemini caps. The item, which could be accessed here, is listed on Tesla's Shop for $3,500, similar to the Model 3's 19″ Sport Wheel and Summer Tire Package. 
Also of note is Tesla's reminder on the Gemini Wheels' product page. According to the electric car maker, the Geminis are only compatible with Model 3 Performance units that have been configured with 20″ Performance Wheels. This is a rather interesting statement, considering that owner-enthusiasts such as Erik Strait of YouTube's DAErik channel have installed China-released Power Sports Aero Wheels on their non-Model 3 Performance cars.
In Strait's case, he was able to acquire a set of pre-owned Power Sports Aero Wheels from a China-based Model 3 owner during a recent trip to the country. Shipping the wheels to the United States, Strait was able to fit the Power Sports Aeros on his Standard Range Plus Model 3 without any issues. This was mentioned by the owner-enthusiast in a recent tweet, noting that the imported wheels he bought from China have been working perfectly since they were installed. 
That being said, the release of the Gemini Wheels in the United States bodes well for the aggressive-looking aero wheel configuration. The wheels' availability in the shop suggests that it would be offered as an option in the near future as well. This is particularly notable considering that a Model Y release candidate recently spotted in the wild was also found to be equipped with the company's Power Sports Aero Wheels/Gemini Wheels while it was being tested on public roads.