Details of Tesla's Megapack installation at Gigafactory Texas have been revealed in documents related to the plant. Among these is a filing receipt about the installation, which included sections on the number of Megapack batteries that will be used, as well as the system's capacity.
Longtime Tesla Giga Texas watcher Joe Tegtmeyer shared a copy of the document from the Lower Colorado River Authority (LCRA). The Tesla enthusiast, who has been taking drone videos of Tesla's Texas sites for some time now, has also been following the progress of the buildout of the Gigafactory's battery storage system for the past months.
As noted in the Texas LCRA document, the battery installation will be comprised of 68 Megapack battery units that are rated at approximately 2 MW each. The delivery voltage of the system is listed as 345 kV in the document. Other key details about the upcoming battery installation were also listed in the document.
"The Plant is a Battery Energy Storage System ("BESS") facility with one Point of Interconnection to the grid. The Plant nameplate rating will be approximately 163.2-MVA of AC power (with a maximum real power rating of 131.05-MW) at the inverter 480VAC terminals (low voltage)," the document read.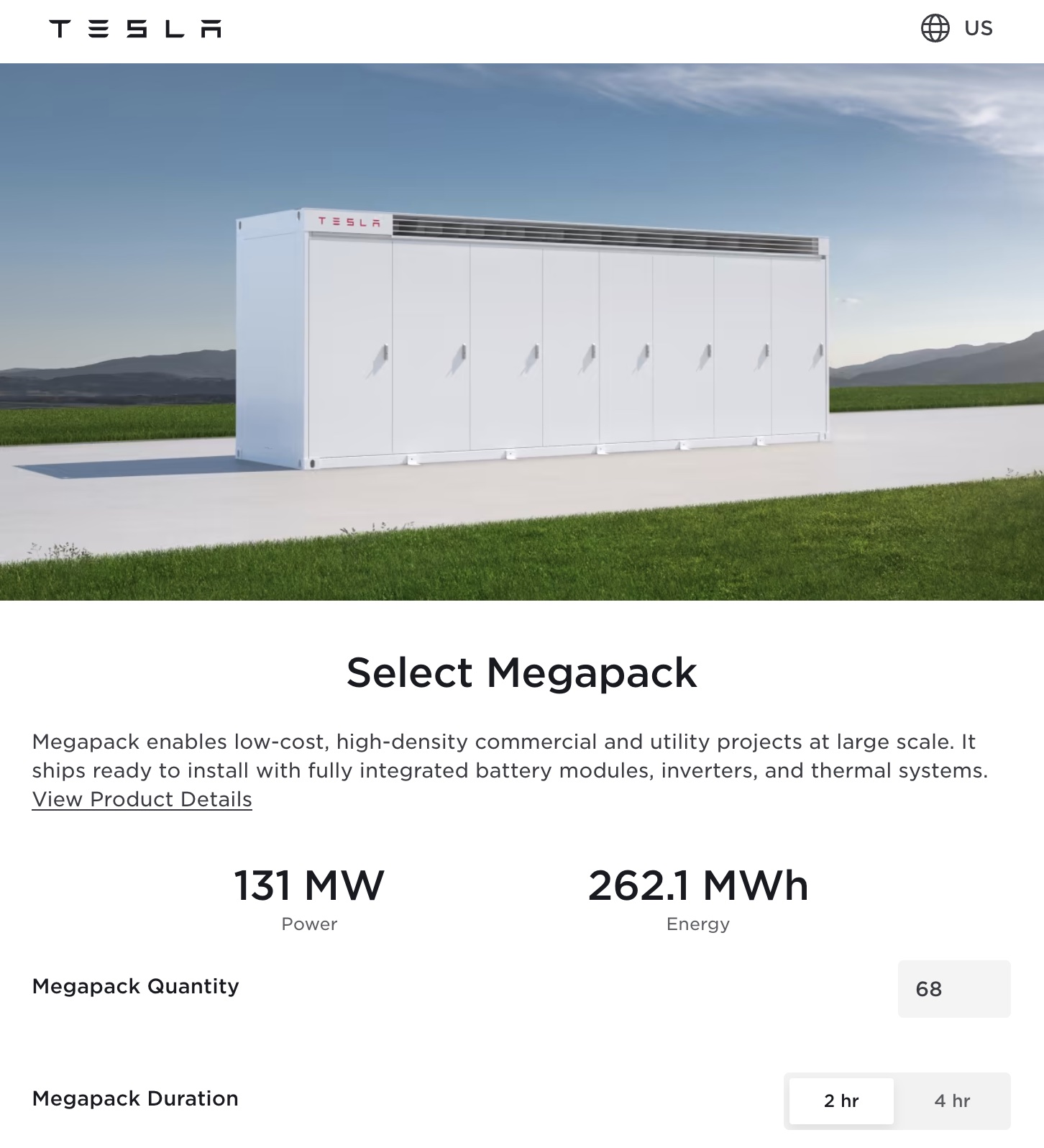 A look at the Tesla Megapack order page shows that 1.9 MW of power and 3.9 MWh of energy is possible with the battery's 2-hour duration. Shifting to a 4-hour Megapack duration shifts the battery's power to 1 MW. Considering the contents of the LCRA document, it would appear that Tesla will be using the battery's 2-hour setup for Giga Texas' battery storage system.
Adjusting the quantity of the Megapack in the battery's order page to 68 units shows that the power of the system would be 131 MW, and its energy would be at 262.1 MWh. This would make the installation larger than the Hornsdale Power Reserve, one of Tesla's most famous battery installations that was once considered the largest in the world. For context, the Hornsdale battery, which was composed of Tesla Powerpack units, featured 100 MW of power and 129 MWh of energy when it was installed in 2017.
Watch Joe Tegtmeyer's  video on Giga Texas' Megapack farm in the video below.
The Teslarati team would appreciate hearing from you. If you have any tips, contact me at maria@teslarati.com or via Twitter @Writer_01001101.