Tesla has marked July 29 as the date for its upcoming Gigafactory grand opening event to take place at the factory just outside of Reno, Nevada. The announcement was made via email to Tesla owners who participated in the company's Referral Program and won by referring five or more Model S sales between November 1st to December 31st of last year.
Updated: Tesla sends official invitations to the Gigafactory Grand Opening event. Details here.
Those that received the invitation late Thursday evening quickly took to social media to share the exciting news with the rest of the Tesla community. Kushari one of the referral contest winners posted a short video highlighting the notice that he received from Tesla about the upcoming Gigafactory Grand Opening event.
Earlier this year local media outlets in Reno, Nevada were given a rare chance to take a peek inside the Gigafactory. Motor Trend was also recently granted the rare opportunity to visit the $5 billion , but more importantly be one of the first media outlets allowed to spend time with and capture footage of the Model 3 prototype in action.
This upcoming invitation to the Gigafactory Grand Opening party on July 29 will be the first time Tesla opens it doors to the general public. Below is a full copy of the email notice sent to referral program winner Kushari.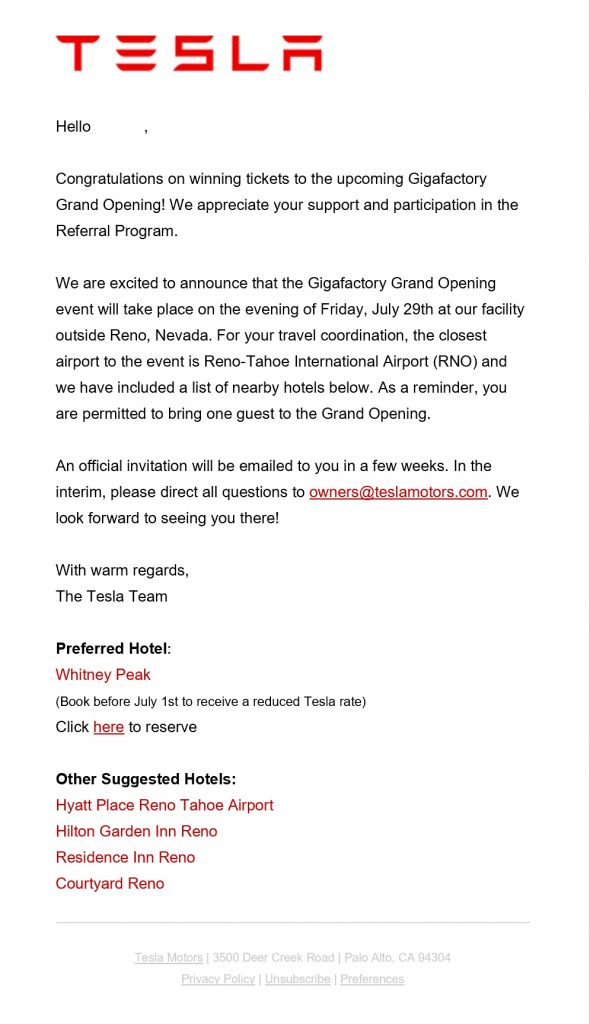 Image courtesy of Kushari on Reddit via Imgur