Tesla announces that a Model X 60D capable of 200 miles of range is now available for a starting price of $74,000. The Model X 60D boasts the same performance specifications as the Model X 75D — top speed of 130 mph, 0-60 in 6 seconds. Range is listed as 200 miles, but capable of being upgraded to 237 miles when a buyer chooses the 75 kWh battery option at an additional cost of $9,000.
When Tesla reintroduced the Model S 60 sedan, we learned that the vehicle was actually produced with a 75 kWh battery albeit software limited to only 60 kWh. Buyers would have the option to unlock an additional 15 kWh of battery capacity for an optional cost post delivery. The Model X 60D likely follows in the same footsteps and can be unlocked with additional battery range given that Tesla is currently standardizing production with the 75 kWh 90 kWh battery packs. It is widely assumed that a 100 kWh battery is coming soon, though there has been no official word from the company about it.
Updated: Tesla has  released the following statement regarding the Model X battery pack. "Model X 60D will be built with a 75 kWh battery pack, and the additional energy can be unlocked at anytime through an over-the-air software update for $9,500. With the introduction of this model we are not producing any 60 kWh battery packs, a decision that is the most efficient for Tesla and allows us to pass the most flexibility and cost savings along to our customers."
Tesla's Design Studio indicates that the Model X 60D and Model X 75D will both be available for late September delivery.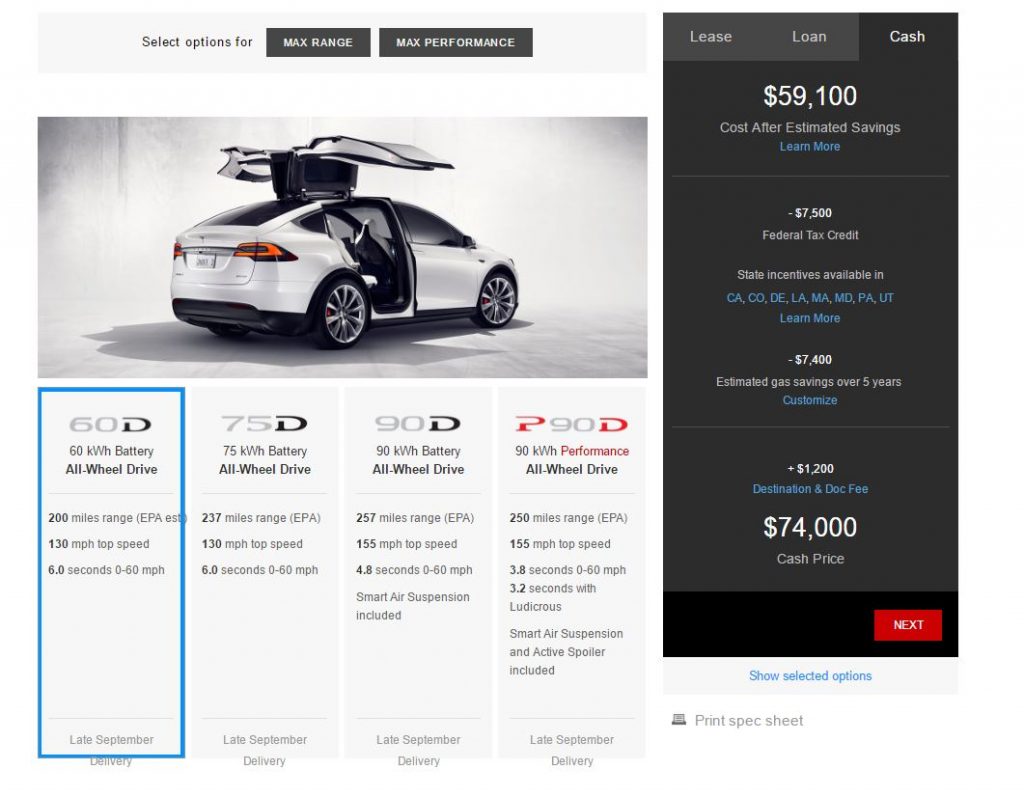 Tesla Press Release
Model X is the safest, quickest and most capable sport utility vehicle in history, and existing Model X owners are loving their cars. Following on the success of Model S 60 and 60D and in order to bring the benefits of Tesla ownership to even more people, today we're introducing Model X 60D at a starting price of $74,000 – giving customers the flexibility to choose the Tesla model, price point and range that best fits their lifestyle. Our versatile product platform and efficient manufacturing processes make it possible to seamlessly extend these types of compelling offerings to customers.
The new Model X 60D delivers up to 200 miles of range (EPA est.), a top speed of 130 mph, zero-to-60 acceleration in 6.0 seconds, and all-wheel drive performance, starting at $74,000. Customers can check out Model X at select tour stops across the US this summer.