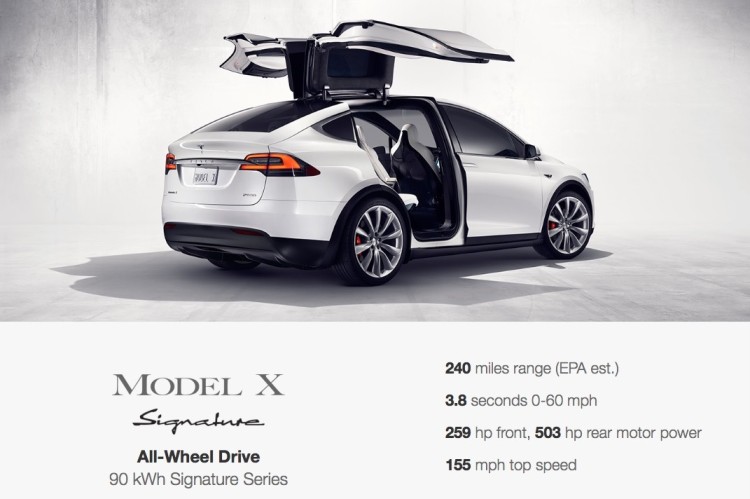 The wait is over. Early Model X reservation holders who plunked down a $40,000 deposit to be first in line for the electric crossover SUV have finally been invited to configure the specifications for their custom Signature Series Model X. Photos posted to the Tesla Motors Club forum show design choices ranging from exterior and interior colors, along with special wheel and tire packages. Base price starts at a whopping $132,000 plus a $1,200 delivery fee although a fully loaded Ludicrous-enabled Model X can run above $144,000.
UPDATE: Elon Musk takes to Twitter to clarify price of Model X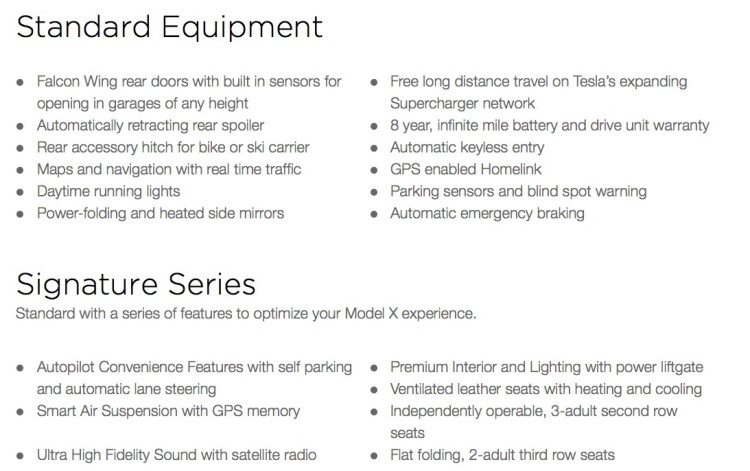 The Model X Signature Series comes standard with Tesla's largest 90 kWh battery, and dual electric motors rated at 259 horsepower in the front and 503 horsepower in the rear. Tesla claims that the 762 combined horses will rocket the Model X from 0-60 mph in 3.8 seconds making it one of the quickest factory production SUVs in the world. And as if that wasn't enough, a Ludicrous Mode upgrade for an additional $10,000 will trim 0-60 down to super car territories at 3.2 seconds. Driving range is listed at 240 miles from the 90 kWh battery.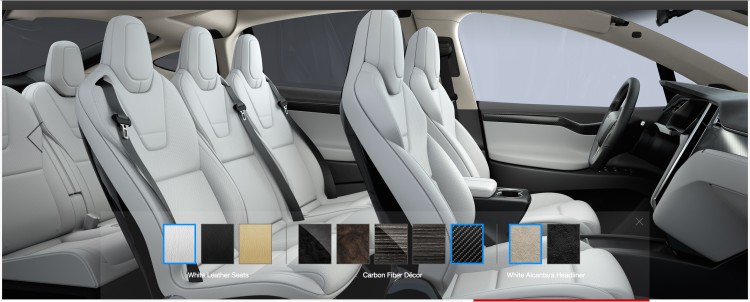 The Signature Series Model X comes pretty loaded as-is making the choice of options sparse. Earlier spy shots showing a Model X towing freight down a California highway are validated by the Model X towing package that adds a 2″ draw bar rated up to 5,000 lbs in towing capacity. For an additional $1,000, owners in snowier climates may opt for the Subzero Weather package which adds a heated steering wheel, seat heaters for the 2nd and 3rd row seats, heated windshield washer nozzles and wiper defrosters.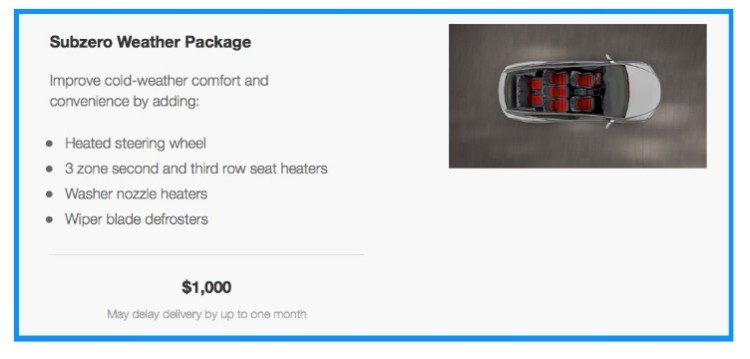 Tesla has promised that production of the Model X will begin in the third quarter and it appears that target will be met. We still have to wait to see how many Model X vehicles will actually get built in 2015, but most observers estimate that number to come in closer to 1,000, all of which will be Signature Series models.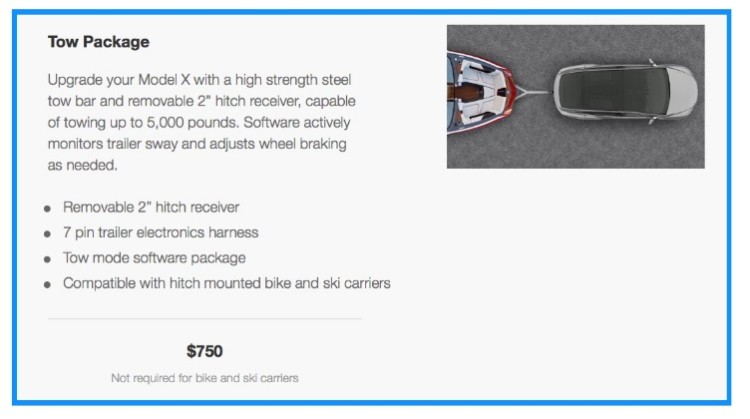 The company has yet to announce further details or pricing for other versions of the Model X. There is little doubt amongst the Tesla community that a  70 kWh battery, capable of 200 miles of range, will be offered at a lesser cost. What we don't know are the optional features that will further reduce the cost of an entry level model, but Tesla has time to make that decision while it works through its backlog of nearly 30,000 Model X reservations.

One new feature has surfaced since the Model X configurator went live. The falcon wing rear doors will have sensors built in to keep them from bumping into the rafters of your garage. Oh, and all that speculation of the Model X will having one large glass continuous windshield-to-roof design – well, it looks to be true.
Elon thinks of everything.