CarMax, the United States' largest used car retailer, has observed a significant increase in consumer interest in electric vehicles, particularly Teslas. The firm's findings were outlined in the company's 2023 Electric Vehicle (EV) Consumer Report.
According to CarMax, searches for "electric" vehicles doubled between February 2022 and February 2023. This spike in interest was initially detected in February and March of the previous year, a time that saw rising gas prices amid the escalating war in Ukraine. Peak search interest occurred in October, which was around the time when new rules for the US' federal EV tax credit were being implemented.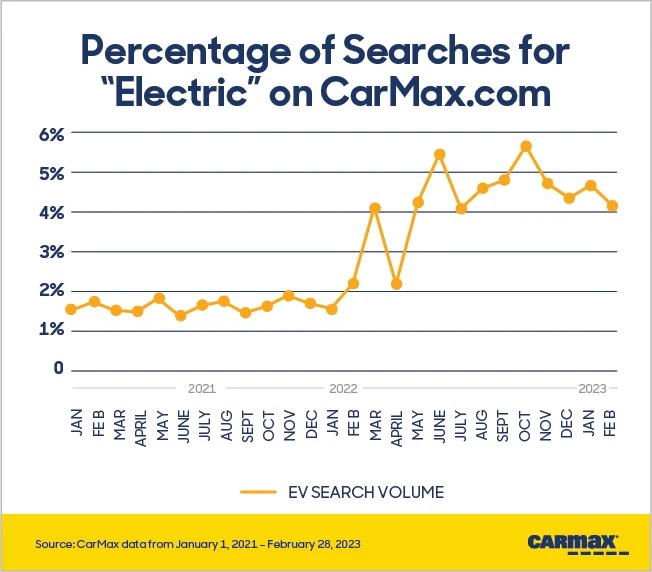 CarMax's dealership and online shopping data provided insights into the most popular used electric vehicles in their inventory. Based on February 2023 sales data, all four of Tesla's existing lineup of electric vehicles ended up in CarMax's Top 10 list. The Model 3 and Model Y were the top two most popular electric cars at CarMax.
Average prices at CarMax for the Tesla Model 3 were listed at $37,000, while the Model Y's average price was listed at $47,807. The Model X, which was seventh on the firm's list, had an average selling price of $72,136, and the Tesla Model S, which was eighth on the list, had an average selling price of $63,331.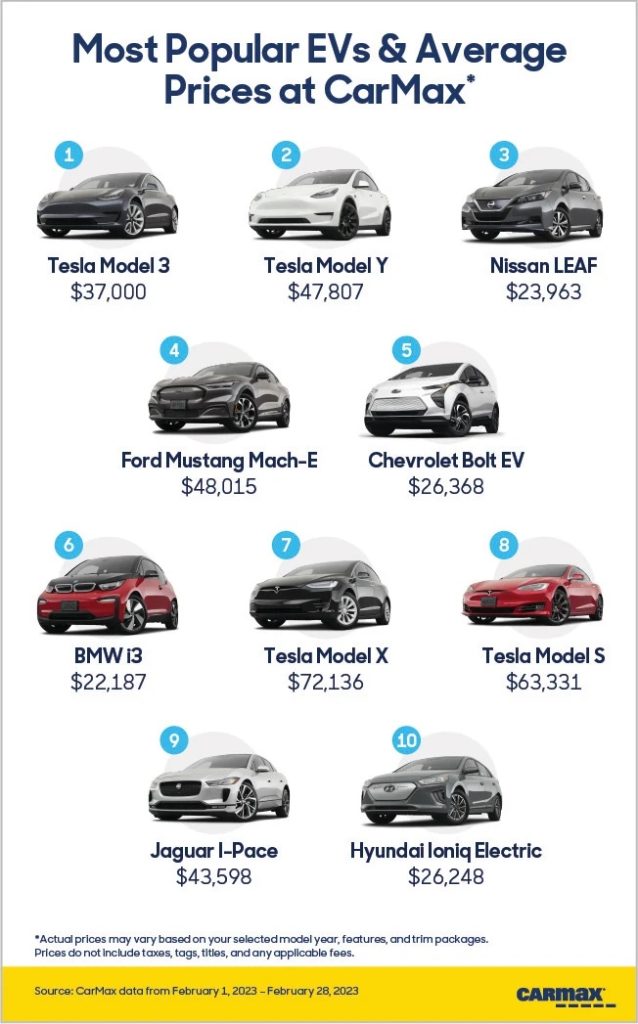 Tesla's dominance in EV purchases is quite unsurprising, considering the company's strong presence in the electric vehicle sector. Tesla's aggressive price cuts, which were implemented this year, likely caused a surge in interest among used EV buyers as well.
The CarMax report also touched on trade-in activity, which showed some interesting consumer behaviors. For one, CarMax observed that the Toyota Tacoma is one of the most common vehicles that are traded in for a Tesla Model 3. This was despite the apparent lack of similarity between the pickup truck and the all-electric sedan. For used Tesla Model Y SUVs or Model S luxury sedans, the most frequently traded-in vehicle was a Tesla Model 3.
CarMax's 2023 Electric Vehicle (EV) Consumer Report can be viewed here.
Don't hesitate to contact us with news tips. Just send a message to simon@teslarati.com to give us a heads up.