While Tesla's battery storage business does not attract as many headlines as the company's electric cars, products like the Megapack are gaining ground. A hint of this could be seen in Tesla's official site for the flagship commercial-grade battery storage system, which now lists Q3 2024 as the earliest estimated delivery date for new Megapack battery orders. 
Recent videos and images of Tesla's Lathrop Megafactory, which produces Megapack batteries, have shown that the facility is abuzz with activity as the year comes to a close. Comments from the TOC San Joaquin Valley group, which was able to fly a drone over the facility, suggested that the Lathrop Megafactory has been operating around the clock.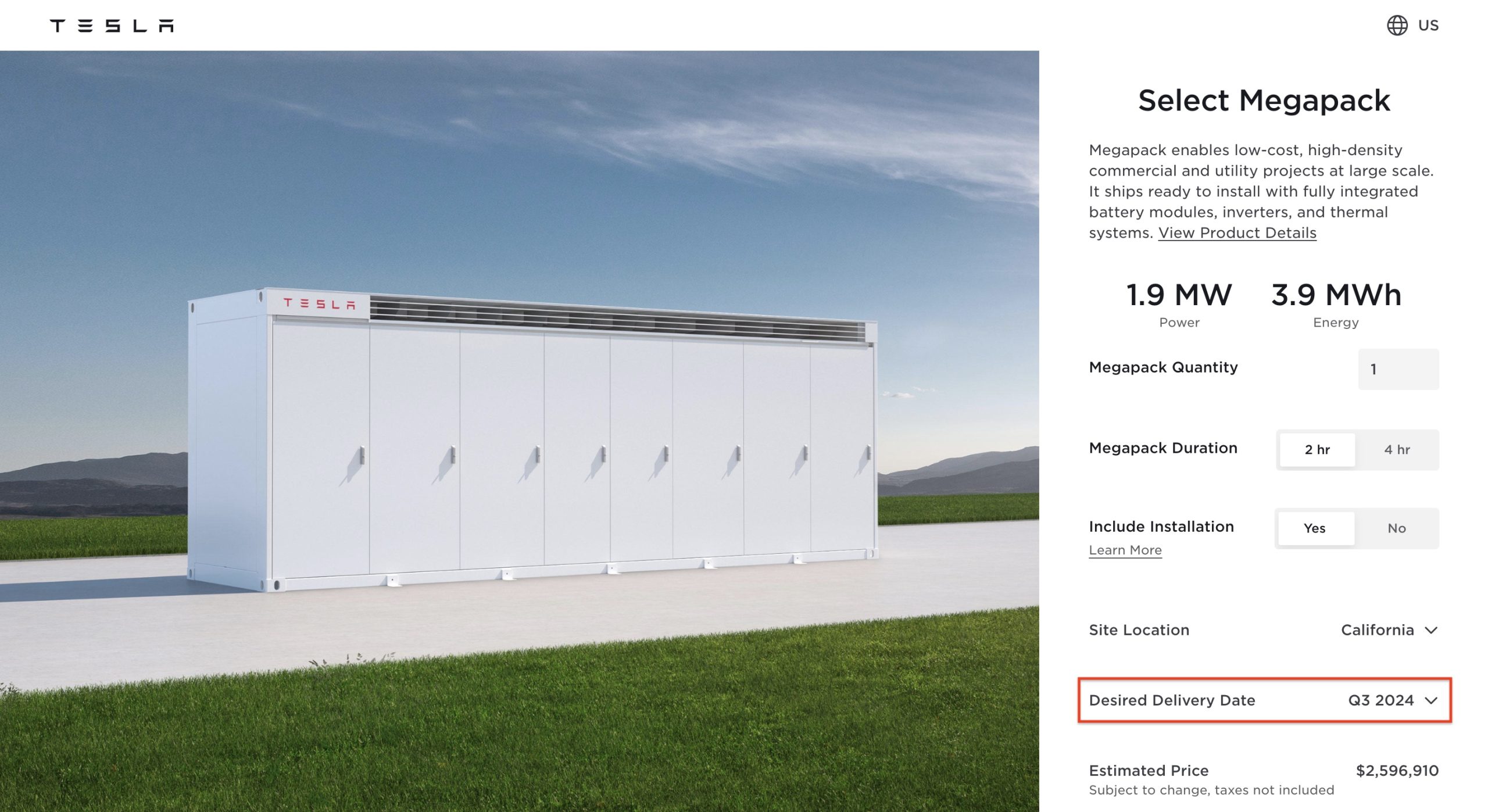 Considering the fact that the massive battery storage unit seems to be sold out all the way to the third quarter of 2024, it is no surprise that the Megafactory is working around the clock. If any, the updated estimated delivery date for new Megapack orders suggests that Tesla may need to consider building another Megafactory soon. Tesla Energy, after all, has been growing deliberately over the years. It hasn't really ramped up as aggressively as the company's EV business. 
Tesla Megapack – Sold Out Until Q3 2024.
Sales will be dependent on how quickly $TSLA can produce them. Lathrop CA facility currently ramping. pic.twitter.com/FQW7grdSEp

— THE ACCOUNTANT (@CPAinNYC) December 22, 2022
Elon Musk has highlighted multiple times in the past that Tesla Energy has the potential to be larger than Tesla's EV division. While margins on the Megapack and Tesla's other battery storage products like the Powerwall are determined in no small part by the costs of cells from suppliers for now, the products would likely be more profitable as Tesla ramps its own battery production, or at least secures better deals with its suppliers, down the line. Considering that Tesla's battery storage units are fairly simple products compared to the company's electric cars, ramping the production of Megapacks and Powerwalls should be quite feasible. 
Tesla's Megapack batteries are key to the company's goal of a sustainable energy future. According to Tesla's Q3 2022 Update Letter, the company's energy storage deployments increased by 62% year-over-year in Q3 to 2.1 GWh. This growth is notable given the chip shortage, Tesla noted in its Q3 2022 Update Letter. "Demand for our storage products remains in excess of our ability to supply. We are in the process of ramping production at our dedicated 40 GWh Megapack factory in Lathrop, California, to address the growing demand," Tesla wrote. 
Don't hesitate to contact us with news tips. Just send a message to simon@teslarati.com to give us a heads up.