In late December, Tesla's official page for the Megapack showed that the earliest delivery date for the flagship battery storage system has been moved to Q3 2024. With 2023 now starting, another update to the Megapack's official webpage has been implemented, and it seemingly hints at a longer backlog for the commercial-grade battery.
As per the recent update to the Tesla Megapack's configurator, the price of the battery storage system is no longer displayed if one selects "Q3 2024" as the desired delivery date. Instead, the price of one Megapack, which is listed at $2,596,910 for California, could only be viewed if one changes the battery's desired delivery data to Q4 2024. Just a few weeks ago, the price of the battery was displayed if Q3 2024 was selected as the desired delivery date.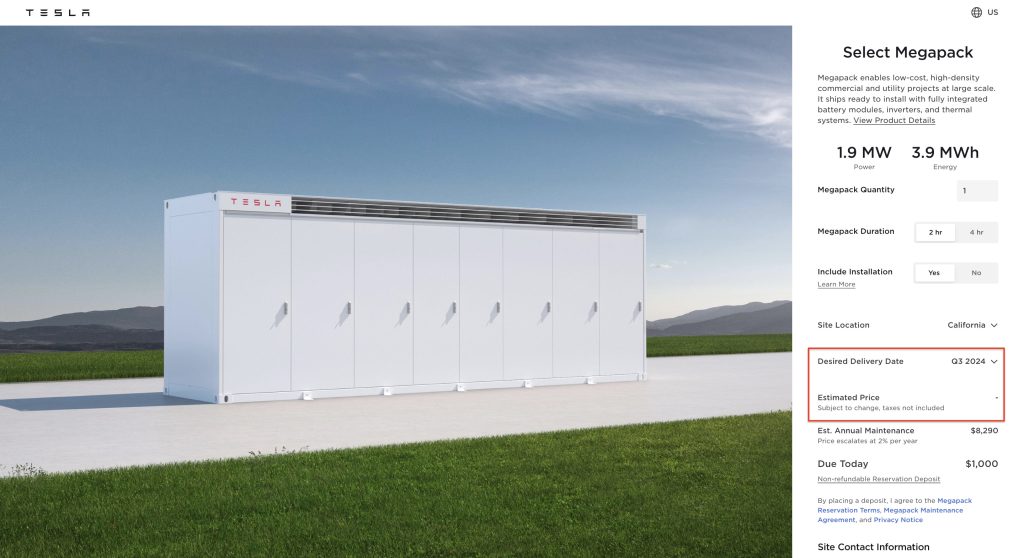 Tesla has not provided an explanation about the change to the Megapack's configurator, though TSLA bulls have speculated that the change might have been due to increased demand for the commercial-grade battery. On the flip side, the apparent update on the Megapack's official webpage may also be due to battery supply shortages, which, in turn, could throttle the ramp of Tesla's Megapack factories. The Megapack, after all, requires a vast amount of batteries to build.
If the change in the configurator is due to a longer backlog, then the Megapack may be growing as one of Tesla's most notable products. This could be a difference-maker for Tesla, which would be quite poetic as the energy division has largely taken a backseat over the years. Provided that Tesla is able to produce the Megapack at a profit, the commercial-grade battery could help the company's finances reach new heights in the years to come.
Elon Musk has previously stated that Tesla Energy, which produces Megapacks and Powerwall battery storage units, has the potential to surpass Tesla's electric vehicle division. Currently, the profitability of these products is influenced by the cost of cells from suppliers. However, as Tesla increases its own battery production or negotiates better deals with suppliers, the profit margins on these products are expected to improve.
The Teslarati team would appreciate hearing from you. If you have any tips, contact me at maria@teslarati.com or via Twitter @Writer_01001101.