After spending more than a year deep in "manufacturing hell," Tesla passed a milestone in its Model 3 production. The company registered two large batches of Model 3 VINs this weekend, effectively passing the 100,000-mark for the electric sedan's filings.
Tesla's 100,000 Model 3 VIN milestone comes roughly a week after the company registered a record 16,000 new VINs in a seven-day period. With the addition of the 2,207 registered this Saturday and 6,836 VINs registered on Sunday, Tesla has now filed a total of 108,188 Model 3 VINs since starting the production of the electric car last July.
#Tesla registered 2,207 new #Model3 VINs. ~100% estimated to be dual motor. Highest VIN is 101352. https://t.co/IKvPZI3hqC

— Model 3 VINs (@Model3VINs) August 18, 2018
#Tesla registered 6,836 new #Model3 VINs. ~73% estimated to be dual motor. Highest VIN is 108188. https://t.co/Wq0Y0kJLkL

— Model 3 VINs (@Model3VINs) August 19, 2018
The Model 3 ramp was an ambitious goal for Tesla, and it came at a great cost for the company and its CEO. In an interview last month, Elon Musk dubbed the Model 3 ramp was a "bet-the-company" situation, where the vehicle's failure would have resulted in the fall of Tesla. The production ramp of the Model 3 has been anything but smooth as well, with Tesla facing bottleneck after bottleneck as it attempted to hit the hyper-aggressive manufacturing goals set forth by Elon Musk.
During the midsize electric car's handover ceremony, Musk stated that Tesla would be aiming to hit a production rate of 5,000 Model 3 per week by the end of December 2017. This goal was eventually met, though it happened six months late. All this has exhausted Elon Musk, who noted in a recent interview with the New York Times that the past 12 months had been the most "difficult and painful" year of his career.  
Even when Tesla hit its then-elusive goal of manufacturing 5,000 Model 3 in one week, reservations were abounding about the company's capability to sustain its optimum production rate for the electric sedan. Despite these reservations, signs emerged in July that Tesla might be capable of maintaining its 5,000/week Model 3 ramp. Tesla started test drives for the Model 3 and introduced programs designed to deliver as many vehicles as possible, such as the 5-Minute Sign & Drive system. VIN registrations for the Model 3 picked up as well, with Tesla registering 19,000 new Model 3 VINs during the first half of the month.
Tesla's capability to sustain its 5,000/week Model 3 production rate was highlighted by the company during its Q2 2018 earnings call, when Elon Musk mentioned that the Model 3 line sustained its 5000/week rate during "multiple weeks" in July. Since then, Tesla's Model 3 ramp has exhibited even more encouraging signs. Bloomberg's production tracker, which has gotten more accurate over the past months (it was only ~2% off its Q2 estimates), now shows that Tesla is pacing to hit a production rate of 6,000 Model 3 weekly. As of writing, the publication's tracker estimates that Tesla is producing 5,942 Model 3 per week.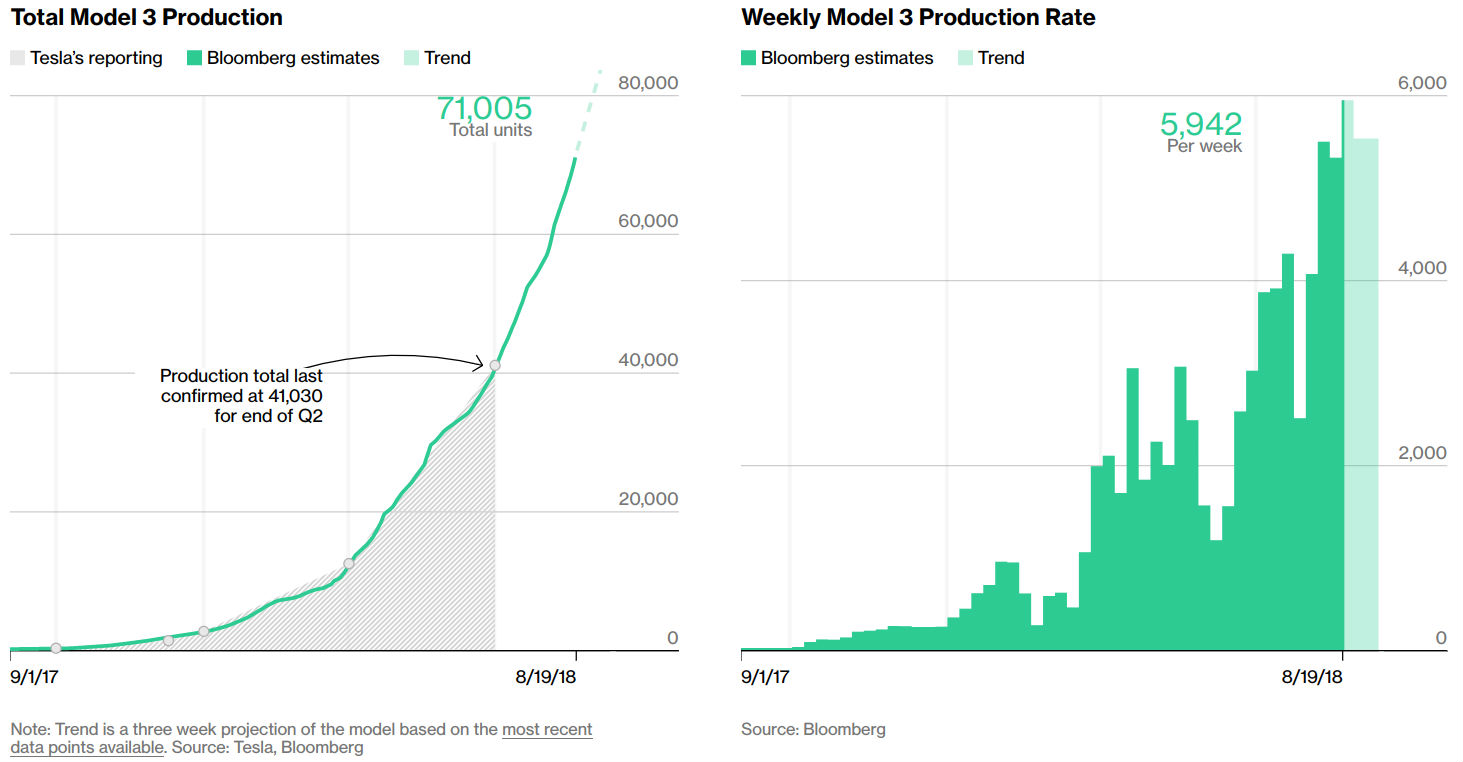 The Model 3 production ramp is starting to win over Wall Street. Last week, even noted Tesla bear Toni Sacconaghi from Sanford C. Bernstein, who previously had a $265 price target for Tesla, raised his price target to $325 per share. Jefferies Financial Group, which also had a conservative $250 price target for the company, also raised its price target to $360 per share.
Perhaps the most notable vote of confidence for the Model 3 production ramp came from George Galliers of Evercore ISI, who was given an extensive tour of the Fremont factory, including the sprung structure-based GA4 set up on the facility's grounds. According to Galliers, Tesla appears to be "well on the way" to hitting a sustained weekly production rate of 5,000-6,000 Model 3 per week. The Evercore ISI analyst also noted that Tesla's current facilities appear to be fully capable of hitting 8,000 Model 3 per week in the future.
"Tesla seems well on the way to achieving a steady weekly production rate of 5,000 to 6,000 units per week. We are incrementally positive on Tesla following our visit. We have confidence in their production. We did not see anything to suggest that Model 3 cannot reach 6k units per week and 7k to 8k with very little incremental capital expenditure. Focusing on the fundamentals and setting aside talk of privatization, we are incrementally positive on Tesla following our visit," the Evercore ISI analyst noted.