Since hitting its Q2 target of producing 5,000 Model 3 per week, Tesla appears to have accelerated its efforts to build and deliver the electric car to as many reservation holders as possible. The vehicle's ramp has been anything but smooth over the past year, but now that Tesla is focusing on sustaining its production of the car, it seems like the results of the Model 3 push are finally starting to bear fruit.
Tesla noted in its Q2 2018 production and delivery report that the Model 3 had a line of about 420,000 reservations as of the final week of June. Deliveries of the Model 3 rose steadily since Tesla started ramping the production of the vehicle. Over Q1 and Q2, sales of the electric sedan increased, culminating in July when Tesla is estimated to have sold as many as 14,250 Model 3 in one month.
With such numbers, the Model 3 became the best-selling electric car in the United States in July, bar none. The rise of the Model 3 was so prominent that last month, it was listed as 7th place in GoodCarBadCar's list of America's Top 20 Best Selling Cars, which included gas-powered vehicles like the Toyota Camry and the Honda Civic. These are vehicles that have held their places in the US's auto industry for years, and the vast majority of them are more affordable than the Model 3.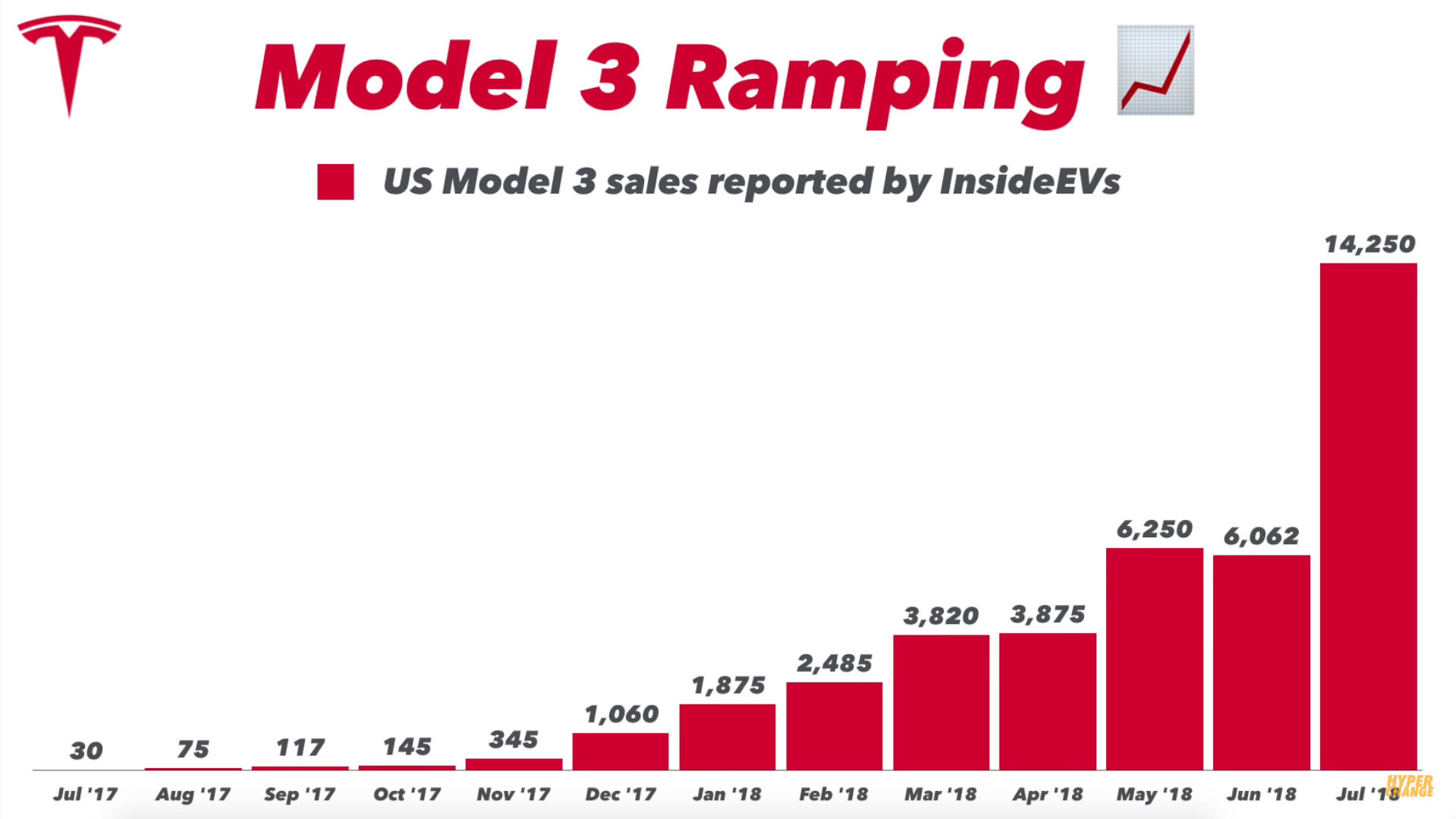 Yet, despite this, the Model 3's sales show that more and more people are starting to commit to Tesla's electric car. In the company's Q2 2018 earnings call, Tesla global head of sales Robin Ren stated that the top five vehicles being traded in for a Model 3 were rather surprising, as they were comprised of mostly lower-priced cars such as the Toyota Prius, BMW 3 Series, Honda Accord, Honda Civic, and the Nissan Leaf. Among these vehicles, only the BMW 3 Series is an actual competitor in the midsize luxury segment. The other four are from a more affordable price point.
According to Elon Musk, these trends in the sales of the Model 3 suggest that customers are quite open to spending a little bit more than their usual budget to purchase the electric car. This, Musk believes, is encouraging overall.
"It's just interesting that people are trading up into a Tesla, so they're choosing to spend more money on a Tesla than their current car, just based on the trade-in values. A Civic is a very inexpensive car compared to particularly the Model 3 today. So that's promising from a market access standpoint," Musk said.  
Tesla's Model 3 ramp appears to be well on its way to sustaining the optimum manufacturing level displayed by the company during its "burst production week" at the end of June. Apart from Tesla announcing that it was able to maintain its 5,000/week Model 3 target in "multiple weeks" in July, the company has also registered an astounding 16,000 new Model 3 VINs in a seven-day period this August. That's a number that took the company roughly eight months to achieve when the vehicle started production in mid-2017.
As the Model 3 continues to make its presence known in the US auto industry, Tesla appears to be looking into expanding the Model 3's reach to other countries. Deliveries to Canada have already started in Q2, and just recently, Tesla also announced that it would be offering the Model 3 for viewing in Australia and New Zealand. The company also showcased the Model 3 at the 2018 Goodwood Festival of Speed, where it attracted a good deal of attention from the festival's attendees.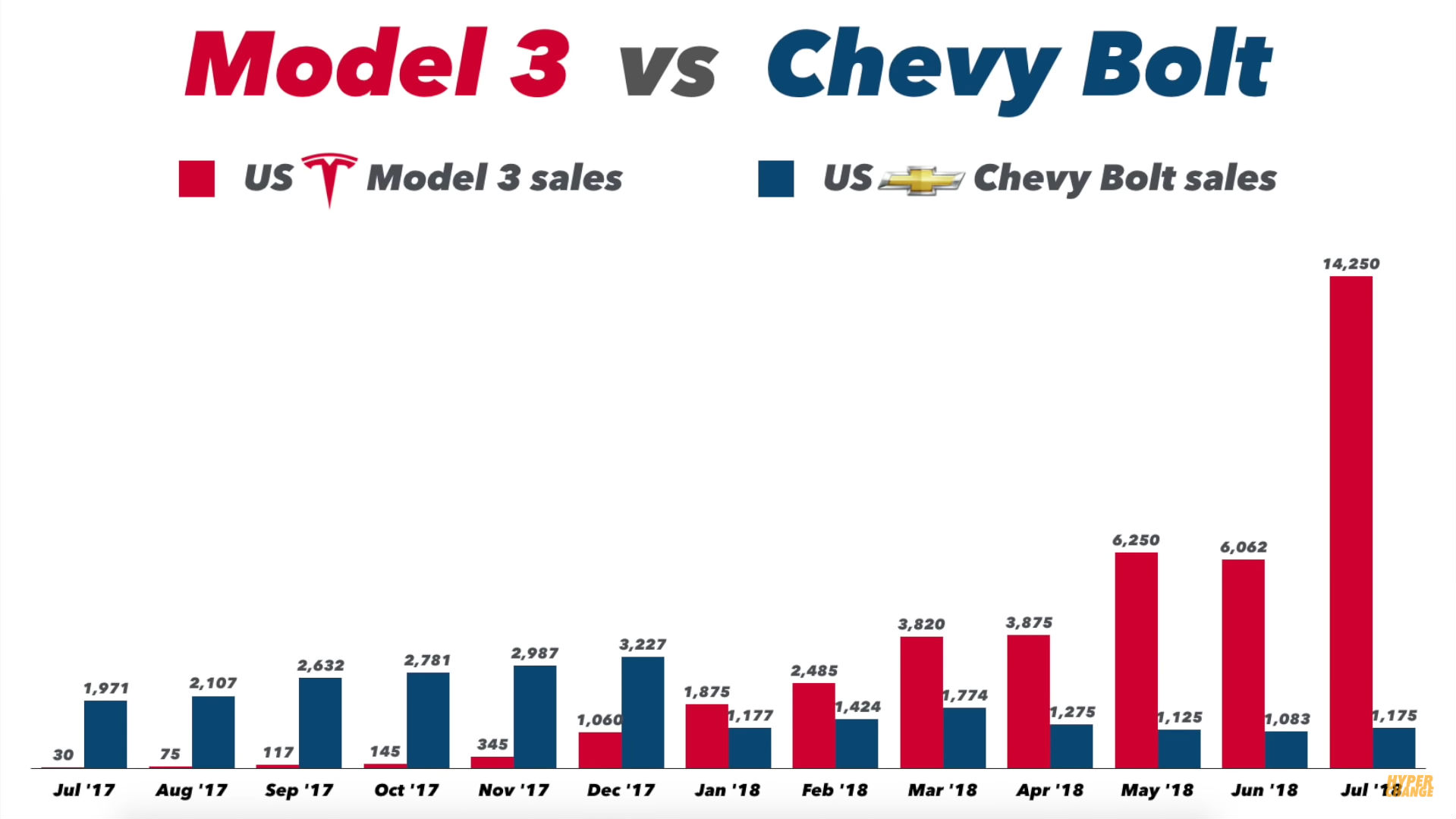 What then, of competing electric vehicles from other manufacturers? The Model 3's main rival, the well-reviewed Chevy Bolt, has appears to have plateaued its sales in 2018. Estimates of the Chevy Bolt's sales this year show that the vehicle has likely sold around 1,100-1,700 units every month since January, putting it below the Model 3's numbers in 2018 so far. By July, the Model 3 is estimated to have outsold the Chevy Bolt EV 12:1.
Particularly notable is that Tesla's production ramp for the Model 3 is still just halfway towards its actual target. Tesla aims to eventually produce 10,000 Model 3 per week — a pace the company is seeking to achieve sometime next year. It took a very long time for Tesla to build up the Model 3's lines to produce 5,000 vehicles per week, but with the milestone achieved, it appears that Tesla's ramp for its most ambitious electric car is going nowhere but up. Once the Model 3 hits 10,000 per week, even America's top-selling vehicles like the Toyota Camry could start seeing their sales get taken over by Telsa's electric sedan.