The construction and development of Tesla's Gigafactory 3 in Shanghai, China is already remarkable in terms of its speed, but recent social media reports from the Asian economic superpower indicate that the upcoming electric car production facility could be coming online earlier than expected.
Recent posts from prolific media sources in Weibo have indicated that Tesla is preparing to showcase its first Gigafactory 3-made Model 3 at the opening ceremony of the 2019 World Artificial Intelligence Conference in Shanghai, which will kick off on August 29, 2019. The updates come just a day after images and a video of Gigafactory 3's interior was shared online, depicting what appears to be the preparations for trial production runs of the Model 3.
Responding to the Gigafactory 3 images, Weibo user Master pen Tang Hu (主笔唐驳虎), who is certified by the Chinese social media platform as a "well-known information blogger," remarked that Gigafactory 3 is already in a "state of trial installation." A rough translation of the information blogger's recent post is as follows:
"It (Gigafactory 3) is already in the state of trial installation. It is said that the opening ceremony of the Shanghai World Artificial Intelligence Conference on the 29th of Thursday will show the first Shanghai-made Model 3. Nine months from the open space to the factory to the product. Watch the best with the American Factory. PS: Such interesting things. I think there should be a documentary film crew in the "China Factory" in the past 9 months?" he wrote.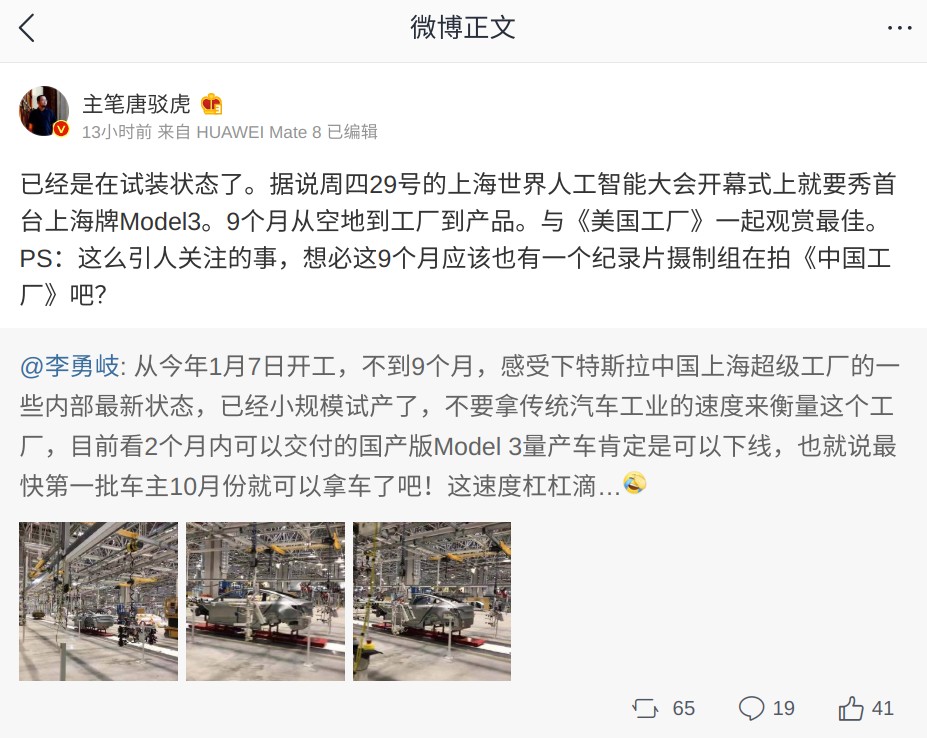 To state that these recent updates are astounding is an understatement. Elon Musk, after all, noted during Gigafactory 3's groundbreaking ceremony in January that he expects trial Model 3 production to begin at the facility by the end of 2019. Tesla China and its construction partners have taken the CEO's aggressive target timeframe to heart, allowing Gigafactory 3 to get built in but a few months. The first pillar of the facility was set up in mid-March, for example, which is just over five months ago.
A grand reveal of Tesla's Made-in-China Model 3 in the opening day of the 2019 World Artificial Intelligence Conference could be a notable highlight to the upcoming event. After all, Elon Musk is set to be one of the speakers at the AI conference, kicking off the event with fellow disruptor Jack Ma, the founder and Chairman of China-based e-commerce behemoth Jack Ma. Musk's China trip will see the CEO attending the AI conference, establishing The Boring Company's China unit, and potentially visiting the Gigafactory 3 complex.