The results of the Q2 2019 Kelley Blue Book Brand Watch have revealed that the United States' luxury vehicle segment is being dominated by Tesla, particularly its most disruptive vehicle to date, the Model 3 midsize sedan.
As per the results of KBB's recent report, the Tesla Model 3 was the most-considered luxury model in Q2 2019, up from No.6 in the first quarter. Even the Model S, a vehicle that has seen a decline in sales amidst the ongoing ramp of the Model 3, ranked well in KBB's study, holding the No.8 spot on the most-shopped luxury vehicle list.  
Tesla was the sixth overall most-shopped luxury brand in the United States, with 14% of luxury vehicle shoppers considering one of the company's existing offerings when purchasing a premium vehicle. This is a notable improvement from Tesla's first-quarter results, which saw the company ranking 10th with 8% of luxury car shoppers considering a Model 3, Model S, or Model X.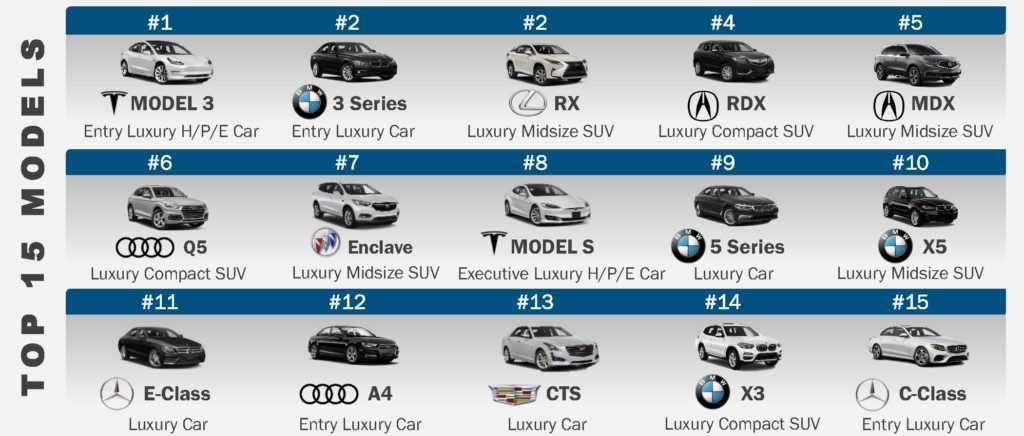 Tesla's results from the Q2 2019 Kelley Blue Book Brand Watch are particularly impressive, especially considering that the company encountered challenges during the second quarter. Following lower-than-expected deliveries in Q1, Tesla was hit by a wave of negative sentiments that ranged from the alleged lack of demand for the Model 3 to a plummeting stock price. If the results of the KBB report are any indication, it appears that the notable negativity that surrounded Tesla in the second quarter did little to dent the company's reputation among car buyers. 
This is particularly notable in the fact that Tesla also dominated the list of most important factors for consumers that are looking to purchase a vehicle, with the electric car maker capturing seven first-place spots out of 12 categories outlined in the report. As per KBB's results, Tesla was considered as the top-ranked brand for driving comfort, driving performance, technology, interior layout, exterior styling, fuel efficiency, and prestige/sophistication.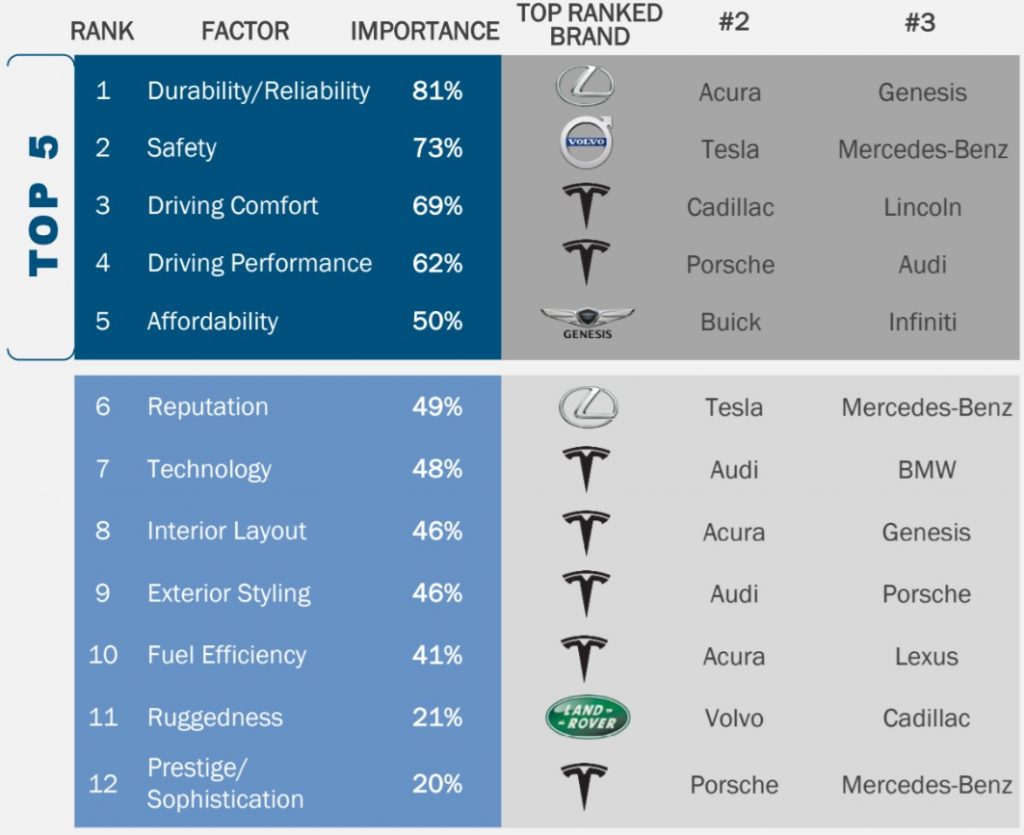 With these results, Kelley Blue Book noted that Tesla has now grown into one of the most formidable luxury brands in the United States. "Tesla is no longer an emerging brand, it has become one of the top performing luxury brands with 8% market share," the KBB report noted.
Ultimately, the only categories in the Q2 2019 Kelley Blue Book Brand Watch where Tesla did not place in the top three spots included ruggedness, which is so far irrelevant to the brand considering that the company has no off-road vehicle to date; as well as affordability, which is only somewhat important for the mainstream-priced Tesla Model 3. Both these categories will likely be addressed by Tesla in the near future, with the Tesla Pickup Truck potentially catering to the rugged, utilitarian market, and Model 3 prices being further optimized amidst dropping battery prices.
The full results of the Q2 2019 Kelley Blue Book Brand Watch could be found below.
2019Q2 Brand Watch Luxury Topline by Simon Alvarez on Scribd