Tesla Model 3 fans now have a fun look at what the user experience could be like on the vehicle's center touchscreen.
Andrew Goodlad, who goes by the name @Ichorus on Twitter, shared an interactive touchscreen simulator that he created.
For anyone wanting to play about with the Tesla Model 3 UI I recreated a very rough version from videoshttps://t.co/VB17DlsDeO #model3 pic.twitter.com/4HsVMEK8QC

— Andrew Goodlad (@Ichorus) August 2, 2017
The simulator is interactive and allows Tesla fans and soon-to-be owners to toy with similar features that the real Model 3 touchscreen will have.
The LCD touchscreen is lauded as the command center of the new luxury, mass market EV — it's the brains behind a Tesla driver's entire user experience.
Drivers will be able to adjust mirrors, control air conditioning and vents, play music, as well as adjust seat positions, lights and even steering wheel height.
The LCD simulation also shows options to lock the car, change the steering and regenerative braking settings, adjust interior temperature, and deploy the parking brake.
These, of course, all just the extra features on top of the GPS and navigation systems.
The screen has changed the entire minimalistic dashboard of the Model 3 compared to other vehicles. Reviewers have raved about the austere, elegant and relaxed feel of the Model 3's dash.
The virtual mock up was created using Invision and is the first widely released simulation of what a touchscreen user experience will be like while driving a Model 3. It certainly depicts the touchscreen as it's been talked about — the quarterback of the Model 3.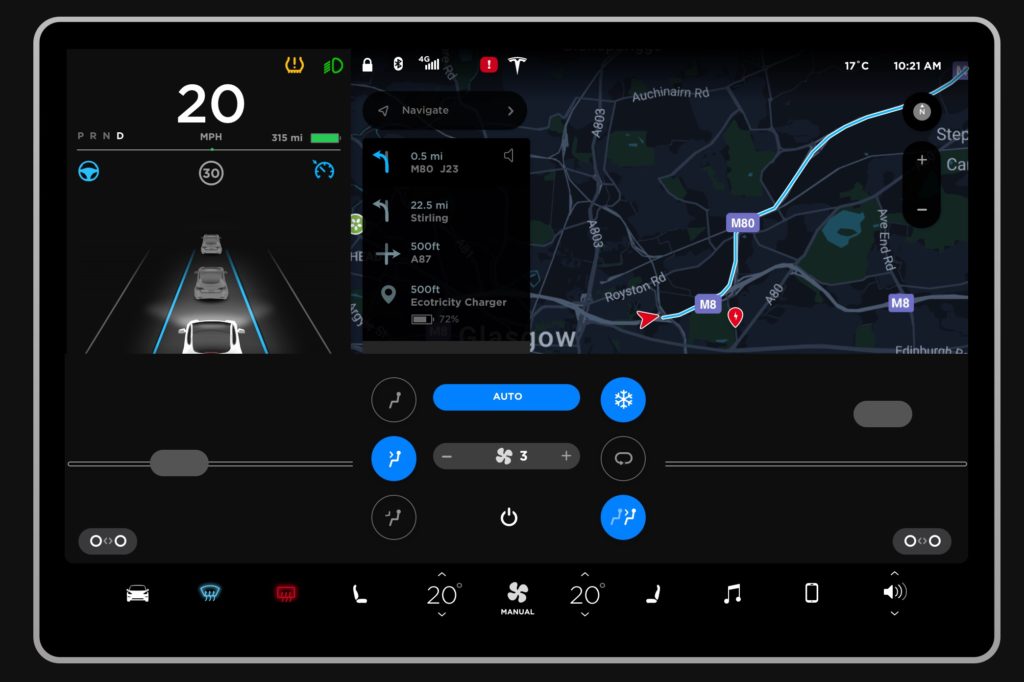 Goodland said in his tweet that the mock up provides a great opportunity to "play around" with the touchscreen. He managed to recreate the "rough version" only through videos.
Needless to say, Tesla fans on Twitter were excited and wanted to learn more about Goodland's process.
"Nice work! Where did you get the icons from and which font are you using?" tweeted @craighamnett.
With the Model 3 delivery event passed, many Tesla reservation holders have a sizable wait ahead of them before they receive their vehicles. In the meantime it seems some dedicated fans are providing reservation holders with the opportunity to test drive their Model 3's features before the vehicle even makes it into their driveways.