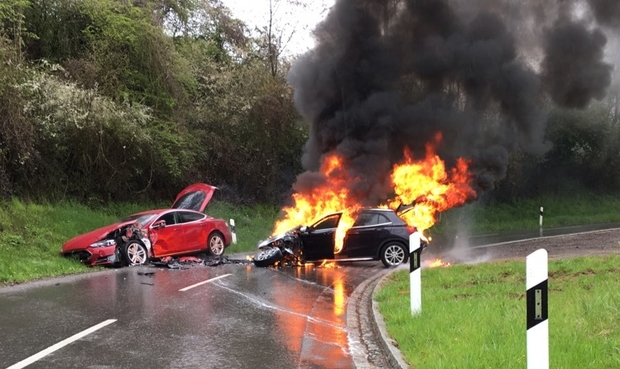 Reports coming from Luxembourg news outlet 5′ Minutes.lu indicate that a four-door compact vehicle was involved in a collision with a Tesla Model S shortly after 5pm local time in Contern, Luxembourg. The black compact – presumably a gasoline burning internal combustion engine vehicle that has collided into the side of the Model S (based on the published photo) – is seen engulfed in flames. No other information was made available by the local news outlet.
Tesla has designed its cars to be safer than any other cars on the road made evident by its 5-Star safety rating from the National Highway Traffic Safety Administration (NHTSA). In a press release, Tesla remarked that the Model S had achieved a rating of 5.4 stars. But the NHTSA was quick to counter that claim with this statement. "The National Highway Traffic Safety Administration is committed to improving safety on the nation's roadways. The agency's 5-Star Safety Ratings program is designed to provide consumers with information about the crash protection and rollover safety of new vehicles beyond what is required by Federal standards. One star is the lowest rating; five stars is the highest. More stars equal safer cars. NHTSA does not rate vehicles beyond 5 stars and does not rank or order vehicles within the starred categories."
The Tesla Model S has also earned a 5-Star rating in the European NCAP safety testing program. Couple its structural strength with the added layer of security provided by its available Autopilot system, which helps avoid collisions in bad weather and other low visibility conditions, and you have one of the safest cars on the road. The Tesla Model X is also known as one of the safest SUVs available. During safety testing, it was discovered that it was virtually impossible to get the Model X to roll over, uncharacteristic of other SUVs on the market.
Despite reports of Tesla fires in the past, the most recent example happening in Norway when a Model S caught fire will Supercharging, incidence of fires on Teslas are rare and significantly less than that of gasoline powered cars. Elon Musk has publicly noted that in comparison to national statistics of one vehicle fire per 20 million miles driven, Tesla has had only one incident out of 100 million miles driven at the time of the 2013 battery fire incident. Tesla later released a titanium shield that fortified the under carriage of the vehicle and solved the issue.
Hat tip to Grant Gerke , Photo credit: NH/mobilreporter