Tesla has rolled out a minor price increase for the Model S sedan, Model X SUV, and the Model Y crossover in the United States. The changes to the vehicles' prices were reported by EV observers on social media. 
As could be seen in Tesla's online configurator, the Model S now starts at $88,490, while the Model X now starts at $98,490 before options. The new prices represent a $1,000 increase in the cost of the two flagship electric cars in the US. 
Tesla also highlighted a number of perks with the purchase of the flagship sedan and SUV. The company noted that the Model S and Model X would receive three years of unlimited free Supercharging. The EV maker also noted that financing for Model S and Model X purchases start as low as 3.99%.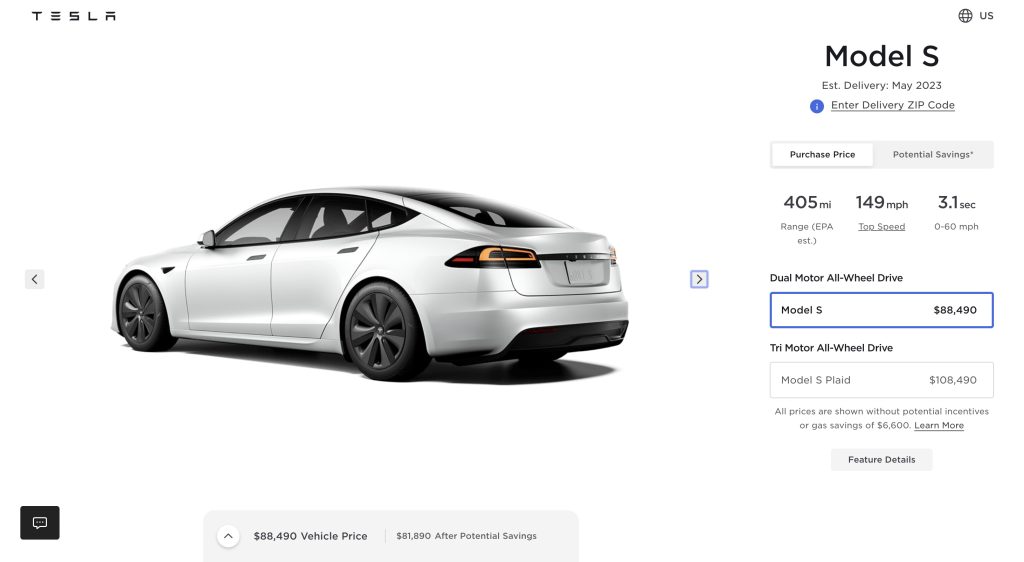 The update to the Model S and Model X's prices, together with the company's focus on its financing options, has been received well by the EV maker's bulls. Despite the slightly higher price of the flagship cars, after all, the Model S and Model X's 3.99% financing option could make the vehicles easier on the pocket. 
The advantage of lower monthly payments was highlighted by Tesla CEO Elon Musk during the Q1 2023 earnings call.
"I can't emphasize enough the whole — just fundamental question of affordability. For most people, their ability to buy a car is a function of can they make monthly payment or not. And so like I said, if interest rates are really high, like they are right now, then in some cases, people can't get a loan at all," Musk said.
Apart from the Model S and Model X, the Model Y also received a price increase, albeit a minor one. As per Tesla observers, the Model Y now starts at $47,490 before options. This represents a small price increase of just $250 from its previous cost. The all-electric crossover still qualifies for the IRA's $7,500 tax credit. 
The Teslarati team would appreciate hearing from you. If you have any tips, contact me at maria@teslarati.com or via Twitter @Writer_01001101.