The results of Tesla's brief time in Germany's famed Nürburgring racetrack were impressive. During their stay, Tesla's two Model S "Plaid" powertrain prototypes showcased great potential, at one point finishing a hand-timed lap of 7 minutes 23 seconds, about 20 seconds faster than the Porsche Taycan, a vehicle that was honed on the historic racecourse. This was made possible by a Silicon Valley-style strategy that allowed the electric car maker to push its vehicles to the limit and establish a presence in the nearly 13-mile track with authority.
The Upstart Newcomer
Elon Musk's announcement of the Model S' excursion to the Nürburgring was not universally supported, with some doubting the electric sedan's capability to take on the "Green Hell," and others dismissing the proclamation of as plain old "bulls**t." The Tesla Model S, after all, is known for out-accelerating supercars in a straight line, but the vehicle is prone to throttling its power when driven hard on a closed circuit. To address this, Musk deployed two Model S prototypes, both of which were equipped with a "Plaid Powertrain" setup that featured three electric motors, racing-optimized tires, fenders, a new spoiler, and a slightly different fascia with a bigger air intake. These vehicles were track-worthy.
Tesla's efforts to set up its Nürburgring sessions was commendable. Not long after Elon Musk's announcement of the upcoming track runs, a Model S was spotted being transported to the circuit. A Supercharger was set up in the vicinity of the racetrack as well, allowing the prototype vehicles to recharge their batteries in between laps. Tesla seemed to have brought two vehicles, a red prototype accompanied by a blue unit. Reports claim that at least one of the vehicles was stripped of its interior to reduce weight, though images captured of the red Plaid Model S prototype hint that the sedan still had a passenger seat and door trims.
The Old Guard
What is rather ironic is that Tesla's initiatives at the Nürburgring seemed to be a response to the feat of the Porsche Taycan, which set a record of 7 minutes 42 seconds around the track prior to its official unveiling. Musk has extended his praise for the Taycan on Twitter, stating that the vehicle seems like a good car, and mentioning that its track time at the Green Hell was "great." While it seemed like Tesla rushed to get the Model S Plaid prototypes to the Nürburgring, it turned out that there was no rush needed at all.
This is because the Taycan's 7:42 lap record was not officially sanctioned by the Nürburgring. In a statement to Jalopnik, Porsche described the Taycan's time as "one for ourselves that we use as a point of historical record." This is the reason that the Taycan's lap time is not listed among the Nürburgring's records. That being said, the German carmaker noted that the prototype it utilized for the run was production-spec, which meant that it was not stripped of any unnecessary weight. Porsche even stated that the Taycan it used for its Nürburgring run was actually heavier due to its roll cage, and it had stock tires on.
Quite interestingly, reports have emerged stating that Porsche utilized a Taycan Turbo prototype for its Nürburgring run. This is a rather interesting point, considering that the vehicle used by the company for its record lap was equipped with large yellow brake calipers, which is an option for the higher-end Porsche Taycan Turbo S (the Turbo comes with white calipers). Provided that these reports are true and Porsche did use its less powerful Turbo prototype for its "record attempt" at the nearly 13-mile track, the carmaker's upcoming rounds with its Taycan Turbo S would be very interesting. The vehicle could definitely raise the stakes if it closes in or beats the Plaid Model S prototype's 7:23 hand-stopped lap time.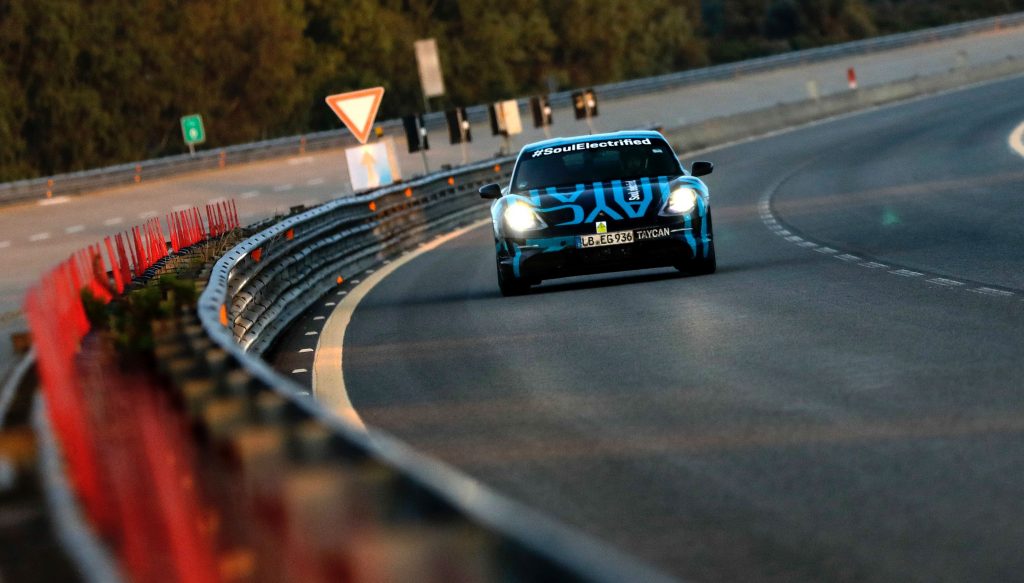 An impending Nürburgring arms race
So what was the result of Tesla's Silicon Valley-style approach to the Nürburgring? A lot of achievements and respect gained from professionals alike, actually. Professional race driver Robb Holland, who was initially skeptical about Tesla's Nürburgring attempt, noted in an updated article that he commends Tesla for putting in the right effort, and for achieving a time that is not simply fast for an electric car or a four-door sedan with seven seats; but just plain fast. Tesla's announcement that its Plaid Model S prototypes will be going for a 7:05 time when they return to the Nürburgring next month hints that more impressive feats could be expected.
Tesla's Nürburgring session this time around ended with a 7:24 lap time and one of its red Plaid Model S prototypes being pushed hard enough that it retired in the middle of a run. With Tesla's departure, a number of details have emerged about the electric car maker's vehicle. For one, each Plaid prototype seemed to be capable of running five or six full laps at full speed around the Nürburgring per day, which is already close to that of high-performance ICE cars. Each vehicle was also charged after every lap, though it is unclear if this was due to heating issues or if Tesla was simply topping up lost range.
What is known from eyewitnesses, unofficial track timers, and racing drivers during Tesla's testing days was that the Plaid Model S prototypes were very, very fast. In an article on auto news site Jalopnik, Holland mentioned that drivers operating other high-performance vehicles at the Nürburgring stated that the Model S Plaid prototypes were frighteningly fast when they ran their laps, to the point where the vehicles would almost vanish from another high-performance car with capable drivers.
Porsche did not establish its reputation by staying still when there is a powerful new challenger in the field. With Tesla establishing that its upcoming Plaid Model S is fast and track-capable, the German carmaker will likely respond with an equally impressive demonstration, perhaps with the Taycan Turbo S (provided that its initial run was conducted with a Turbo unit, of course) or an even more track-worthy car. For Klaus Zellmer, president and CEO of Porsche Cars North America, Tesla's challenge is something that is more than welcome. "We call ourselves a true sports car manufacturer, and there aren't that many ways to prove that it is a true sports car," he said in a statement to CNET Roadshow.
As Elon Musk has said, now it's game, set, match.