The Tesla Model S has been named the Car Of The Year by Carsales.com.au
Down Under, The Carsales Car Of The Year competition involves a number of relevant real world factors. The process includes critical evaluation by members of the motoring press and makes up 70% of the total score. The remaining 30% takes into account operating expenses, retained value, consumer engagement, and affordability, according to Motoring.
Figuring out how much a car costs to drive involves some fairly complex calculations. Those computations take place over a 3 year period and an estimated 60,000 kilometers of driving. They include estimated expenses for fuel, taxes and registration fees, the cost of one set of tires, insurance, and finance costs. Retained value is a measure of what a car's resale value is expected to be after 3 years. Consumer engagement is a measure of how much owners like their cars. Finally, affordability takes into account how each vehicle ranks in terms of initial costs compared to the other cars in a particular category.
After all the data was assessed and the numbers crunched, the Tesla Model S was deemed the overall Car Of The Year winner and also awarded the title of Best Green Car. Keep in mind that Model S P85D sells for almost $200,000 in Australia.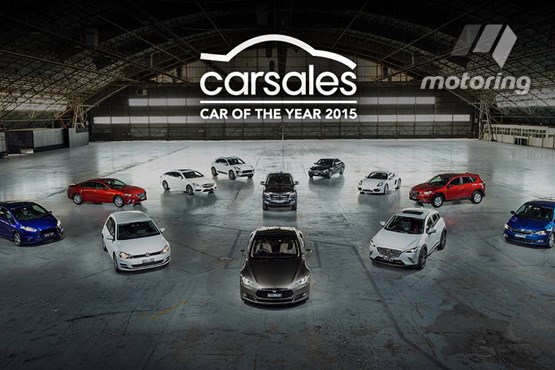 Carsales CEO Greg Roebuck said the Tesla Model S is a game-changer in the Australian automotive world. "While Tesla is a fledgling car company, it has set the tone for the next generation of automobile evolution. Tesla will change the auto industry. Companies with 100-year histories are scrambling to catch up," says Roebuck.
"Tesla has done so with innovative technology and a fearless desire to sidestep existing practices. The Model S is conventional in its looks but ultimately unconventional in its execution. Its internet connectivity allowing vehicle updates and new features without the need to visit a service centre is a true innovation and the real-time, always current, mapping which includes traffic info, is a really nice touch."
Roebuck tells Motoring the judges had nothing but praise for the Model S because of its advanced technology, excellent driving dynamics and a range almost three times longer than other electric cars available in the Australian market. The judges also commented favorably on the car's high quality construction, user friendly GUI, quiet ride and spacious cabin.
"The Model S delivered on all our data-based criteria.on all our data,"Roebuck said. It was very close to being named one of our Prestige class winners. The Model S is a deserved winner, and truly a car that will influence the design of vehicles globally for many years to come."
There is only one @carsales Car of the Year. And it's the ground-breaking @TheTeslaModelS! https://t.co/14KOmg2VmK pic.twitter.com/sUtpbaFNZS

— carsales.com.au (@carsales) November 10, 2015
Tesla Motors Australia marketing and communications manager Heath Walker said, "Our aspiration at Tesla was to show that the Model S can truly be better than a petrol car, helping overcome perceived barriers and advancing the adoption of sustainable transport. This is now further enforced through winning the Carsales Car of the Year [award] against a field of exceptional competitors."
Photo credit: Carsales.com.au
Related News