Updated October 7, 2016: Tesla has since discontinued the availability of the 1.25″ accessory hitch.
The Tesla Model X can now be ordered with an optional accessory hitch. The 1.25″ receiver accepts any of the popular accessory racks on the market for carrying skis, snowboards, and bicycles. When not in use, a "streamlined diffuser plate" seamlessly integrates into the rear bumper. The 2″ tow package rated at 5,000 lbs is still available.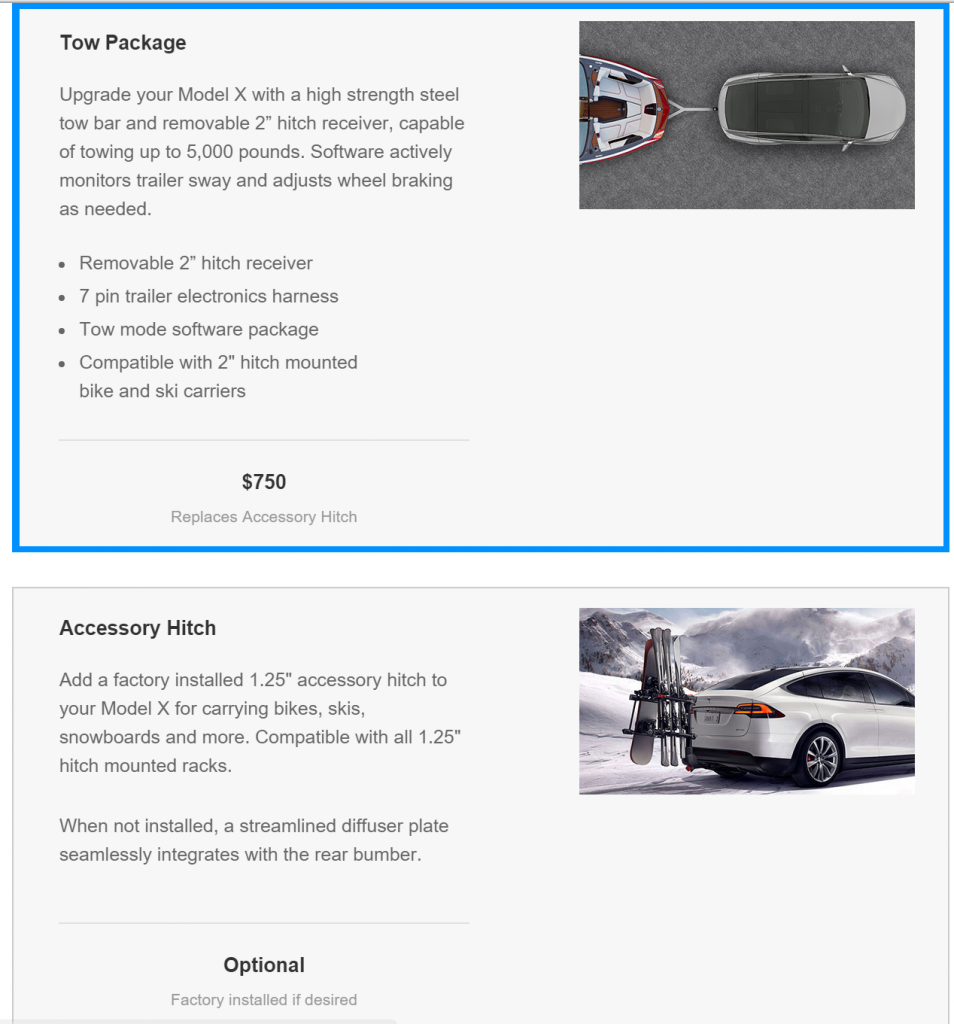 At issue are the "falcon wing" rear doors that are unique to the Model X. While they are designed to make access to the second and third row seats easily accessible, they also make it impossible to mount a traditional roof rack to the car. The trailer hitch solution may be fine for skis, snowboards and bikes, but it offers no solace for those who want to bring kayaks or a paddle board along on vacation.
Only once the Model X gets delivered to actual customers will we know how much of a blessing or how much of a curse those falcon wing doors might be. For now, they are the one feature of the car that has generated the most buzz and made it the most enthusiastically awaited SUVs to hit market.
Since the Model X and the Model S are built on the same chassis, one wonders whether the 1.25″ receiver couldn't be offered on the Model S as well, for those who don't want to carry their skis, boards or bikes inside the car?
In other Model X news, the official Design Studio page now lists the range for the P90D as 250 miles. Previously, that number was listed as 240 miles. The company made the change without any official announcement and has offered no explanation for the amendment. Once again, only real world experience will answer some of the questions many still have about how the Model X will perform in the hands of real drivers on real roads. The first cars will be delivered on September 29.