On the heels of a Tesla Model Y sighting involving several units of the upcoming all-electric crossover SUV being transported by carrier near the Fremont factory, another potential Model Y release candidate has been spotted in the wild. 
This time, the crossover was spotted at Fremont CA on HWY 680, not too far from Tesla's main electric car production facility. The recent sighting is particularly interesting, especially since the vehicle featured Midnight Silver Metallic paint paired with factory chrome-deleted door handles and window trims. 
This particular color combination is definitely easy on the eyes, and it gives the Model Y a notably sleek look. The vehicle still looks pretty much like an oversized Model 3, but with its tall roof and its chrome deleted accents, the Model Y is starting to develop its own, distinct look with the recent wave of sightings.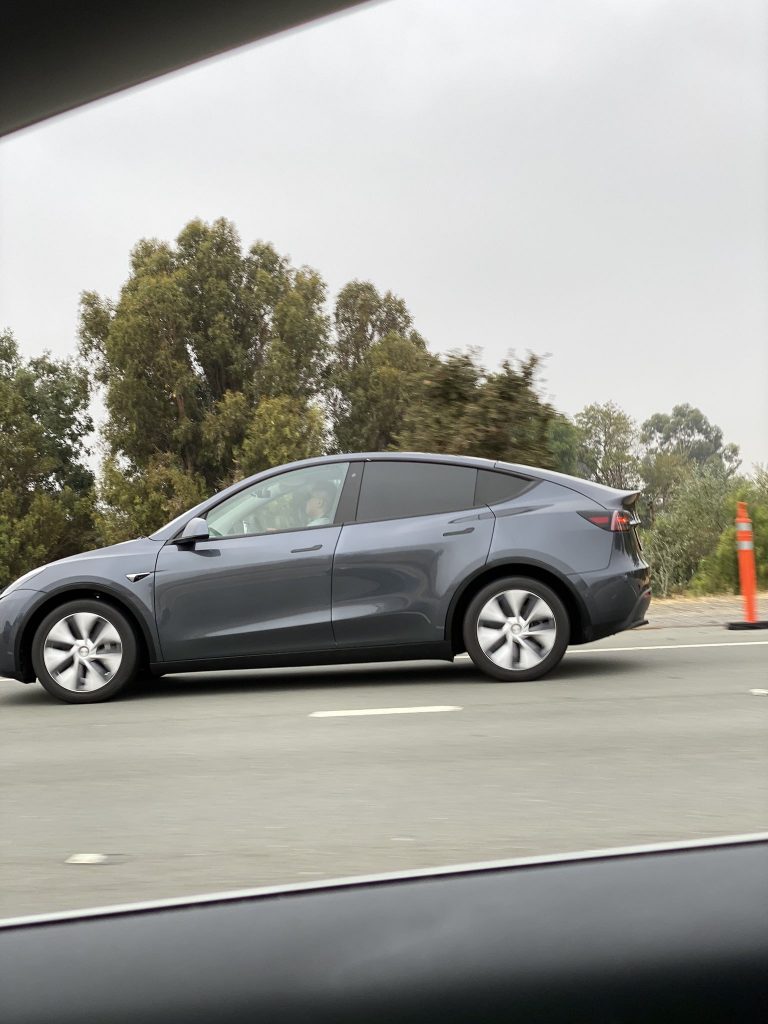 Yet, perhaps the most interesting aspect of the recent Tesla Model Y sighting involves the crossover SUV's wheels. The vehicle was in motion when it was photographed, but it is not too difficult to see that the Model Y was fitted with the same "Power Sports" Aero Wheels that are currently available for the Model 3 Performance in China. It remains to be seen if the crossover was equipped with the same 19″ wheels as China's Model 3 Performance variants, or if the Model Y's Power Sports Aeros are slightly larger. 
Considering that the recent sighting resulted in a rather clear shot of the Model Y as it was speeding down the highway, some unique aspects of the vehicle stood out as well. The most notable of these is the vehicle's blacked-out rear windows, which appear to be fully opaque. One can only speculate that the vehicle might be carrying proprietary equipment that Tesla prefers to keep private at this point.
Apart from the Model Y sightings near the Fremont factory and HWY 680, a red unit was also brought over to Gigafactory 1 in Nevada as part of Tesla's family day celebration last month. The images, which were uploaded late September, showed what appeared to be the same red, chrome deleted unit that Tesla brought over to its 2019 Annual Shareholder Meeting.
The Tesla Model Y is the electric car maker's most ambitious vehicle yet. Designed to compete in the highly competitive crossover SUV market, the Model Y is expected to see demand that exceeds even that of the Model 3. To prepare for this, Tesla has taken great care to design the Model Y to be as easy to produce as possible, from having the vehicle share 75% of its components with the Model 3, to reportedly using an innovative wiring system that allows for greater levels of automation.