Tesla has returned to the Nürburgring with a Model S Plaid Powertrain, sporting a refreshed aerodynamic package that includes the addition of side vents and a massive rear diffuser. The California-based electric carmaker is back at the famed German race circuit in an attempt to break its own lap record of 7:23 set last month.
With high hopes to push closer to a low 7-minute lap time this time around, Tesla's tri-motor prototype with a newly refreshed and performance-oriented body kit is expected to further distance itself from rival Porsche Taycan in track performance.
A blue widebody Model S with "Dual Motor" badge included a noticeably different side vent behind each flared front fender, likely added to improve airflow and reduce aerodynamic lift. Beyond its aesthetic appeal, side vents are commonly found on high-performance vehicles and designed to combat the turbulent airflow that's generated inside the wheel well as a result of the rotation of the tire. The modification becomes increasingly more valuable at high speeds.
The Nürburgring often referred to as the "Green Hell" is one of the more demanding circuits in the world, requiring a combination of high speed and extensive hard braking due to the circuit's aggressive changes in elevation, high speed sweeping turns and blind corners. Tesla's introduction of the side vent in its Plaid Model S prototype is expected to provide increased cooling for the massive carbon-ceramic brakes located upfront.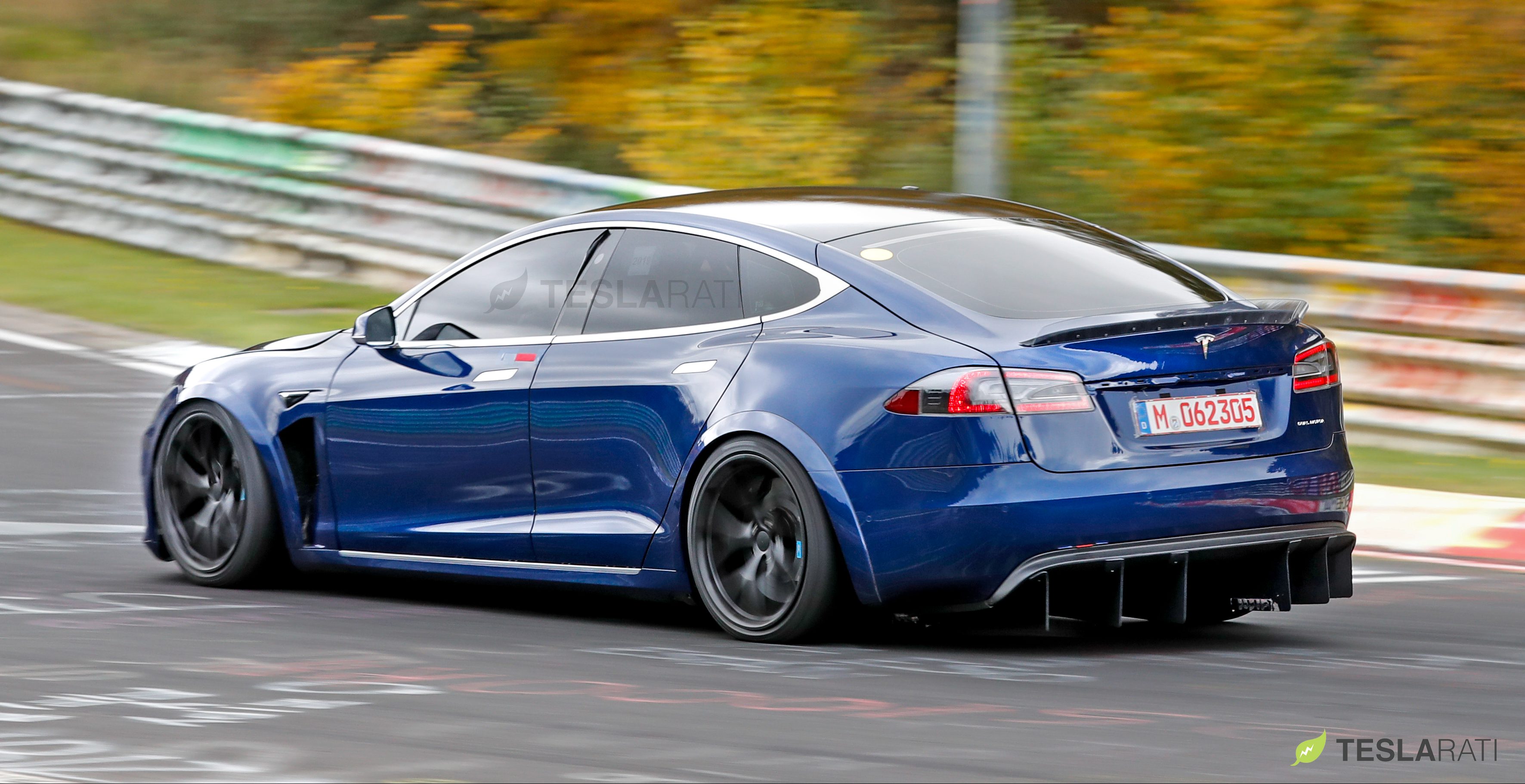 Teslarati also spotted a massive rear diffuser on the refreshed blue Model S Plaid. Rear diffusers are designed to increase downforce at high speeds by accelerating low-pressure air beneath the car and channeling it through the rear of the vehicle. By smoothing out airflow and decreasing drag, the rear diffuser can also aid in handling.
All of these new features, including the large rear spoiler with Gurney flap, have likely undergone a month of simulation testing in between Tesla's visits to the actual Nürburgring. Assuming that Tesla's record lap time last month was simply a benchmark test to determine the vehicle's baseline performance, the additional measures taken by the Silicon Valley-based automaker prove one thing: they are coming to break every record set by any car at the track. We already know that the company is planning an extended stay at the Green Hell with the addition of an in-house Supercharger installation at the track, as well as Elon Musk's additional plans to smash all-time track records with the 2020 Roadster. However, the real insight of these further developments proves the company's competitive streak and shows their hunger to be recognized as the best performance car available for consumers on the market today.