It appears that the Tesla Model Y currently stands as the United States' fastest-selling used electric vehicle. This was outlined in a recent study from car search and research company iSeeCars.com.
For its study, iSeeCars.com opted to analyze over 228,000 new and used car sales from July 2023. The number of days that each vehicle was listed for sale on iSeecars.com was aggregated and the average days each vehicle spent on the market was tracked. The firm's study suggested that used vehicles are now generally taking longer to sell. 
iSeeCars Executive Analyst Karl Brauer described the firm's findings in its study. 
"Used car prices were initially driven up by a lack of new car inventory. Now there are plenty of new cars on dealer lots, but consumers aren't rushing out to buy them. The new car average time-to-sale is down by more than 25%, even as used cars are selling 6.1% faster. This shows buyers are continuing to seek value in the used car market – despite a wide range of new car options," he said. 

The trend has affected the electric car market to a notable degree. Last year, used EVs took an average of 26.4 days before they were sold, but today, the number has risen to 57.8 days. That's a 120% increase in the time it takes to sell a used electric car, even as used EV prices dropped by 38.9% over the past year. And among the used electric cars tracked by the firm, the Tesla Model Y proved to be the fastest-selling used EV in the market.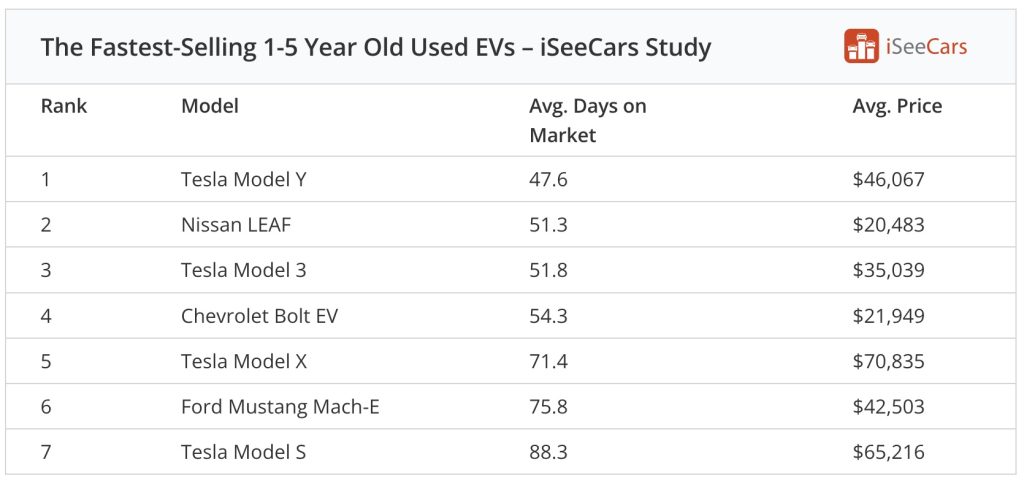 As per iSeeCars.com's study, a used Tesla Model Y spent an average of 47.6 days on the market at an average price of $46,067. Following the Model Y was the Nissan Leaf, which spent an average of 51.3 days on the market at an average price of $20,483. The Tesla Model 3 ranked third, with an average of 51.8 days on the market and an average price of $35,039.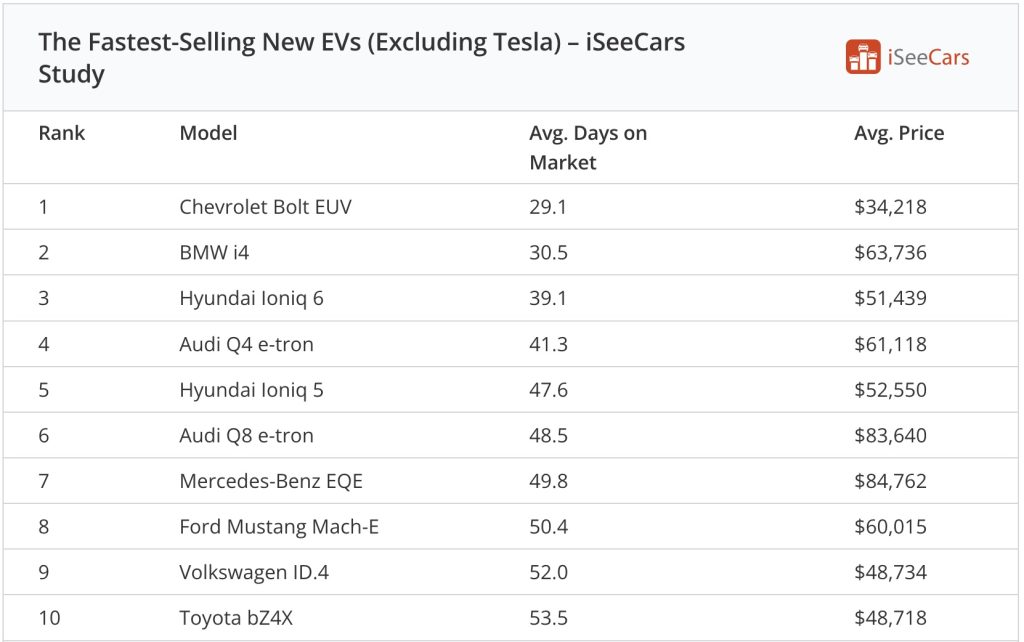 Brauer, for his part, noted that the longer times it takes to sell used electric cars could actually benefit consumers. "The good news for electric vehicle buyers is that EVs are both cheaper and harder to sell in 2023, putting pressure on automakers and dealers to move them in a market that appears to have lost interest. Both new and used EVs are taking more than 50 days to sell on average, meaning it takes more than twice as long for dealers to find EV buyers compared to a year ago, "he said. 
While Brauer's comments about new electric cars can be justified, it should be noted that the study's results for new EVs excludes Tesla, the undisputed leader in battery electric vehicles. Tesla produces the Model Y crossover, which was hailed as the world's best-selling car, electric or otherwise, this year. Thus, while the firm's results for new electric vehicles may hint that a slowdown in EV demand is present, the story might be quite different if Tesla's new car sales are included in the picture. 
Don't hesitate to contact us with news tips. Just send a message to simon@teslarati.com to give us a heads-up.