Tesla has begun the wide rollout of a new "Passenger Face Vent" feature in the latest 2020.28.5 over-the-air software update that aims to improve energy efficiency and increase range.
The wide rollout, initially to Tesla Model Y vehicles only, will limit climate control to only the driver when a passenger is not detected.
The release notes for the 'Passenger Face Vent' update states:
"Your car will automatically disable the passenger face vents when no passenger is detected, lowering energy consumption in hot weather. This vent can be manually enabled by tapping where you'd like the passenger face vent to direct air within the climate control panel."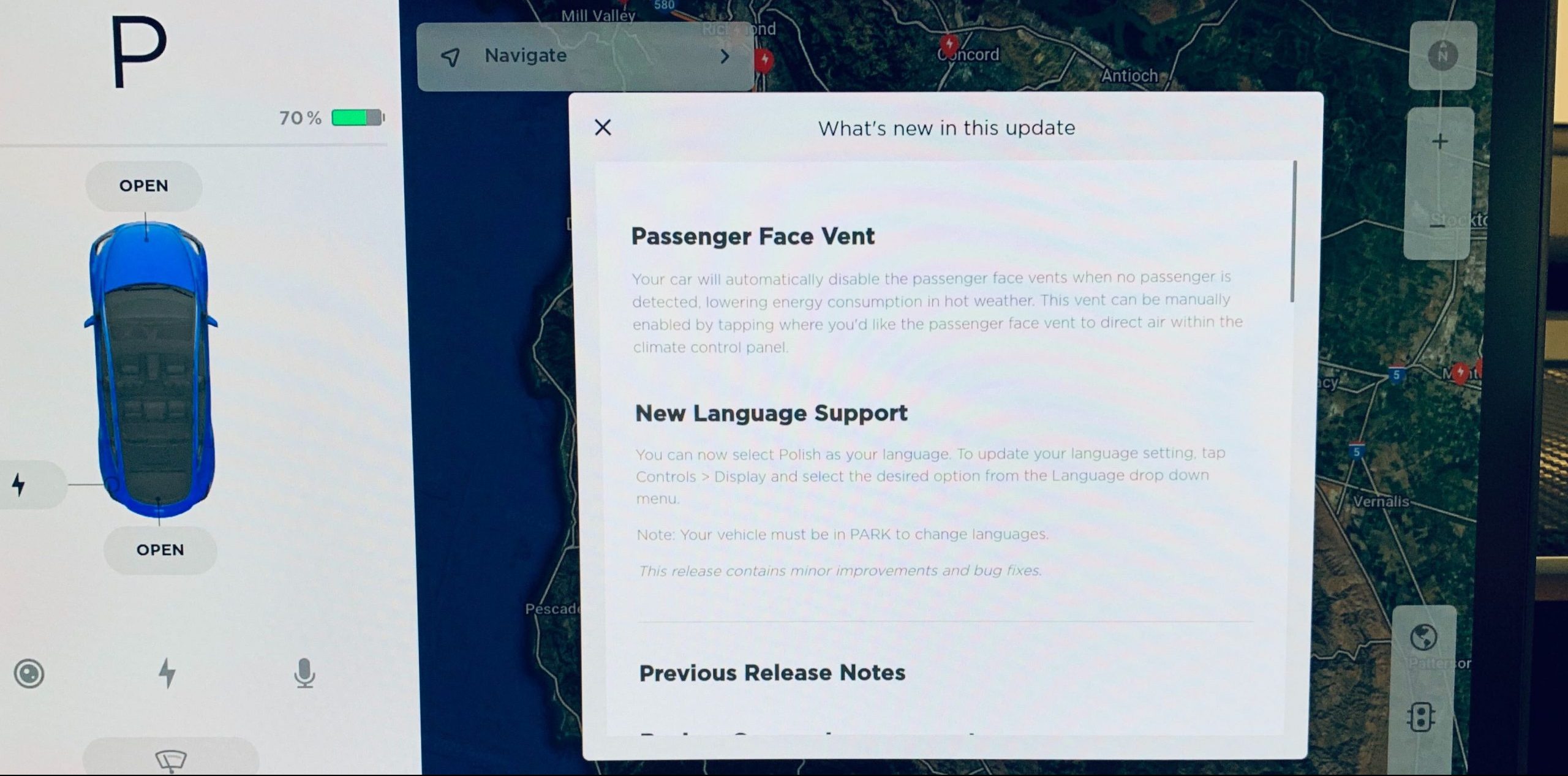 The use of conditioning and climate control can decrease the efficiency of any vehicle, regardless of whether the car is powered by gas or electricity. Using air conditioning is crucial during the warmer months to maintain a comfortable cockpit. Still, it is unnecessary to have vents operating in the vicinity of seats that are not occupied by a person.
Tesla's update aims only to have vents remain operational if passenger seats are occupied within the Model Y. The vehicle will use in-seat sensors to identify occupancy.
According to Teslafi.com, a website dedicated to tracking software updates, the 2020.28.5 update is available across all vehicle models, with the first installations occurring on July 20. However, the Passenger Face Vent feature is only available within the Model Y, according to NotATeslaApp.com.
While the update yields only small energy savings, it validates Tesla's commitment to an incremental improvement to efficiency. By improving efficiency, Tesla could also reduce the number of cells needed in a battery pack, thereby reducing overall costs and improving margins.
Small changes within the way Tesla's vehicles utilize available energy could lead to large-scale efficiency savings in the future.
The latest 2020.28.5 update also added Polish language settings, along with routine improvements and bug fixes.