Deepak Ahuja may not be a household name, but he's a key player in the storied history of Tesla [NASDAQ: TSLA]. He was the company's first CFO, and was at the financial helm through the near-death experience of 2008 and the triumphant IPO in 2010. Ahuja retired in 2015. Jason Wheeler, Google's former VP of Finance, took over for Ahuja but recently announced his departure in order to pursue interests in the public sector. In turn, Ahuja came out of retirement to become Tesla's CFO once again. Today, you'll hear Ahuja's voice on Tesla's much-anticipated earnings call.
Ahuja had originally left a comfortable position at Ford, and moved his family from Michigan to Silicon Valley, to join a company that at the time could only have been described as a quixotic startup. As was the case with other key execs, it was Elon Musk's sincere commitment that convinced Ahuja to jump into the ocean. "Meeting Elon Musk, and understanding his vision of Tesla, was a game-changing moment in my life," Ahuja recently told graduates at his alma mater, Northwestern University. "I felt passion about this opportunity in a way that I hadn't felt before."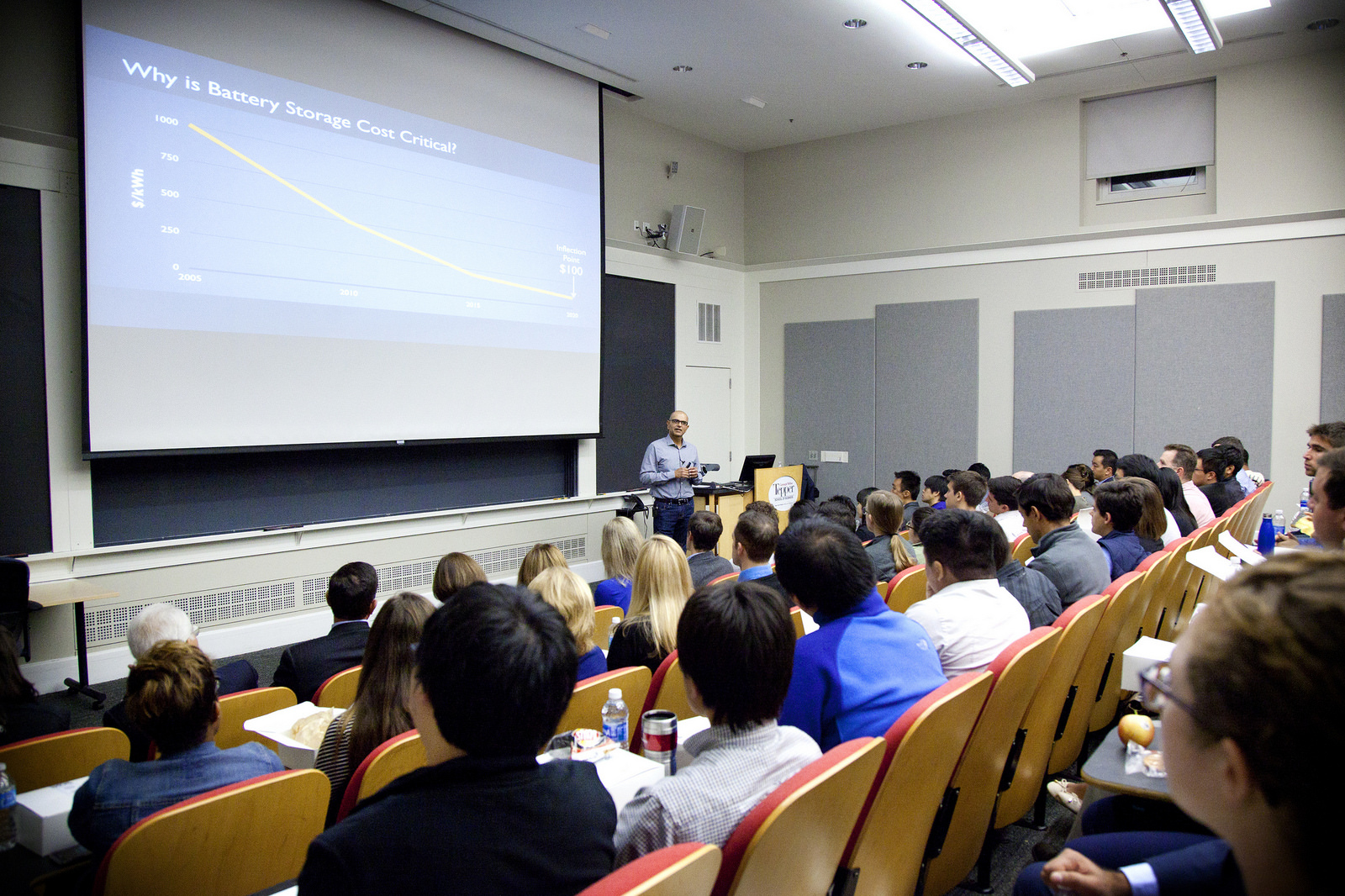 Tesla's feats of acceleration tend to get most of the press, but expert financial guidance has been one of the keys to the company's success from the beginning, so Mr. Ahuja's contribution may have been (and be) greater than anyone outside the Tesla boardroom will ever know. Ahuja discussed some of his unique personal history and challenges working at Tesla as part of a panel discussion about 'How to build unicorn companies' in Silicon Valley.
In a recent presentation at Carnegie Mellon's Tepper School of Business, Ahuja spoke about the gathering wave of disruption in the traditionally slow-moving auto industry. He discussed three major trends driving the transformation: electric vehicles, battery storage and autonomous driving. "We are at the early part of the steep S curve of innovation in each of these changes, which is what makes it really exciting."
Above: Clips from Ahuja's panel discussion (Source footage: diyatvusa / Vimeo)
From the beginning, Tesla has worked not only to make superlative cars, but also to transform the process by which those cars are produced.  The company hired the best process and manufacturing engineers it could find. "What that enabled Tesla to do was to build completely new manufacturing processes in a cost-efficient manner, to get a better ROI than the other car companies," Ahuja said.
For electric vehicles (EVs) to truly compete with legacy vehicles, everyone agrees they need to get cheaper. The key to that, says Ahuja, is reducing the cost of energy storage. He estimates that a cost of $100 per kilowatt hour could be achieved within five years, and predicts that this will be "the natural inflection point at which EVs become an economic no-brainer." This milestone will be "really transformational" for the industry.
Autonomous driving will also disrupt the motor trade in many ways. Ahuja points out that 95 percent of auto accidents are caused by human error, so autonomous cars will help reduce medical and insurance costs. They will also use transportation infrastructure more efficiently, because cars will be able to travel faster and closer together. "The thing to keep in mind is that self-driving cars don't have to be perfect to change the world," says Ahuja. "They just have to be better than human beings."
A big thanks to EVANNEX for providing us with this story. This story was originally published on their site at EVANNEX.com