An Original Tesla Roadster owned by Hollywood superstar Olivia Newton-John has become available for purchase in an online auction, where a portion of the proceeds will be donated to the "Olivia Newton-John Cancer Wellness and Research Center" in her hometown of Melbourne, Australia.
In 2010, the actress, most famous for her 1978 role in the musical "Grease" with John Travolta, and her husband, John Easterling, purchased the 742nd Roadster produced by Tesla Motors. It is estimated to be worth between $80,000 and $100,000 according to Julienslive.com, the site responsible for handling the auction.
The original Roadster available for auction features a one-speed direct-drive transmission, tachometer, engine immobilizer, traction control, 4-sensor 4-wheel anti-lock braking system, rear-wheel drive, adjustable suspension, front and rear ventilated brakes, forged wheels, bonded aluminum chassis, and carbon fiber body.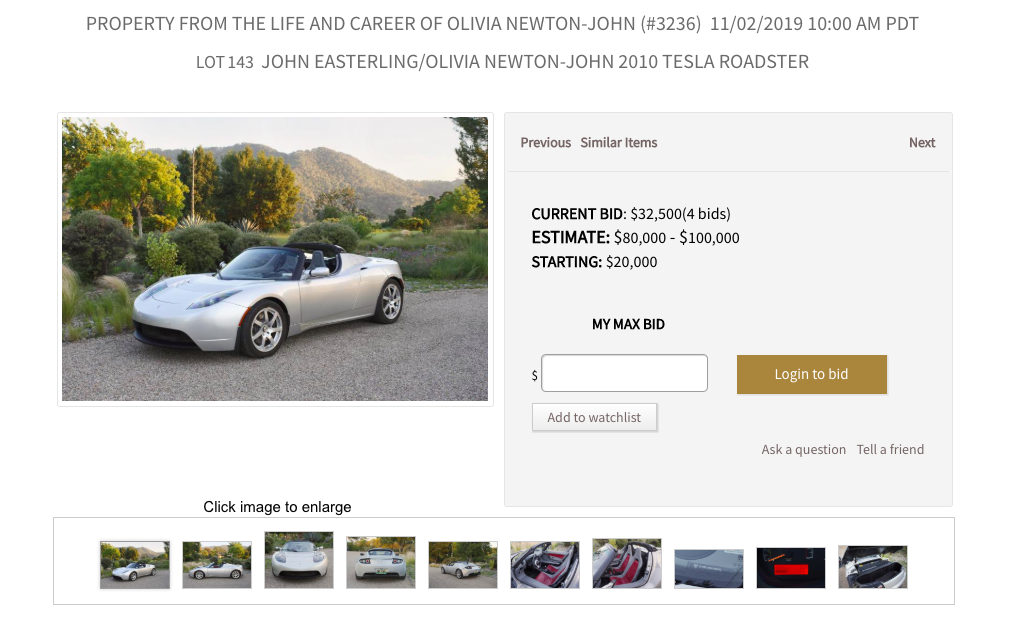 Bidding started at $20,000, but the vehicle is currently at $32,500. Any person interested in owning the 248 horsepower car capable of 128 MPH and a 0-60 MPH time of 3.7 seconds should place their maximum bid price on the vehicle's auction page by November 2 at 10 AM PDT. The winning bidder will receive the Roadster, along with the original price sticker, documentation and paperwork for the history of the car, and the original owner's manual.
Newton-John was diagnosed with breast cancer in 1992. Since her diagnosis, she has become a key figure in health awareness and cancer prevention. Newton-John and Easterling, who is described as an eco-entrepreneur and is the Founder/CEO of Amazon Herb Company, are both environmentally conscious. This mentality lead to the purchase of their Tesla Roadster in 2010. In 2012, the couple was awarded with the ACEER Legacy Award for their efforts to support the solving of environmental issues, including preserving the Amazon Rainforests.
Tesla's Original Roadster was produced by the Silicon Valley-based carmaker from 2008 to 2012. It was a groundbreaking vehicle, as it was the first highway legal car to use lithium-ion batteries as its power source. It was also the first all-electric car to be able to travel over 200 miles on a single charge. The company has stated during a Security and Exchange Commission Fiscal Year report for 2012 they had "delivered approximately 2,450 Tesla Roadsters to customers in over 30 countries."
As the Next-Gen Tesla Roadster will be available for purchase and will begin production in 2020, the Original Roadster has become a true driver's car for EV enthusiasts. Just like a 1960s Mustang is one of the most sought after vehicles for Ford Motor Company supporters, the Original Roadster pretty much falls into the same category. It is the original vehicle Tesla Motors manufactured, and will always be among a hardcore Tesla fan's wish list. People interested in owning one of Tesla's first thousand vehicles should contribute to Newton-John's auction, as it not only will bring an original piece of electric vehicle history to your garage but will also directly benefit the research and development of cancer prevention.