A recently published patent application from Tesla suggests that the electric car maker is continuing in its efforts to improve its already-stellar Supercharger Network. The design outlined in the document, which features a liquid-cooled charging connector, can potentially pave the way for a more ambitious charging infrastructure, perhaps one that can specifically cater to the all-electric Semi's Megacharger Network. 
During the all-electric truck's unveiling, CEO Elon Musk mentioned that the Semi will be able to replenish as much as 400 miles of range in as little as 30 minutes thanks to a network of Megachargers. Neither Musk nor Tesla provided the specs of the Megacharger during the vehicle's unveiling, though speculations were high that network might provide a power output that is several times more powerful than the company's Supercharger V2 Network, which had an output of around 120 kW then (Supercharger V2 stations have since been improved to 150 kW).
Being a large vehicle, the Semi requires a lot of power for its charging needs, involving the rapid transfer of mass amounts of electricity in a very short period of time without encountering any heating issues. This is a key concept outlined by Tesla in its recently published patent, titled "Liquid-Cooled Charging Connector," which involves the use of a liquid cooling system on a charging connector itself. Tesla describes its concept in the discussion below.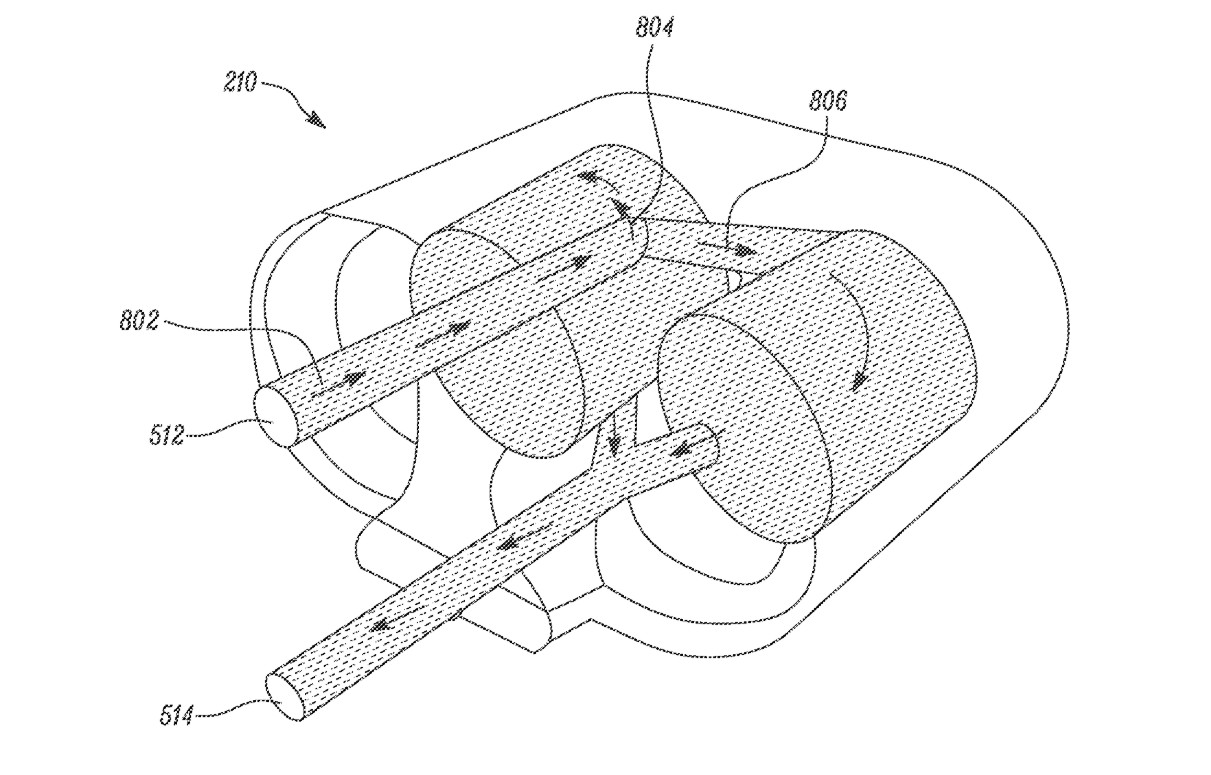 "To transfer energy faster and decrease charging times, the cable and charging connector must be capable of withstanding high current loads. Current charging connectors are limited in the current loads that they can support as their ability to dissipate heat is limited. Thus, there is a need for a new charging connector to solve the aforementioned problems.
"The present disclosure related to a new charging connector. The charging connector has a first electrical socket and a second electrical socket. A first sleeve is concentrically coupled to the first electrical socket and a second sleeve is concentrically coupled to the second electrical socket. A manifold assembly encloses the first and second electrical sockets and the first and second sleeves, such that the first and second sleeves and manifold assembly create a hollow interior space there between. The manifold assembly has an inlet conduit and an outlet conduit such that inlet conduit, interior space, and outlet conduit together create a fluid flow path. 
"Cooling fluid flows through the fluid flow path and cools the charging connector. During operation, the cooling fluid bifurcates into a first fluid stream which flows around the first sleeve, and a second fluid stream which flows around the second sleeve. The first and second fluid streams combine upstream of the outlet conduit. The first sleeve encloses the first electrical socket, and the second sleeve encloses the second electrical socket. The cooling sleeves are made from a thermally conducting material such that heat generated by electrical sockets can be removed by the cooling fluid. In embodiments, this thermally conducting material is a thermally conductive plastic material." 
Tesla notes that its liquid-cooled supercharger connector does not only allow faster charging; it also makes the routing of wires in a charging connector much more efficient. This means that Tesla's Supercharger connectors could eventually be smaller and more compact despite being capable of greater output. An example of this appears to be hinted at by Supercharger V3's liquid-cooled cables, which are smaller and more compact than those used in Tesla's V2 Network.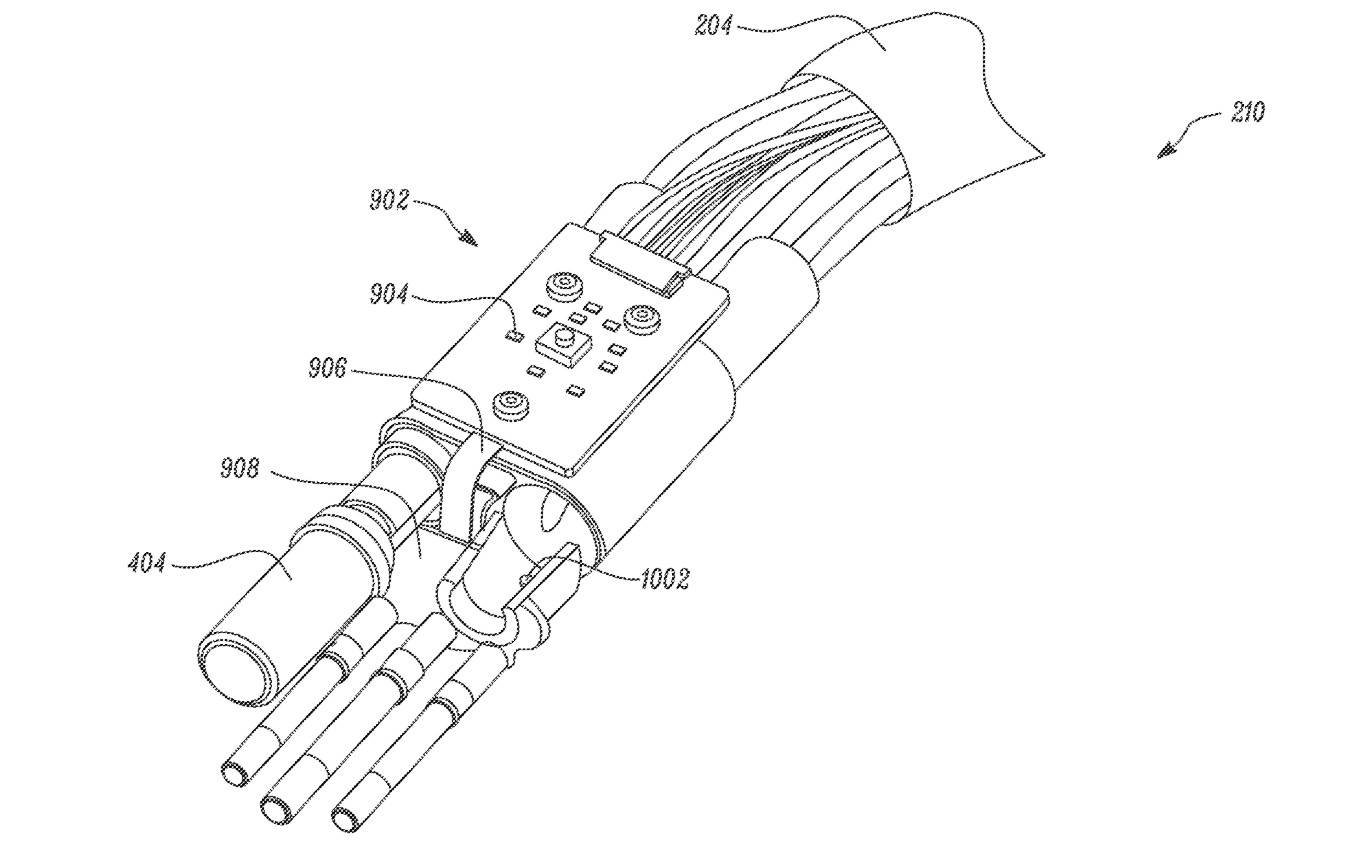 "Cooling fluid absorbs thermal energy from heat in the electrical sockets 404, 406. Sleeves 410, 412 are made of a thermally conducting, electrically insulating material. Heat from the electrical sockets 404, 406 is transferred to cooling fluid through sleeves 410, 412. After flowing around hollow interior space 416, the first fluid stream 804 and the second fluid stream 806 combine together upstream of outlet conduit 514 and flow outside of manifold assembly 414 through outlet conduit 514. Cooling fluid flowing out of manifold assembly 414 through outlet conduit 514 may be received by a reservoir (not shown) which may provide for heat exchanging arrangements. A heat exchanger may be provided to take away heat absorbed by cooling fluid. After rejecting absorbed heat, the cooling fluid may be recirculated back to inlet conduit 512 for further cooling of charging connector 210.
"FIG. 9 shows another component included by charging connector 210. A Printed Circuit Board Assembly (PCBA) 902 is thermally coupled to charging connector 210. In embodiments, PCBA 902 is a two-part structure. A first part of PCBA 904 is coupled to charging connector 210 such that the first part of PCBA 904 sits on top of electrical sockets 404, 406. A second part of PCBA 908 is connected to the first part of PCBA 904 through a rigid-flex PCB construction, or other similar interconnects. The two-part structure of PCB A 902 allows for a more efficient routing of electrical wires of charging connector 210, and overall size of charging connector 210 may be conveniently reduced."
Tesla's Superchargers are among the fastest and most expansive electric vehicle charging infrastructures in the auto industry. In keeping with its spirit, the company has made it a point to never stop innovating, as exhibited by the company's debut and ongoing ramp of its Supercharger V3 Network. This could ultimately pay off for Tesla, whose lead in the electric vehicle race might potentially increase even more. 
Such innovations appear to be required of the company, especially with the rollout of ambitious EVs such as the Semi, a vehicle with a different charging infrastructure compared to Tesla's existing lineup of electric cars. That being said, Tesla nevertheless deserves credit for pushing the envelope and staying on top of its innovations. In the electric vehicle race, after all, a liquid-cooled charging connector could end up making the difference between the fast-charging capabilities of the Tesla Semi and rivals from Daimler and Nikola.
A link to the full text of Tesla's liquid-cooled charger connector patent could be accessed here.