Tesla China will be rolling out an over-the-air software update for over 435,000 vehicles to address a "recall" connected to the Model 3 and Model Y's position lights. As per a notice from China's State Administration for Market Regulation (SAMR), a software defect in the affected Teslas may cause the position lights on one or both sides of the affected vehicles to not illuminate. 
Overall, the "recall" affects 435,132 vehicles in China. This number is comprised of 142,277 Made-in-China Model 3 sedans that were produced between December 27, 2020 and November 7, 2022, as well as 292,855 Made-in-China Model Y crossovers that were produced between January 1, 2021 and November 11, 2022.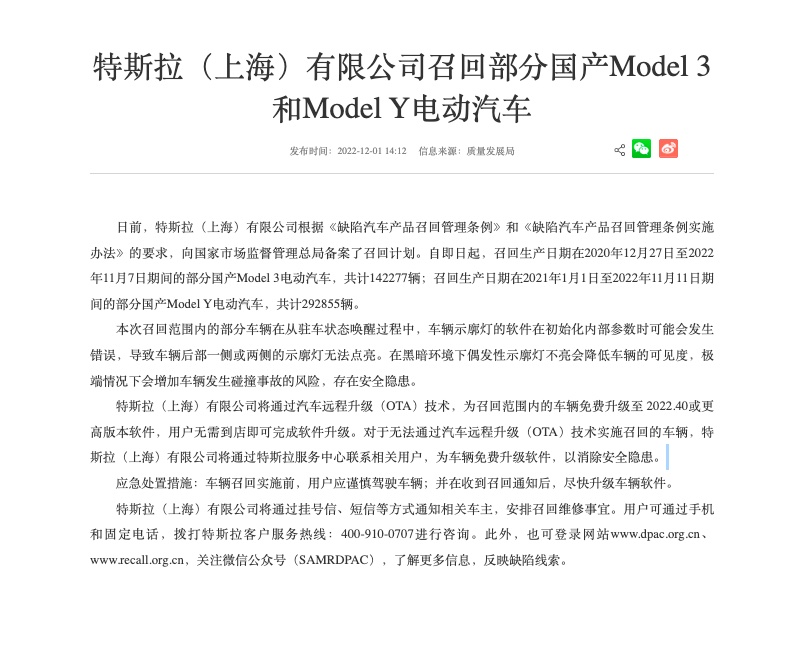 As noted in the SAMR notice, the occasional non-illumination of the affected vehicles' position lights reduces the visibility of the all-electric cars. Thus, in extreme cases, the affected vehicles could experience an increased risk of collisions and other accidents. 
Similar to other "recalls" in both China and in abroad, Tesla's fix for the affected vehicles' issues would be addressed through a free over-the-air software update. 
Following is the pertinent section from the SAMR's announcement. 
"For some vehicles within the scope of this recall, during the process of waking up from the parking state, the software of the vehicle's position lights may have an error when initializing internal parameters, resulting in the position lights on one or both sides of the rear of the vehicle not being able to light up. Occasional failure of position marker lights in a dark environment will reduce the visibility of the vehicle, and in extreme cases will increase the risk of vehicle collision accidents, posing safety hazards."
"Tesla (Shanghai) Co., Ltd. will use the vehicle remote upgrade (OTA) technology to upgrade the recalled vehicles to 2022.40 or later software free of charge, and users can complete the software upgrade without going to the store. For vehicles that cannot be recalled through vehicle remote upgrade (OTA) technology, Tesla (Shanghai) Co., Ltd. will contact relevant users through the Tesla Service Center to upgrade the software for the vehicle free of charge to eliminate potential safety hazards."
For now, Tesla China has advised owners of affected vehicles to drive extra carefully. Tesla Model 3 and Model Y owners are also advised to upgrade their vehicle's software as soon as possible after they receive the recall notice. 
Don't hesitate to contact us with news tips. Just send a message to simon@teslarati.com to give us a heads up.