Tesla is going toe-to-toe with the state of Michigan over the state's "Anti-Tesla" bill, now law, that prevents the company from selling directly to car buyers in the state.
The electric automaker has subpoenaed records from Governor Rick Snyder, Senator Joe Hune and Representative Jason Sheppard and others in its federal lawsuit against Snyder. The lawsuit is also against Michigan's Secretary of State Ruth Johnson and Attorney General Bill Schuette.
According to news outlet mlive.com, Tesla wants records ranging from internal communications to phone logs regarding the bill from Hune, who has received contributions from the Michigan Automobile Dealers Association. The lawsuit also alleges that Hune's wife's firm lobbies for auto dealers, creating a conflict of interest.
The lawsuit dates back to an October 2014 Michigan state law which bans automakers from selling vehicles directly to consumers. The Michigan legislature, backed by the state's new-car dealership lobby, voted in favor of the amendment. Tesla's complaint outlines that the law's purpose is "to reward the dealers' generous lobbying efforts by handing them a monopoly," as we previously reported.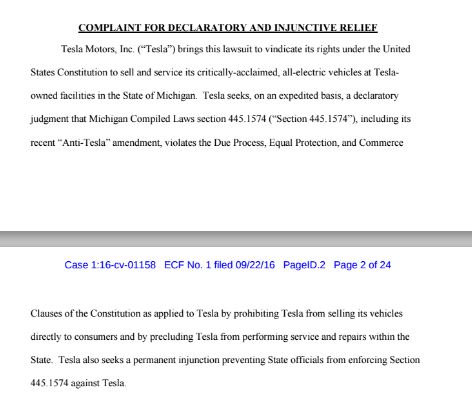 Tesla is seeking two things from the lawsuit: a declaratory judgment that Michigan's ban on direct-sales violates the Due Process, Equal Protection, and Commerce Clauses of the Constitution as applied to Tesla and a permanent injunction preventing state officials from enforcing the law, including the October 2014 amendment.
Assistant Attorney General Rock Wood called the subpoena "burdensome," and in a footnote said, "It may come as no surprise that Plaintiff [Tesla] is apparently hostile to or comments unfavorably towards certain legislators, given the claims pled by the Plaintiff. This type of fishing expedition, if permitted, would set a dangerous precedent whereby a legislator's opponents/adversaries could use or manipulate the judicial process to embarrass, harass, distract or undermine legislators or the legislature."
Assistant Attorney General Matthew Payok said Tesla acknowledges the lawsuit is essentially against the state and he wrote that "the fatal flaw in this position is that the Eleventh Amendment bars all suits against states in federal court, regardless of the relief requested," according to mlive.com.
As for Tesla, they had the following statement via attorney John Bursch.
"Tesla is entitled to documents that evidence the intent and coordination that took place behind the scenes while the Legislature effectively gave franchised dealers a state-sponsored monopoly on car sales within Michigan – all while engineering the legislative process to steadfastly remove any public attention or scrutiny."
This comes after yesterday's news that Louisiana signed a bill into law blocking direct-to consumer sales in their state. No word yet on if Tesla will challenge that law in court.
The hearing for the Michigan subpoenas is set for a week from today, June 15, in Grand Rapids, Michigan.