According to August 2023 sales data, Tesla outsold popular automakers Peugeot, Mercedes-Benz, and Nissan in the United Kingdom (UK). The UK's electric vehicle (EV) sales reached record highs earlier this year, hinting at a rising rate in the transition from fossil fuel cars to EVs.
The Society of Motor Manufacturers and Traders (SMMT) in the UK released data revealing Tesla was the 9th highest-selling car brand in the country with 4,021 registrations. Tesla beat popular car brand Mercedes-Benz, which sold 3,646 units last month. The Texas-based car manufacturer also sold more than Peugeot, with 3,112 new car gestations and Nissan, which sold 2,336 units in August.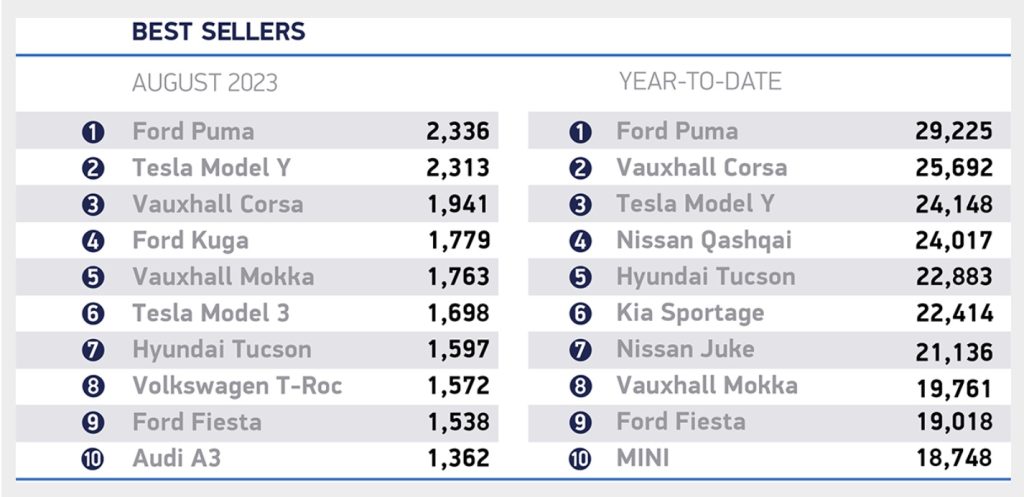 Volkswagen topped the UK's August car sales, selling 8,335 units. Ford came in second with 7,449 car sales. The German automaker and Ford's sales included battery electric vehicle units and internal combustion engine vehicles.
The Tesla Model Y and Model 3 ranked in the top 10 best sellers list in the UK for August 2023. The Model Y came in second place with 2,313 units sold, just shy of Ford Puma sales, which ranked number one with 2,336. Last month, the Model 3 was ranked the 6th best-seller in the UK, with 1,698 units sold.
The United Kingdom's August 2023 car sales were 24.4% higher than last year's. The uptake could be attributed to a surge in car registrations for fleets. Fleet registrations were up 58.4% from 32,794 units in August 2022 to 51,951 cars last month.
"With the automotive industry beginning a second year of growth, recovery is underway with EVs energizing the market. But with a new Zero Emission Vehicle Mandate due to come into force in less than 120 days, manufacturers still await the details," said SMMT Chief Executive Mike Hawes.
The Teslarati team would appreciate hearing from you. If you have any tips, contact me at maria@teslarati.com or via X @Writer_01001101.