Lately, I've noted a small shift in the political winds toward Tesla's direct-to-consumer model. On Wednesday, the Arizona State House Committee forwarded a bill, after a 5-3 vote in favor, to allow Tesla Motors employees to "sell" cars in their stores as long as they provide service centers. The governor is publicly behind it and it seems like a no-brainer, politically speaking (no blowback).
Plus governors and legislators just need to keep reading Consumer Reports surveys and they'll get the decision right. The consumer advocate publication recently released results of its auto repair satisfaction survey, which basically pits franchise dealers against individual repair shops.
Who's number one in the survey? Tesla Motors. Overall, independent dealers ranked quite high in satisfaction for these factors: overall satisfaction, price, quality, customer service, and on-time work delivery. Consumer Reports says,"the electric carmaker Tesla earned high praise for its on-time repairs, courtesy, price, quality, and overall satisfaction."
The ranking is more evidence that Tesla Motors is not a temporary fixture in the American business landscape that also helps with the discussion in non-selling states. The survey ranking also drives home the point of customer service expectations.
As I wrote last Fall, "Tesla Motors Service Centers Make a Pit Stop," and Tesla Model S 85 owner David Zygmont pointed out, service centers have been a work-in-progress.
"I think the service center communication systems and behaviors that's been implemented as a team have greatly evolved. Early on, I had services where I didn't hear for three days and I'm like: what's happened to my car?," says Zygmont. "But now it's just amazing service as I receive multiple text message updates per day when they have my car. All my recent service has been same-day stuff and they've done it really quickly, maybe that's reflective of their Formula 1 approach.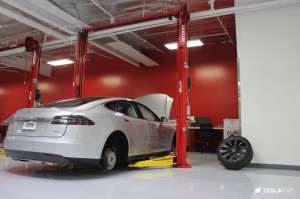 The Tesla service Formula 1 or pit crew approach usually comprises four service people, with someone in the driver seat using a laptop–plugged into the side port of the Model S. Other team members have covers off, are under the hood and pull some covers to access some different parts in the front area.
According to the Consumer Reports survey, luxury and upscale brands topped the chart among franchised new-car dealers, with Buick, Lincoln, Cadillac, Lexus, Porsche, and Acura slotting in behind Tesla, in that order.
The biggest difference between the franchise dealers and independents rankings was the high pricing for the auto parts from the former. Also, the survey mentioned there was more haggling at the independents.
Consumer Reports did point out that Tesla may face challenges in the future with more volume due its Model III mass-market car in a few years. However, the electric drivetrain just does not have as many components as an internal combustion engine and should provide elemental advantage in this survey.