A recent family road trip in the Model S took me up the California coastline from Los Angeles to beautiful Carmel-by-the-Sea – a quaint and sleepy town that I believe Dirty Harry himself was once a Mayor of.  We stopped at the Atascadero and Buellton Superchargers for a quick refill while on our way up from Los Angeles, but also managed to do a few touristy pit stops at Santa Barbara and Solvang along the way.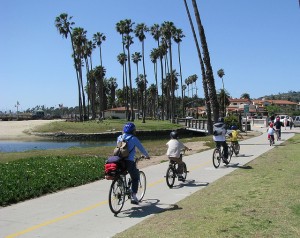 Santa Barbara introduced me to something completely new.  I saw a family riding a set of electric bikes, along the oceanside bike path, and thought that it could make for the perfect complement to our Model S on the next road trip.
We're starting to see more and more Model S owners looking to explore areas surrounding the Supercharger locations, and what better way to do that than through use of an electric bike (e-bike).
Top 5 reasons why an electric bike is the perfect Tesla road trip companion
5. It's electric!
Like the Tesla, an electric bike emits no pollution and is battery powered through Lithium-ion technology.
4. See more, do more
Having an electric bike gives you the flexibility to see more and do more at each point of interest along the Tesla Supercharger route.
3. Ride together
Electric bikes make it easy for riders of different levels to always ride together without having to wait for one another. It also gives riders the additional confidence to travel for longer distances.
2. Regenerative pedaling
The motor on the electric bike assists pedaling effort, and in some cases, pedaling can regenerate energy back into the battery.

1. Have fun! Be happy!
Just like the Tesla Model S, riding an electric bike is exhilarating, therapeutic, and most importantly, it's a lot of fun!
Related: Model S owner takes a Supercharged guys' trip to the Tesla factory'