Competition from SpaceX is forcing United Launch Alliance to start beating the bushes for new customers. ULA is a partnership between Lockheed Martin and Boeing and was the "go to" team for transporting supplies to the International Space Station and putting communications satellites into orbit before SpaceX came along and slashed the price of rocket launches in half.
ULA has good reason to go in search of new business. SpaceX says it has $10 billion in future business on its books. ULA had eight launches in 2016 and has ten lined up so far for 2017.
ULA uses the Atlas rocket. In the past two decades, not a single Atlas has failed. That contrasts with two failures suffered by the Falcon 9 favored by SpaceX, one in 2015 and one last September. That gives ULA bragging rights when it comes to reliability.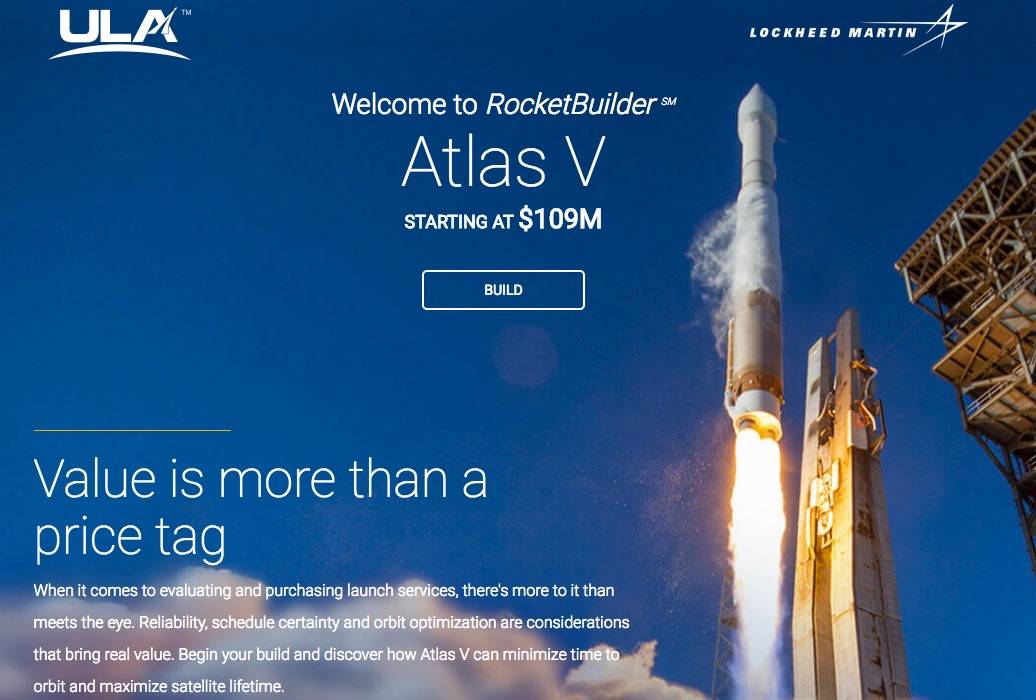 ULA has just rolled out an online configurator similar to the Design Studio Tesla buyers can use when ordering a new car. Dubbed 'RocketBuilder', the configurator is designed to provision businesses looking to deploy satellites and space cargo into orbit with a shopping cart type experience. "When it comes to evaluating and purchasing launch services, there's more to it than meets the eye. Reliability, schedule certainty and orbit optimization are considerations that bring real value. Begin your build and discover how Atlas V can minimize time to orbit and maximize satellite lifetime.", reads the description on the RocketBuilder website. "It will be easier to buy a ride in space than to get a plane ticket home for the holidays," says ULA CEO Tory Bruno.
When Bruno became the head of ULA in 2014, his mission was clear — make it competitive with SpaceX. According to the RocketBuilder, the base cost of a space launch is $109 million. The starting price for a SpaceX launch is a mere $62 million. But ULA says its superior reliability and accuracy make the cost of insuring its flights much lower.
Factor in the money saved by not building satellites that get blown up while sitting on top of SpaceX rockets and ULA says its services are worth $65 million in intangible savings per launch, more than wiping out the difference between it and SpaceX. Naturally, SpaceX disputes ULA's reliability, accuracy and insurance cost claims.
"Nobody chooses to have low reliability or blow their rocket up or be late; it takes a great deal of experience, process discipline and know-how to achieve this," Bruno tells Quartz. "Some day, I expect the rest of the industry will become as reliable as we are."
A little fiddling with the RocketBuilder also reveals that the cost of a launch can rise precipitously depending on the orbit desired and the size of the payload.
SpaceX says it will launch its next Falcon 9 rocket on December 16, but it is still awaiting final launch approval from NASA. One advantage SpaceX enjoys over all other companies is its ability to recover and reuse its rockets. That capability alone is said to save $30 million per launch.