The White House denied rumors of a national security review of Elon Musk's ventures a few days ago but it wasn't as widely reported until today. In an earlier report by Bloomberg, officials from the Biden administration were considering whether or not to subject some of Elon Musk's business ventures to national security reviews. That report spread like wildfire over the weekend.
🤣

— Elon Musk (@elonmusk) October 24, 2022
On Friday, October 21, CNN reported that the White House denied a talk of a security review. In a statement, Adrienne Watson, the spokesperson for the National Security Council, said, "We don't know of any such discussions."
This statement didn't stop other publications from adding fuel to the fire. Yet, oddly, very few publications reported on the White House's denial of the reports until today. However, the reports of the security review were abundant over the weekend.
The Washington Post, a publication owned by Amazon's Jeff Bezos, posed the idea that Tesla, which makes EVs and solar, could also be a "threat to national security." At this time, there's no mention of the White House's denial of the reports or any mention of Watson's reports. This could change.
Elon Musk pointed out the hypocrisy of the article in a response to a tweet by Andrea Stroppa, a former contributor to the World Economic Forum, and cyber security researcher.
Exactly. WaPo are such hypocrites.

— Elon Musk (@elonmusk) October 23, 2022
In a recent unlisted video, published by the White House,  Press Secretary Karine Jean-Pierre responded to the reports. "There's a lot of interest in those reportings. Those reportings are not true. So, we'll leave that there. The national security review that is not true," said Jean-Pierre in response to questions about the reports.
It should be noted that when a video on YouTube is unlisted, the only people who have access to that video are those the link is given to.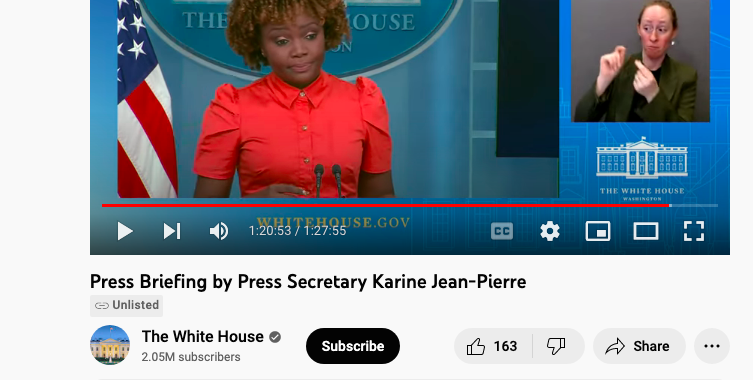 You can watch that video here.
Your feedback is essential. If you have any comments or concerns or see a typo, you can email me at johnna@teslarati.com. You can also reach me on Twitter at @JohnnaCrider1.
Teslarati is now on TikTok. Follow us for interactive news & more. Teslarati is now on TikTok. Follow us for interactive news & more. You can also follow Teslarati on LinkedIn, Twitter, Instagram, and Facebook