Autonomy, the electric vehicle subscription company, announced it ordered 23,000 new cars from seventeen automakers worth $1.2 billion to expand and diversify its fleet beyond Tesla.
Autonomy said it ordered cars from BMW, Canoo, Fisker, Ford, General Motors, Hyundai, Kia, Lucid, Mercedes-Benz, Polestar, Rivian, Stellantis, Subaru, Tesla, Toyota, Vinfast, Volvo, and Volkswagen. The vehicles range in price from $26,595, which means the Chevrolet Bolt EV will be included, to $122,440, which is the price for the Tesla Model X. Autonomy confirmed the full Tesla lineup, including the Model S, will be available for rent.
Tesla's Model 3 and Model Y are currently the only vehicles in Autonomy's fleet, but it is well aware of the need for diversification within its lineup. CEO Scott Painter knew the day would come when the company needed to look past Tesla, even though its cars were a great way to get Autonomy's name out there.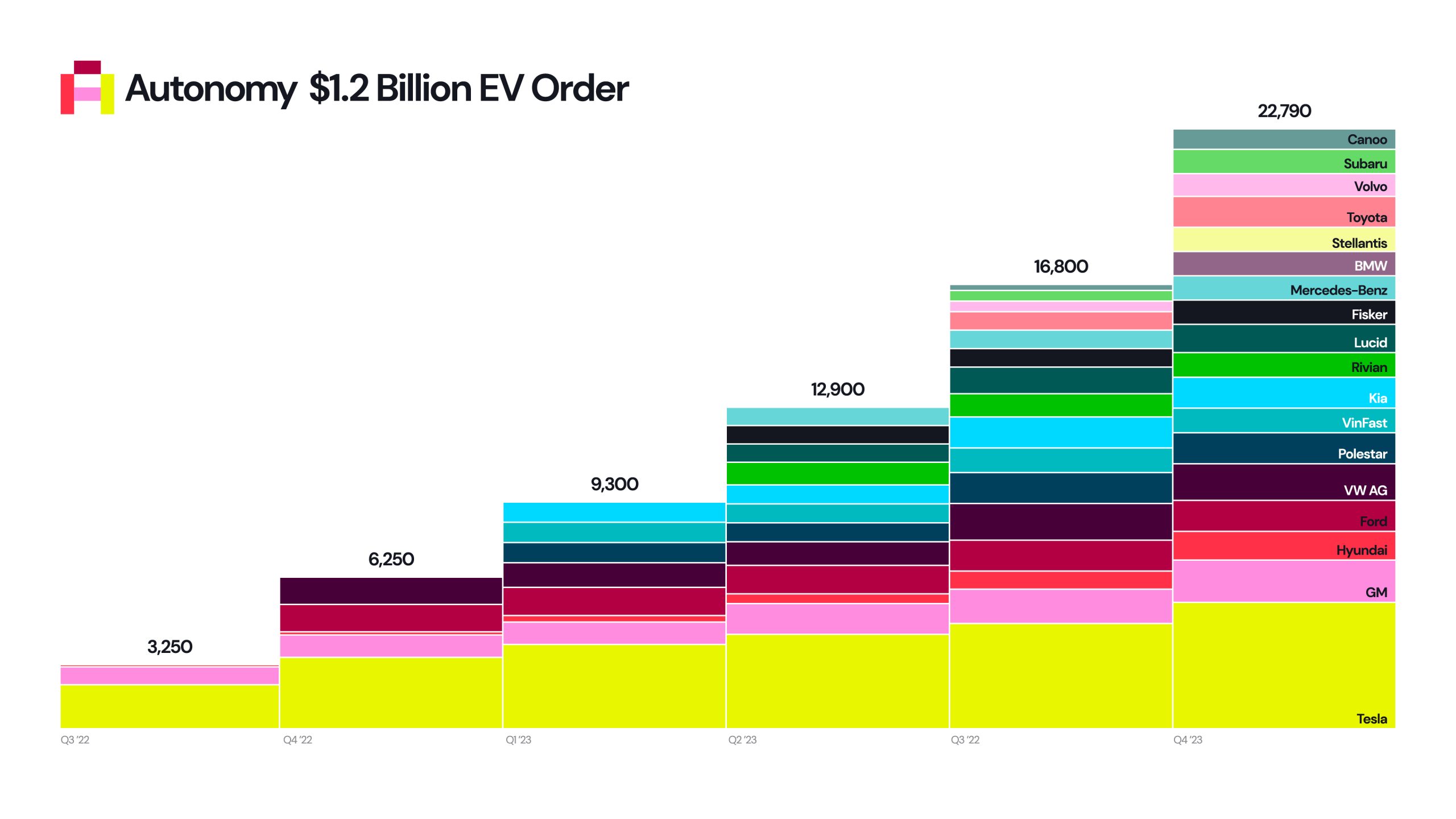 "Tesla was certainly the right launch partner for Autonomy given their dominance in the electric vehicle market today," Painter said. "With every automaker going all-in on electric and so many exciting new products coming to market in the next 6 to 18 months, we have placed our fleet order and are excited to expand our subscription lineup and make it easier for consumers to make the transition to electric."
The 23,000-vehicle order accounts for 1.2 percent of the projected U.S. electric vehicle production through the end of 2023, Autonomy said. The order was specifically designed to cater to each company's production forecasts.
Autonomy launched its new electric vehicle subscription program in January with the Model 3. The company aims to provide a subscription-based program that combines a monthly car payment, insurance, and other applicable fees into one monthly payment. Vehicles are available in less than ten minutes and can be picked up with a driver's license and digital payment.
The company has continued to expand its footprint of operation throughout California.
I'd love to hear from you! If you have any comments, concerns, or questions, please email me at joey@teslarati.com. You can also reach me on Twitter @KlenderJoey, or if you have news tips, you can email us at tips@teslarati.com.