BYD has announced discounts on its most popular EV models for the month of March.
While the effects of Tesla's price cuts earlier this year have certainly been felt in western markets, the impact has been even more profound in China, where Tesla is locked in a head-to-head battle for EV sales dominance with BYD. Following the Tesla price cut in China, BYD reservations plummeted, and now the Chinese automaker has been forced to respond. The automaker has issued a discount for customers to reserve a BYD Seal EV sedan or Song Plus EV SUV.
BYD announced the discount on its Weibo social media account this morning, saying that between March 10th and the end of the month, customers can save either 6,888 yuan ($988) on a Song Plus or 8,888 yuan ($1,276) on a Seal if they reserve a vehicle during the timeframe and pay the 88 yuan reservation fee.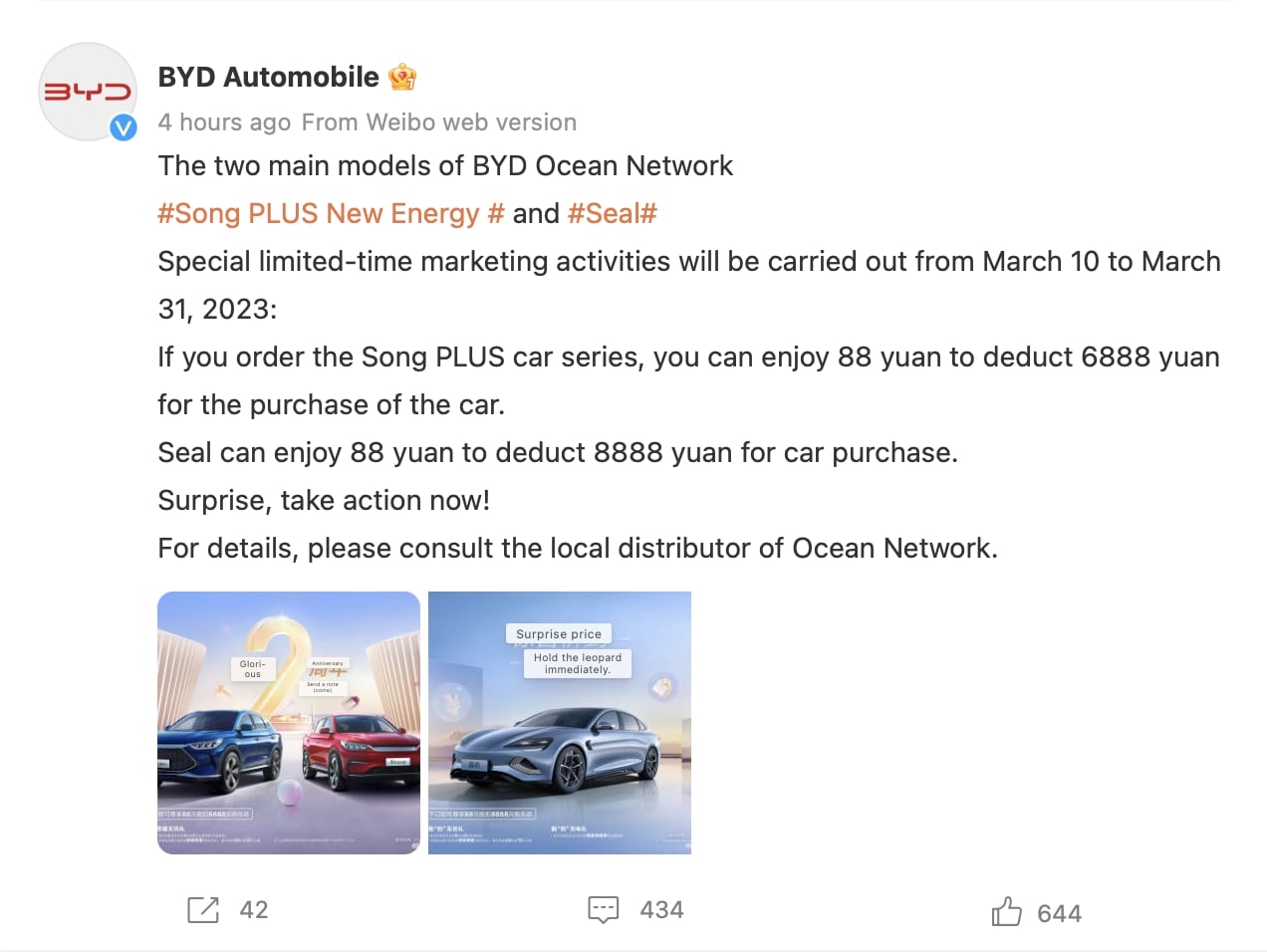 Strangely, BYD's vehicles are already substantially cheaper than Tesla alternatives, which has allowed the Chinese automaker to increase its pricing twice over the past year. Nonetheless, with Tesla's recent sales success, the Chinese automaker may have had no choice but to discount vehicles to help entice customers.
During the first two months of the year, Tesla's most popular models outsold their BYD counterparts by thousands of vehicles each. 39,710 Tesla Model Ys were sold in the first two months of the year, compared to 34,621 Song Plus SUVs. During the same timeframe, 21,056 Tesla Model 3s were sold compared to 14,372 Seal sedans.
This competition has been almost entirely within the Chinese market as BYD has focused on its domestic offerings instead of spreading to other markets globally. However, with recent introductions of BYD vehicles in Japan, South East Asia, and South America, the two BYD and Tesla may be edging towards global competition in the coming years.
Both BYD and Tesla have dramatically increased their EV sales and production volumes in China over the past five years, hence the competition for leadership in the market. Though with Tesla's growing following in the country, it remains unclear how much this new discount will sway buyers.
What do you think of the article? Do you have any comments, questions, or concerns? Shoot me an email at william@teslarati.com. You can also reach me on Twitter @WilliamWritin. If you have news tips, email us at tips@teslarati.com!