When their shifts are over, SpaceX employees in Hawthorne, CA only have to walk a short way to their favorite new hangout: Los Angeles Ale Works. The soft opening of the area's first craft brewery a couple of weeks ago has allowed SpaceX employees to personally sample a variety of what will be the house signatures brews — two-dozen taps pouring a wide variety of styles of small batch beer. Starting Thursday, when the grand opening will take place, crowds will descend upon the former industrial building and Hawthorne's first brewery and tasting room. For now, a bunch of the SpaceX employees and locals have been savoring Los Angeles Ale Works' inviting space.
Los Angeles Ale Works already serves two varieties named after SpaceX: a low-alcohol session India Pale Ale named Space XPA and a Space XPA Full Thrust double IPA.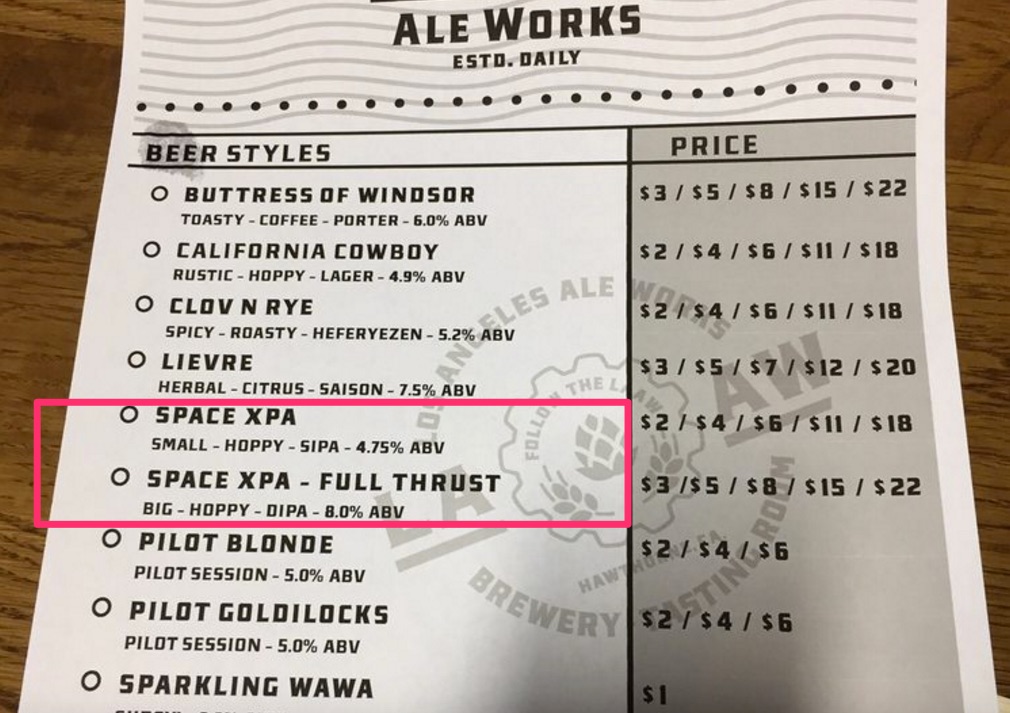 "From California citrus to Chinese tea, I want to showcase the whole range of flavor that L.A. is known for," says Ale Works co-founder Kristofor Barnes, "and the brewery is a great way to work with all the amazing, interesting, and creative people I've met through the beer industry." The brewery, with a modest 10-barrel system, will reportedly offer many taproom-only variants and one-off brews to supplement core offerings, which will be distributed to bars and restaurants around Los Angeles.
Showcasing that variety of ales and lagers, the brewery features a long, L-shaped bar overlooking the brew house. A SpaceX banner drapes from the brewery's 24-foot-high beams. There's also a separate custom-built lounge-and-conference room combination with pub games and ample space to chat or tweet. Other than the interesting beer selection, what will probably be Los Angeles Ale Works' most popular feature is a patio adjacent to the parking lot for some decadent beer-sipping with rays and shades. There is also enough room for some local food trucks to stop by and add their aromas to the fun.
Los Angeles Ale Works is the dream-come-true of head brewer Barnes. In 2013, Los Angeles Ale Works launched its first beers into the marketplace after a successful Kickstarter fundraiser. Working with Ohana Brewing Co, they tenant-brewed proof of concept beers to gather valuable feedback from customers. In 2015, Barnes added business expertise to the office side with Andrew Fowler and Jeff Szafarski, and together the ownership group raised capital.
Now Barnes' original idea is grounded in brick and mortar. "There's a huge void of breweries in Hawthorne, and you have this huge high-tech business sector — including SpaceX, Tesla, some of the ancillary companies — so we knew there was a built-in consumer base with those industries," said Fowler. The affluent and educated SpaceX group is a welcome demographic for Los Angeles Ale Works, which considers itself an experimental brewery.
Set in a handsome 9,600-square-foot brick structure built in 1952 by Northrop Grumman, the brewery is part of an area-wide conversion from dilapidated industrial buildings to upscale destination. Another brewery is expected to open in the same light-industrial zone off El Segundo Boulevard. SpaceX entry into the area served as a magnet for other business, with another architectural evolution currently underway in which a complex of studios under construction nearby will eventually have the capacity to showcase the work of 100 different artists. The area's rebirth is infusing much more community and aesthetics to this section of town, and "a lot of people are moving into the neighborhood," Fowler acknowledged.
The original notion of listening to their customer base continues at the new Hawthorne location. Szafarski stated that they intend to solicit beer style ideas from customers and then produce them. "Customer feedback is very important to us. We have a lot of beers on tap that give people a reason to come back tomorrow and not six months from now."
The name Los Angeles Ale Works is a nod to the early years of the business, when Barnes borrowed equipment from a downtown Los Angeles brewery.