Having the ability to disable driving features through a valet mode on the Model S has been a top wish list item for owners since the car's debut.
With the release of Firmware 6.2, Tesla finally provided the 'Valet Mode' capability which discreetly limits driving performance but also hides personal information such as your home and work addresses. I finally received the over-the-air update and wanted to take this time to do detailed review of the feature.
The Need for Valet Mode
Valet Mode sounds like something you'd only need when valet parking your car, but the concept is actually larger than that. While I have no plans on letting a valet park my car, I think the functionality will come in useful for my own needs.
The changes for Valet Mode falls into two major categories:
Limits access to personal information
Limits performance
We'll explore how each of these features were introduced in this latest update.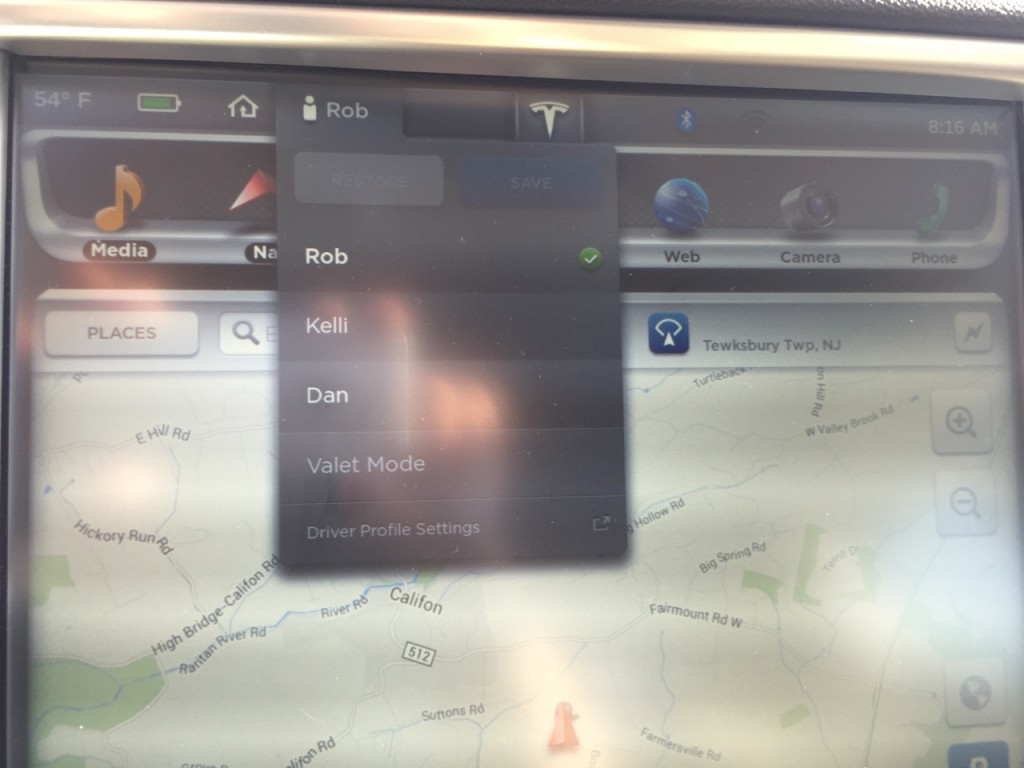 Valet Mode is accessible from the Driver Profiles drop down through the main display.
The first time you enable Valet Mode you'll be asked for a 4 digit PIN which will be the same PIN used for disabling the feature. It's important to note that once the PIN is set, you will no longer be prompted for it again.
If you forget or want to change the PIN Tesla allows you to reset the PIN using your Teslamotors.com ("My Tesla") login information.
Valet Mode can only be enabled and disabled while the car is parked. Once enabled you'll see the user profile set to "Valet" towards the top of the 17″ display. Other indicators such as limited power, limited speed and disabled Navigation functionality (ie. hidden search results) let's a driver know that they're driving in a feature limited mode.
Increased Privacy
Tesla already limits access to your calendar data and phone contacts when you're not in the car since it requires close proximity to your bluetooth device.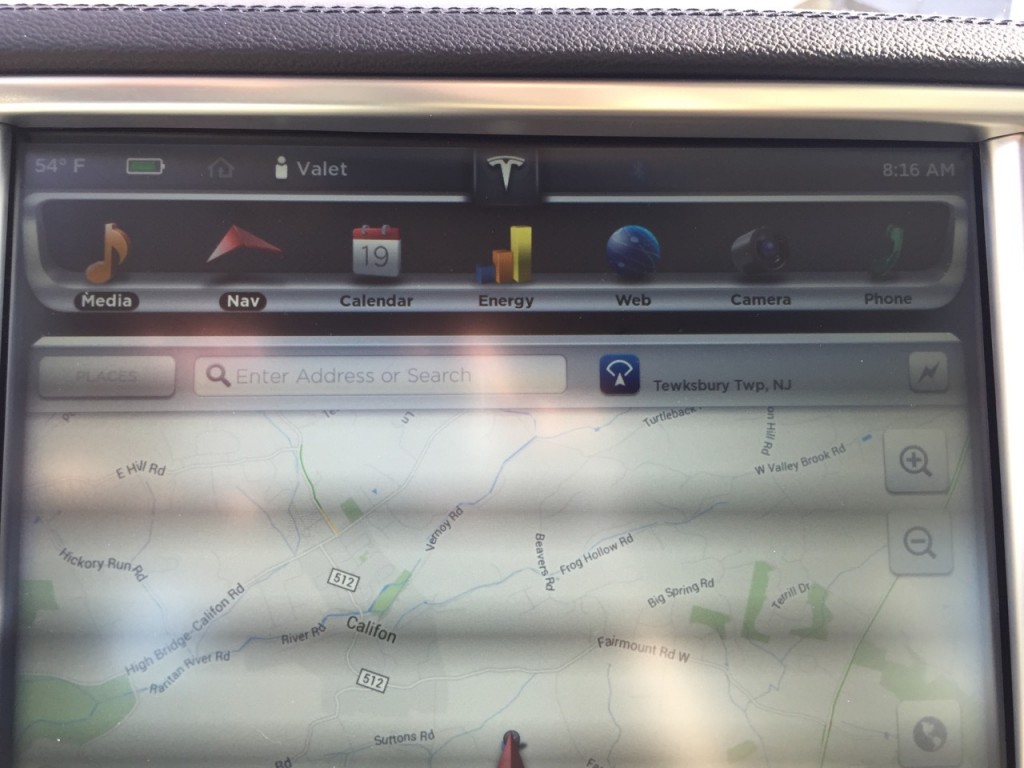 Because of that Valet Mode will not hide your information. If you happen to leave your phone in the car and enable Valet Mode, anyone using the car will still be able to see your phone contacts and personal calendar information.
TIP: Don't leave your phone in the car after enabling Valet Mode.
Tesla disables the following functions when Valet Mode is enabled:
The ability to disable mobile app access.
Homelink access is disabled.
Bluetooth and Wifi settings are disabled.
The "Places" function is disabled and will hide your favorites, home and work addresses.
What isn't hidden, but probably should be, are the following:
Charge locations (click on lightning bolt) — They can find your home address and places you've charged at which may or may not include a family member or other sensitive information that you wouldn't necessarily want to share.
Web favorites — all your saved websites are still accessible to the valet. If you have logged into sites such as webmail then they can potentially read your mail. This is one of the more glaring omissions in my opinion.
Tesla didn't hide all personal data but may want to consider it in a future update of Valet Mode.
Limited Performance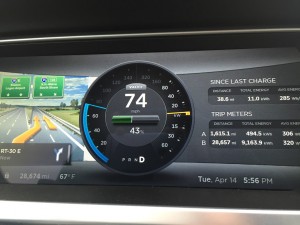 In addition to limiting access in Valet Mode, Tesla also limits the performance of the Model S in two ways:
Maximum speed is limited to 70 MPH (113 kmh)
Maximum performance is limited to 80kW.
The limited speed and power can be seen on the driver's display with the higher limits greyed out.
Driving in Valet Mode is no fun at all especially if you've gotten used to the amazing performance of the Model S. Not only will you be capped at 70 mph, you really feel the difference in driving due to the limited power.
Summary
The intent of Valet Mode is to provide additional security by locking down most of your personal data but also act as reassurance that other drivers won't take advantage of the car's performance by going on a spirited joy ride. Valet Mode, 1.0 we'll call it, in many ways meets its goals. Valet Mode will certainly take the fun out of driving a Tesla Model S but then again this will hopefully lead to more responsible driving.
My daughter is still working on her driver's license and needs more experience behind the wheel. I think it's good for family members to be able to comfortably drive every car in the household especially in the event of an emergency. Some day I'll let her drive the Tesla, but it will be in Valet Mode in order to curb performance so that it's far less frightening to drive as a newbie. I don't have insane mode but a regular Model S 85 is still scary fast, especially for new drivers.
Despite the few gaps I noticed in Valet Mode, I expect future updates to further refine security and driving performance, but as a whole I think this is a great feature that provides many of the needs expressed by Model S owners.