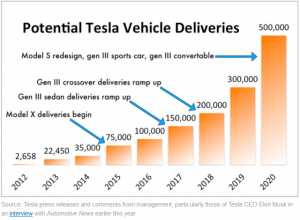 Good news on the German front, the Deutsche Bank Tesla upgrade means the country is warming to electric vehicle (EV). Tesla Motors' strategy and goals are starting to appeal to the German bank.
Deutsche Bank Tesla upgrade nudge
Germany has been relatively slow to embrace EVs. Although Audi showed a promising all-electric e-tron in 2009, its then CEO, Johan de Nysschen, swore there was no future in EVs. Porsche hadn't even talked about their wild 918 plug-in hybrid (PHEV) and Mercedes was the only one who had invested in that technology, with Tesla Motors. BMW? Well, no one talked about an EV there either. Instead, Germany was capitalizing on decades of diesel investments and hoping to cash in reintroducing it to the the U.S. The market and global crisis decided otherwise by throwing a wrench in that plan. A Deutsche Bank Tesla upgrade in the market means Europe is starting to see Tesla as a viable player for its transportation market.
News of the Deutsche Bank Tesla upgrade not only sparked a slight upbeat in the European market, but also shows that Germany is starting to bring in electric cars and alternative energy into its definitive landscape. The country produces a lot of solar energy, which has also brought its fair share of problems integrating into the national grid. With Mercedes and BMW selling an electric car, and Audi a PHEV, Germany is taking the electric phenomena seriously. When the most financially powerful economy in Europe gives Tesla a nudge, the means good news for the company.
Reading the Deutsche Bank Tesla upgrade