Rumors swirled early Tuesday morning after a series of Model 3 photos rumored to be Elon Musk's personal first production "SN1" vehicle were captured at Tesla's Palo Alto headquarters.
US Air Force veteran Jeff Meinke, and Teslarati app user who goes by "Crush", submitted detailed pictures of the Model 3 interior, including a close-up look at the never-before-seen mounting point for the center display.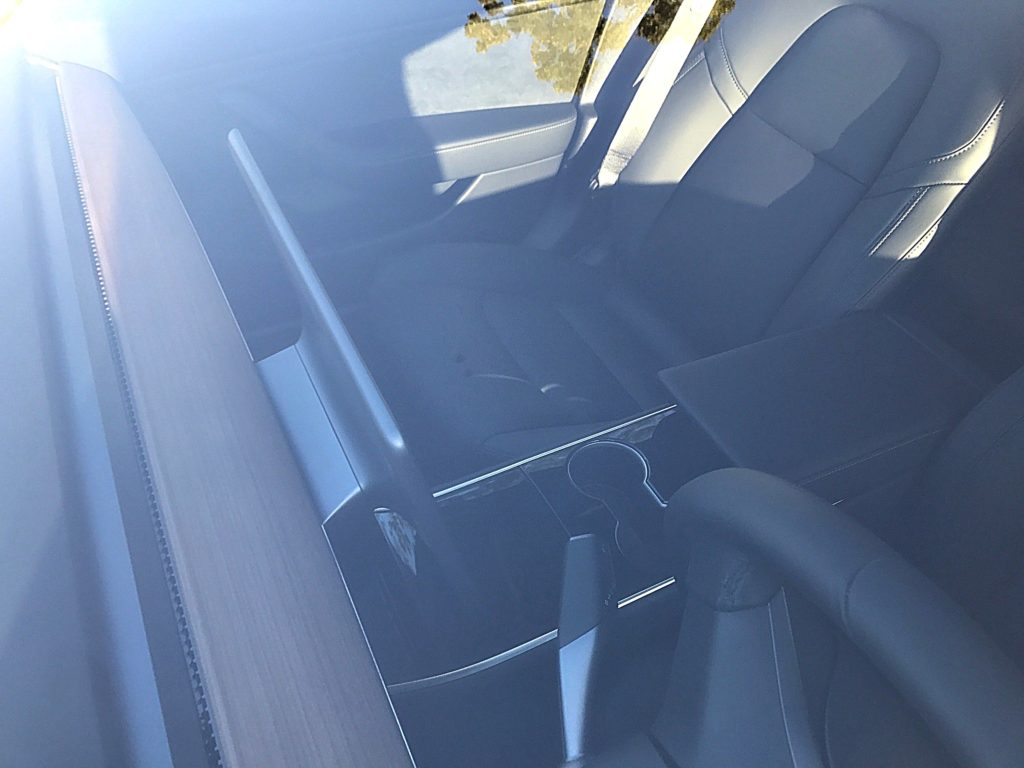 Jeff tells Teslarati that he was running his usual weekly, early morning routine of charging up at Tesla HQ before heading to a nearby meeting. A local resident of the Bay Area and soon-to-be three-time Tesla owner – Jeff currently owns a Model S P85, Model X 75D and has an early reservation for the Model 3 – he circled the parking lot to find a charger, before coming across a gorgeous black Tesla Model 3.
Though Tesla Valet at headquarters knows Jeff well, he tells us, it was during the early hours before valet attendants arrived on scene, typically at 7:30 a.m. Pacific Time and was on site before anyone had arrived. Not missing on the opportunity to take photos of the elusive Model 3, Jeff quickly snapped a few photos from his mobile phone and even had the opportunity to tinker with the Model 3 door handle.
With parking sensors throughout, well-finished interior and no signs of it being a release candidate, and the fact that it was at Tesla HQ, community members quickly noted that this black Model 3 might have been Elon Musk's personal "SN1" car or Tesla's first production Model 3.
From the photos we also get a detailed look at how Model 3's interior cupholder and center console will look like.
In speaking with Jeff and asking him why he didn't take a photo of the Model 3 VIN, which would have surely confirmed whether the vehicle was Musk's personal car with a 0001 trailing serial number, he tells us that it was just a matter of nerves and he wasn't thinking about it. "I was just excited to be able to see the Model 3 in person, and frankly just wanted to shoot as many photos as I can before valet arrived."
Jeff took the photos, left for his meeting, and upon returning noticed that the valet had arrived to start their early morning shift. He also noticed that the Model 3 was no longer there.
"When I returned to pick up my car it was no longer there. The valets told me that it was rare that there was one there charging overnight." According to Jeff, the valet moved the vehicle into a nearby garage. Engaging in friendly conversation with the attendants, valet noted that it could have been Musk's personal Model 3, and that previous shifts from the day before could have left it on the charger for Musk.
The attendants also notified Jeff that a "truckload of Model 3" was seen at headquarters recently. There was no indication whether these were the first 30 production Model 3s to be presented at next week's delivery event, or one of the hundreds of release candidates produced.