VPN provider Surfshark's 2022 study on the digital quality of life across the globe has shown that residents in the Philippines are still paying for "mediocre" and expensive internet service. With SpaceX's recent announcement, this situation may be poised to change. 
As noted by the Elon Musk-led private space company, its Starlink satellite internet service has gone live in the Philippines. "Available na ngayon ang Starlink sa Pilipinas," SpaceX wrote, posting the message in Filipino, one of the country's most prolific languages. 
Available na ngayon ang Starlink sa Pilipinas → https://t.co/slZbTmZmAt pic.twitter.com/4pl3isvnYX

— SpaceX (@SpaceX) February 22, 2023
A look at the Starlink availability map on the service's official website shows that the satellite internet system is now available across the country, even in remote areas that are otherwise unreachable by the Philippines' primary internet service providers. These include Coron, Palawan, which is said to have beaches that rival some of the world's best, and the mountainous regions in the north, which are known to have subpar internet connectivity. 
Users who are looking to order Starlink for use in the Philippines are required to pay a total of Php 29,320 ($532) for the satellite internet system's hardware. Monthly fees are currently listed at Php 2,700, which is comparable to some of the mid to high-tier fiber plans offered by the country's largest internet providers, PLDT Inc. and Globe Telecom Inc.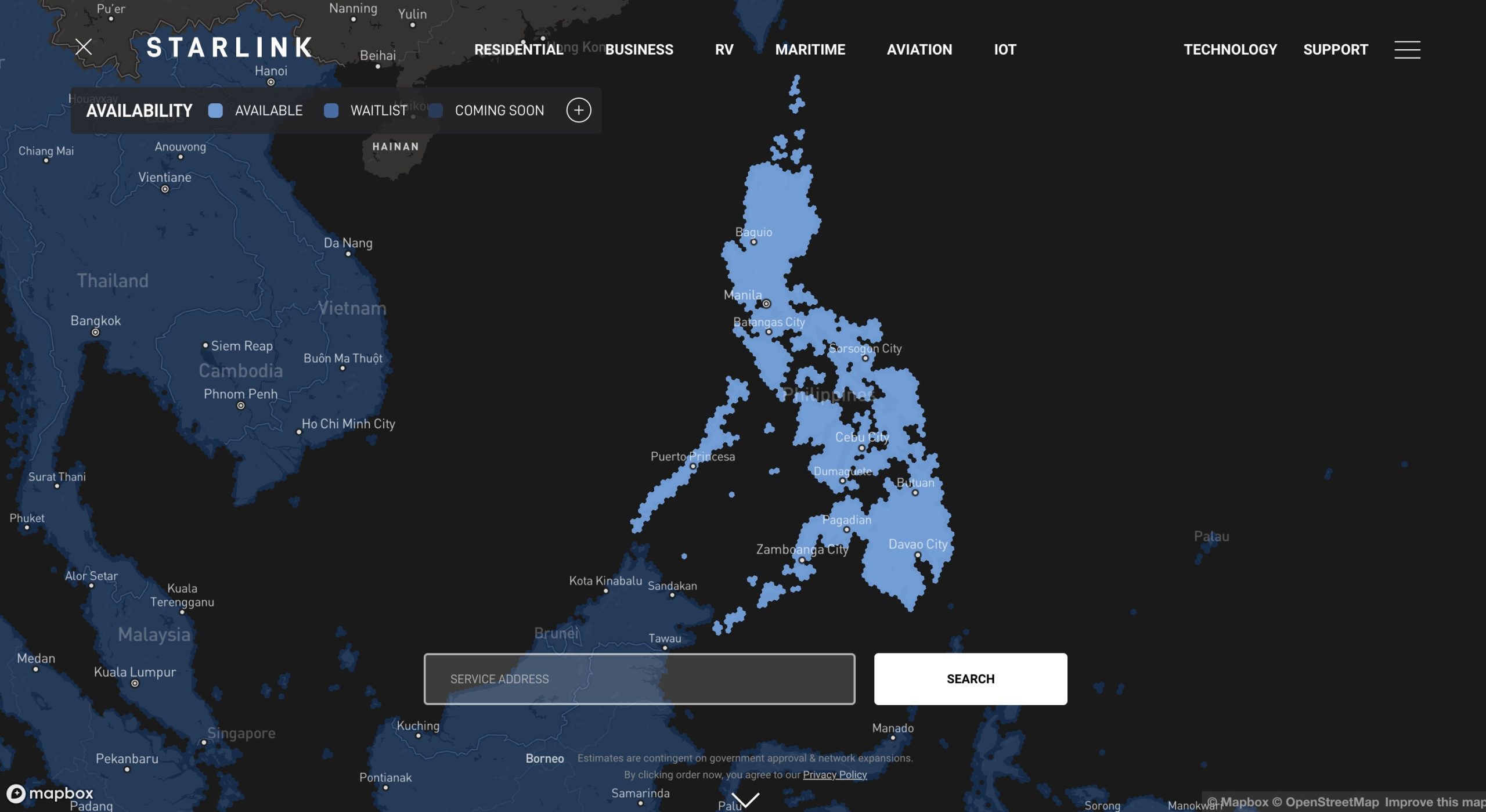 Starlink notes that users in the Philippines can expect to see download speeds of about 50-200 Mbps in the Metro Manila region, the country's capital. A 30-day trial is also available, and shipping times are estimated to be around 2-3 weeks after the Starlink order is placed. 
The arrival of Starlink would likely be well-appreciated in the Philippines, considering the vastly irregular internet connectivity in the country. While fiber connections in places like Metro Manila are quite stable and relatively quick, internet connections in rural areas are notoriously slow. This became an issue during the Covid lockdowns, as numerous students in far-flung areas of the Philippines were unable to attend online classes regularly due to unreliable internet. 
The Teslarati team would appreciate hearing from you. If you have any tips, contact me at maria@teslarati.com or via Twitter @Writer_01001101.