It's been widely known that Tesla and Google have been leading the charge in developing self-driving vehicles and priming the automotive industry for an autonomous future. Despite the popularity of Tesla's Autopilot program among owners of the Model S and Model X, some automakers have openly opposed the notion of driving a vehicle that drives itself calling it a transportation module as opposed to a car. Notably, current Ferrari CEO mentioned that the Italian sports car maker would never make a self-driving car, while other manufacturers such as Mercedes Benz embrace the technology and have invested in their own research and development of autonomous vehicles.
Now comes word that a General Motors (GM) executive, automotive veteran Richard Holman who runs GM's foresight and trends unit, has credited Tesla along with Google Alphabet's car division for accelerating the development of autonomous vehicle technology, and shortening the timetable for when safer self-driving cars hit the road.
As reported by the Wall Street Journal (WSJ), Holman told attendees of a conference in Detroit this week that he sees autonomous vehicle technology being deployed across vehicles by 2020, if not sooner. Holman adds that GM has had its sights set on autonomous driving and have been working on developing the technology over the past several years, but Tesla and Google's notable advancements in this area have helped move the industry along at a much faster pace.
The GM executive credits Tesla and Silicon Valley's participation in advancing self-driving car technology for forcing "the issue". The issue in this case is presumably the accelerated timetable to which automakers are now forced to adhere to in order to stay competitive. WSJ writes,
Mr. Holman noted many large auto makers take a more "cautious" view than tech companies—"we don't want to make a mistake," he said. Silicon Valley's participation in autonomous vehicle development "forced the issue."
Holman's comment represents a rare nod by GM to the influence Tesla and Silicon Valley has had on advancing an otherwise archaic automotive industry.
GM recently announced that it has acquired a software company Cruise Automation that was dedicated to developing self-driving car technology. The Detroit automaker looks to Cruise's "deep software talent and rapid development capability to further accelerate GM's development of autonomous vehicle technology".
"Fully autonomous vehicles can bring our customers enormous benefits in terms of greater convenience, lower cost and improved safety for their daily mobility needs," said GM President Dan Ammann.
Hat tip to Marco Papa for the story. Feature photo courtesy of Garth Woodworth.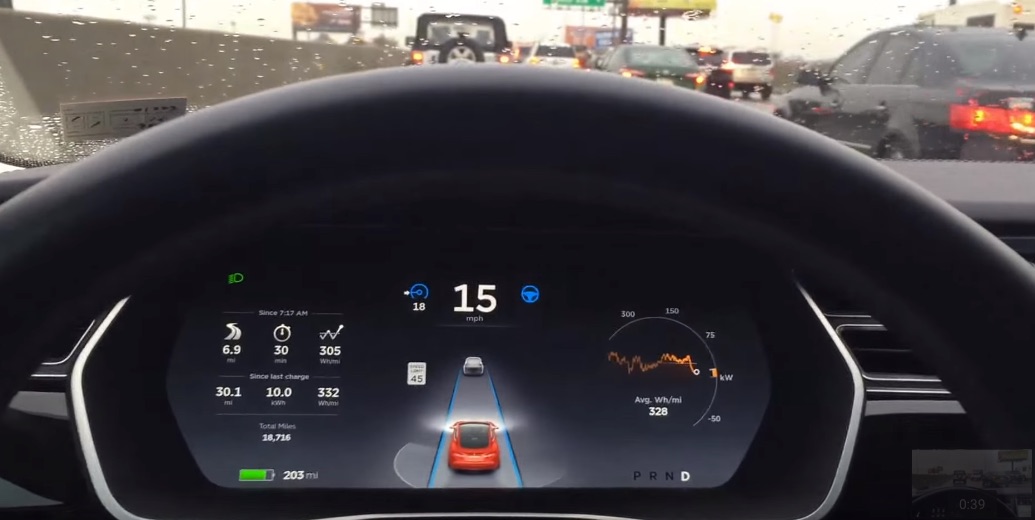 See Tesla Autopilot in action