Tesla attracted more headlines than usual when Elon Musk announced on Twitter that the company is introducing a new Model 3 assembly line inside a sprung structure on the grounds of the Fremont factory. Casually dubbed by Elon Musk as a "tent," the assembly line, dubbed GA4, played a huge part in pushing Tesla towards profitability in the third quarter.
Tesla's "tent"-based Model 3 assembly line was featured in Elon Musk's recent segment on CBS' 60 Minutes. While speaking with correspondent Leslie Stahl, Musk remarked that the assembly line, which took only three weeks to set up, was responsible for boosting Model 3 production by 50%. That was enough to push the company to reach its self-imposed 5,000 Model 3 per week target in the second quarter.
Elon Musk has noted that Tesla is now at a point when it could produce 5,000 Model 3 per week without any problems. Before the company reached this point, though, it had to pass through a period that Musk personally described as "production hell." During the second quarter, Tesla struggled to ramp Model 3 output using the vehicle's two assembly lines inside the Fremont factory itself. When it was evident that this could not be achieved, Tesla did the unexpected — it built a third Model 3 line (GA4) to augment its output.
The construction of the "tent"-based line was lauded by the company's supporters and criticized heavily by Tesla's skeptics. Inasmuch as the sprung structure was controversial, though, it worked, and it ultimately helped Tesla address the Model 3's production problems then. When he announced the promotion of Jerome Guillen as Tesla's new President of Automotive, Musk stated that GA4 was the brainchild of the longtime problem-solver, who was working as the lead of the Tesla Semi program then. Considering how much GA4 helped Tesla reach its production goals, it is not difficult to speculate that the construction of GA4 was one of the reasons behind Jerome Guillen's promotion to President of Automotive.
CBS correspondent Leslie Stahl noted during the recent 60 Minutes segment that the "tent"-based Model 3 line, contrary to Elon Musk's initial plans for a fully-automated car factory, is currently filled with human workers. Musk noted during the segment that "People are way better at dealing with unexpected circumstances than robots," while sharing a laugh with some workers assembling the Model 3.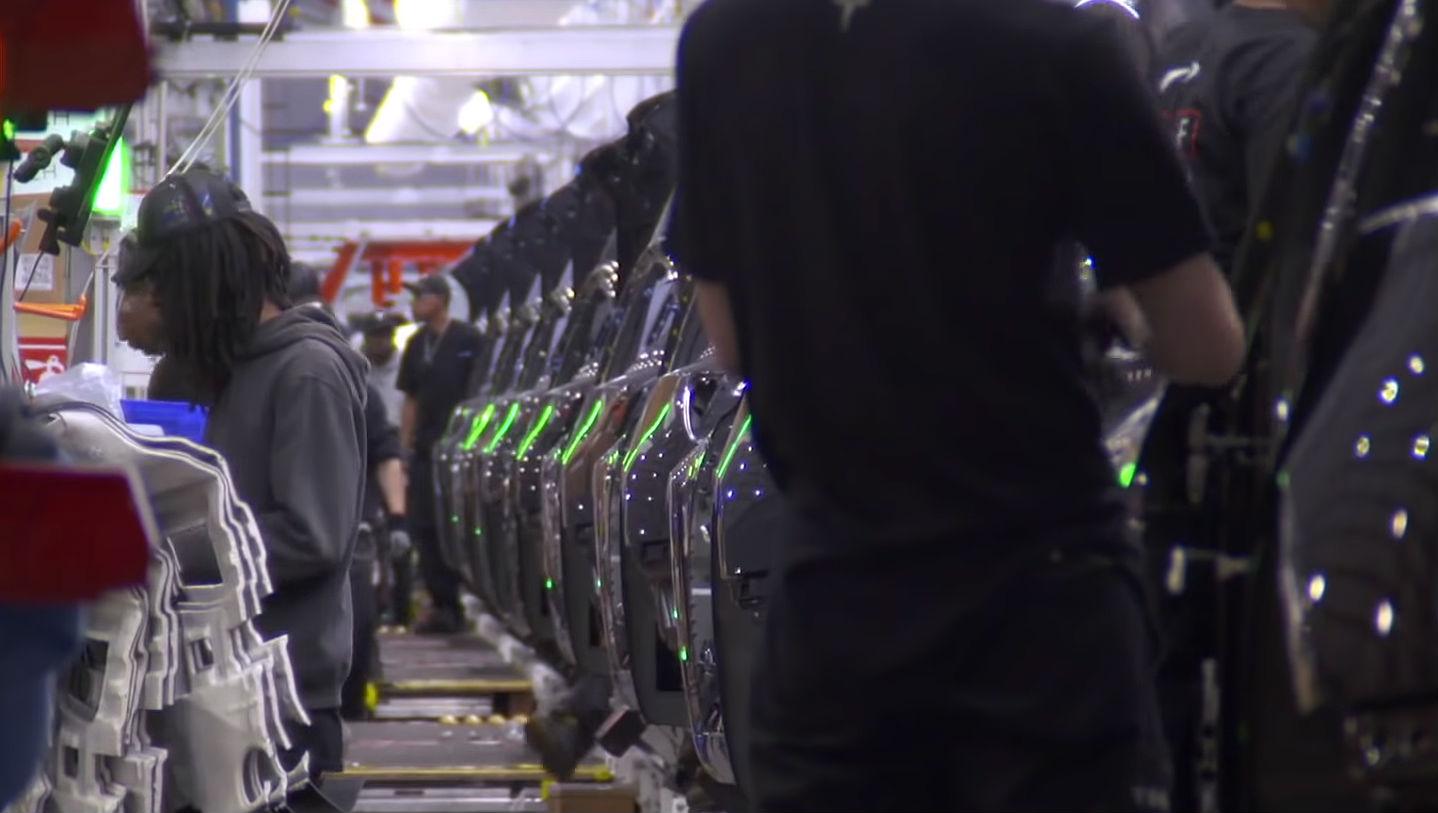 Speaking with investors back in 2016, Elon Musk noted that Tesla's electric car factories will be a "machine that builds the machine." Musk even shared that the codename for the project is "Alien Dreadnought" — a reference to the hyper-advanced extraterrestrial crafts featured in sci-fi films and literature. The CEO initially estimated the dreadnought to be operational by the end of 2018, though the "production hell" that ensued during the Model 3 ramp forced Elon Musk to admit that over-automation was a mistake. Admitting his miscalculation on Twitter, Musk humbly noted that "humans are underrated."
If there is one lesson that Tesla learned this year, it is that unorthodox solutions such as its "tent"-based Model 3 line — while a step away from Elon Musk's original vision — are needed for the company to hit its goals. Using a makeshift production line that's populated with human workers might not be part of Elon Musk's "Alien Dreadnought," but it was exactly what Tesla needed to push towards its manufacturing targets. If any, Tesla's stellar performance in the third quarter, when it surprised Wall Street and skeptics by posting $6.8 billion in revenue, was made possible in no small part by the "tent"-based Model 3 assembly line.
Ultimately, GA4 could serve as a template for the company's upcoming electric car production facilities, particularly as Tesla is currently setting the stage for Gigafactory 3, which would produce the Model 3 and Model Y for the local Chinese market. Gigafactory 3 is in an extremely aggressive timetable — one which Wall Street even dubbed as "not feasible." If Tesla can maintain its open-mindedness and its tendency to adopt out-of-the-box solutions, though, even ambitious projects such as Gigafactory 3 would be more than feasible.
Watch 60 Minutes' segment on Tesla's "tent"-based Model 3 assembly line in the video below.