Data from the California Department of Motor Vehicles shows that there were 12 deadly crashes last year from distracted driving as a result of handheld cellphones. DMV figures also revealed 500 injuries in 2015 and 700 property damage collisions from the same cause.
California Gov. Jerry Brown back in September signed into law Assembly Bill 1785 (also known as AB-1785), which went into effect Jan. 1, 2017. The new law is designed to improve public safety and reduce distracted driving by prohibiting  a person from driving a motor vehicle while holding and operating a handheld wireless telephone or a wireless electronic communication device. Bottom line, one cannot hold a cell phone in one's hand while driving in the State of California.
WHAT ARE YOUR OPTIONS
As the law states, a windshield mount is one of the available options, but because of its distance from your hand it is not probably the best solution. But if you think this option is for you, a search for "phone windshield mount" on Amazon will return about 400 pages of such devices.
ABSTRACT OCEAN Magnetic Phone Holder
Abstract Ocean, a well known provider of Tesla accessories, has a very inexpensive product that I found – the Magnetic Phone Holder (slimline) – that is a much better alternative to the windshield mount.
The slimline magnetic Car Mount Kit allows secure attachment for any mobile device, with or without a rigid case, to your Model S/X dash. Each kit includes two low-profile disks, one Ball Mount, a magnetic socket, an alcohol prep pad, spare 3M VHB (Very High Bond) sticky pads and installation instructions.
I ordered the kit directly from Abstract Ocean for $22.99. I'd also like to point out that I was not sponsored by Abstract Ocean for this post nor do they even know about it at the time of this writing.
INSTALLATION
Installation is pretty straightforward. I installed the disk directly on my Tech 21 iPhone 7 bumper as shown in the picture.
The ball mount can go anywhere on your Model S or X dash, but the recommended location (the left of the center 17in screen) was obstructed for me, so I positioned it to the right of the center screen, as shown. The whole process did not take more that 10 minutes.
The ball mount allows for a huge degree of adjustment, and one can easily rotate the phone to any angle. Abstract Ocean provides two low-profile disks, so you can swap an iPhone and an iPad mini, for example.
I personally would not recommend to put the disk between the phone and the phone case, as that will result in an assured eventual scratch of the phone surface (like the one on my new Jet Black iPhone 7), an expensive proposition if you eventually wanted to resell your phone.
FIRST IMPRESSIONS
I've been using the Magnetic phone holder for a week now, and I am fairly impressed.
Unlike other similar but cheaper magnetic phone holders available at Amazon, the Abstract Ocean ball mount will not easily detach from the dashboard.
To remove the ball mount, you will actually need sliding some dental floss behind it, that will eventually break the adhesive bond without doing any harm to your dash.
In my experience so far, the 3M VHB (Very High Bond) sticky pads just won't move at all.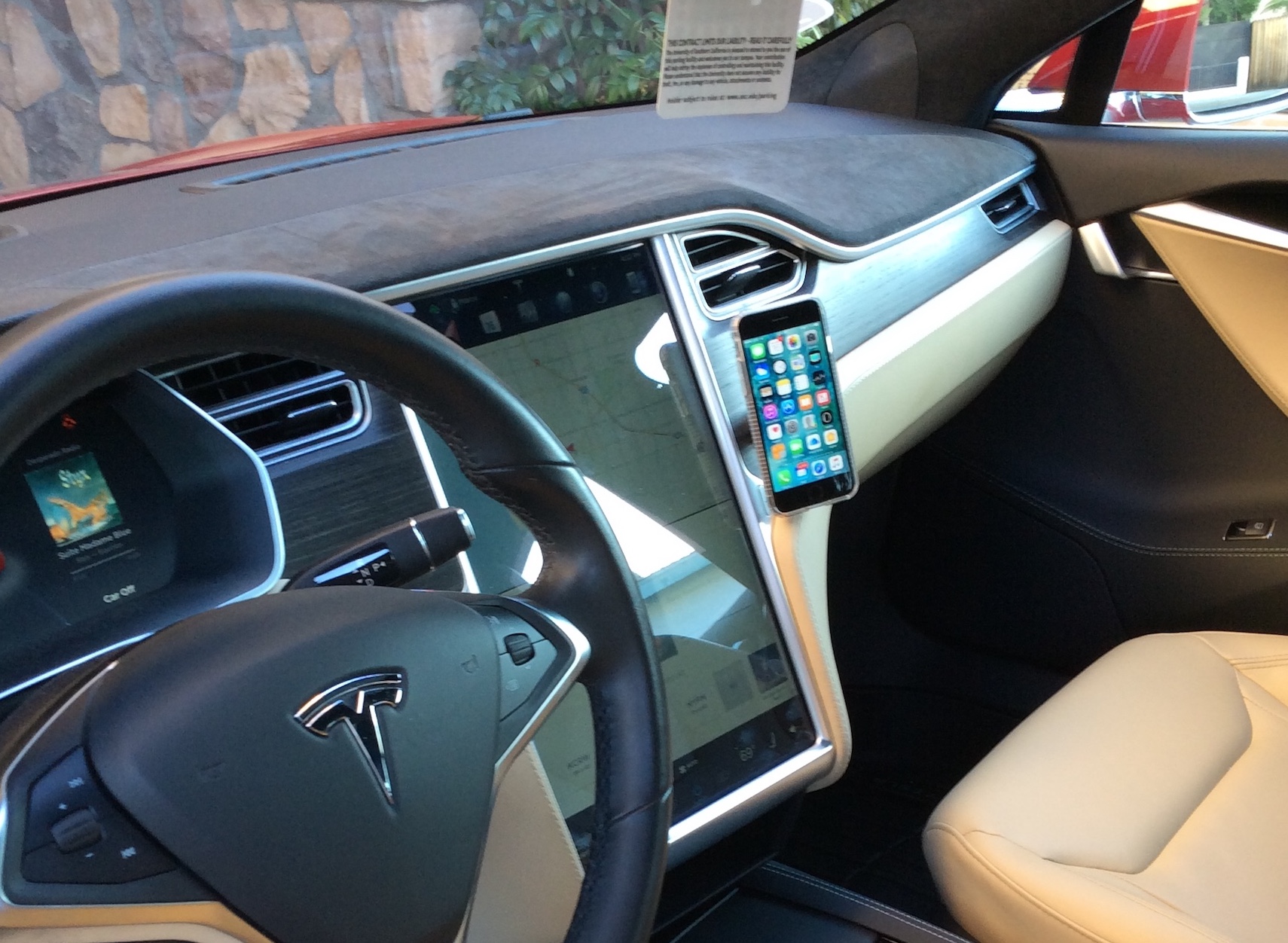 The new law requirements to activate or deactivate a feature or function of the cell phone with the motion of a "single swipe" or "single tap" of the driver's finger, though limiting, worked for me for a few activities that I may want to do while driving, like checking TSLA stock quotes.
To do that "legally" I can just tap once on the Stocks App, wait, then swipe left or right to check the chart, the daily statistics, and the news headlines. As long as I leave enough wait time between each swipe, I am still following the law.
[pdf-embedder url="http://www.teslarati.com/wp-content/uploads/2017/01/AB-1785.pdf"]