Among the increasing number of Supercharger and "remote control" apps being made available to Tesla drivers, comes a new app that aims to put a lot more happy into the Tesla driving experience through the use of game mechanics. New York City-based HappyFunCorp is a leading software engineering firm founded by two Tesla owners, Will Schenk and Ben Schippers, who have infused their deep obsession for all things data, their Model S and having fun, into Teslab which is currently in Beta.
The concept behind Teslab is simple. Get into your Tesla. Drive. And collect awards based on your driving patterns. Frequent Supercharger users can dethrone other Tesla drivers by becoming "Mayor" of that particular location. The HappyFunCorp team have also incorporated a Leaderboard to highlight drivers that have driven the furthest distance within a 24hr span and award top hypermilers with the title of "Most Efficient".
After giving Teslab a whirl during a recent 150-mile drive to see SpaceX's return-to-flight, I came to the quick realization that heavy-footed Ludicrous drivers like me, or any Model X driver, like me – double whammy – would likely never win any efficiency award. By contrast, these types of drivers would likely win an award for the most Superchargers visited per single leg of travel. A short text message later, sent to Ben, reading "You should add an award for the worst efficiency. I think I may win that every time." was quickly replied with a "Haha, I'll add it" acknowledgement by the HappyFunCorp co-founder. Ben tells me that Teslab continues to make feature updates by the week for the hundreds of Tesla-driving Beta testers competing for fun awards.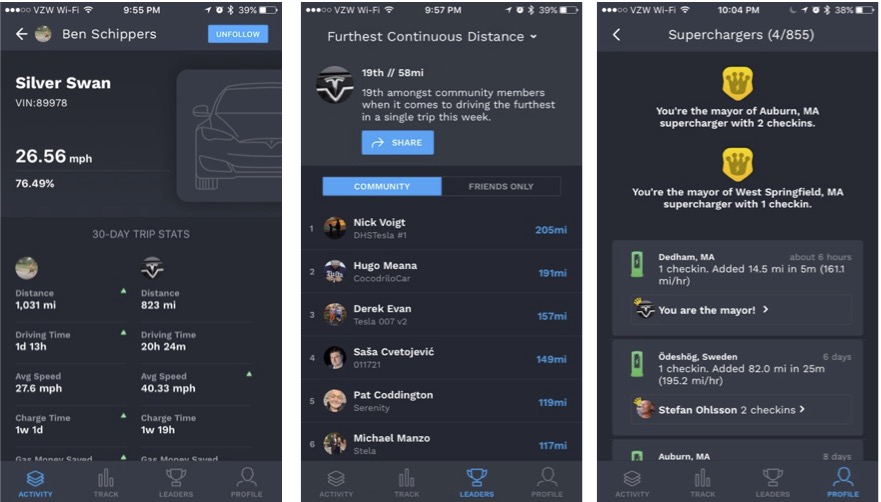 Beyond the fun, Teslab also exposes a deep set of analytics that provides drivers with their state of charge, the vehicle's lock status and charge history. The app also goes as far as attempts to compute Phantom drain when the vehicle is left uncharged. Teslab users are encouraged to follow other drivers using the app as a way to benchmark performance of their data against the rest of the network.
While I await my Teslab award for Worst Efficiency, it's been a fun and addicting experience that spreads the message of driving more in your Tesla equals saving gallons of gas from being burned, while reducing your carbon footprint. Ben tells me that the team has many more features in store for Teslab and currently looking to increase their pool of Beta testers.