The price war that Tesla initiated when it lowered the prices of its entire S3XY lineup definitely seems to be affecting other automakers.
Similar to other automakers such as Tesla, Lucid's 2022 was quite challenging. The company reported that it was able to produce a total of 7,180 vehicles over the course of 2022. Full-year deliveries for the Lucid Air were posted at 4,369 units. For Q4, Lucid produced a total of 3,493 and delivered a total of 1,932 Lucid Air sedans 
As noted by users at the Lucid Forum, the electric vehicle maker has started sending messages informing customers that the Air sedan could now be leased with a $7,500 discount. The discount, as per Lucid's message, would be applicable for vehicles that are leased through Lucid Financial Services. 
Following is the text in Lucid's message.
Save $7,500 immediately. Accelerate instantaneously.
Starting now, customers who lease any Lucid Air through Lucid Financial Services will receive an automatic $7,500 savings in the form of a capital cost reduction.
By taking advantage of this savings, customers get a lower monthly payment for their new Lucid Air. As always, we're thrilled to be dreaming ahead with you.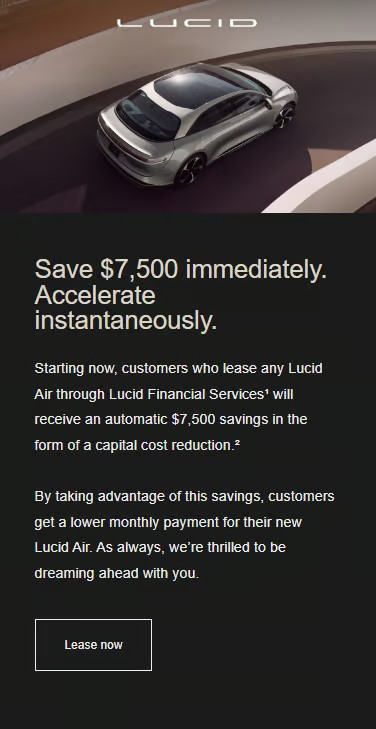 Lucid is competing in the large luxury sedan segment, which is populated by veterans such as the Tesla Model S on the all-electric side and a vast lineup of comparably-priced luxury vehicles from traditional automakers on the combustion-powered side. Considering the relatively low volumes of the luxury sedan market, Lucid's efforts to offer the Air at a lower price point make sense. 
Lucid's $7,500 discount through its leasing services would probably be extremely attractive to customers who wish to order the Lucid Air Pure, the luxury sedan's base version. Interestingly enough, the vehicle is listed with a starting price of $87,400, but that's for the single-motor variant, which remains unavailable. Lucid did hold Air Pure deliveries at the end of last year, but a look at the company's official website as of writing shows that only the Lucid Air Grand Touring and the Lucid Air Touring are listed as "Now Delivering."
Don't hesitate to contact us with news tips. Just send a message to simon@teslarati.com to give us a heads up.